NIA Announces #1 Favorite AI Video Automation Play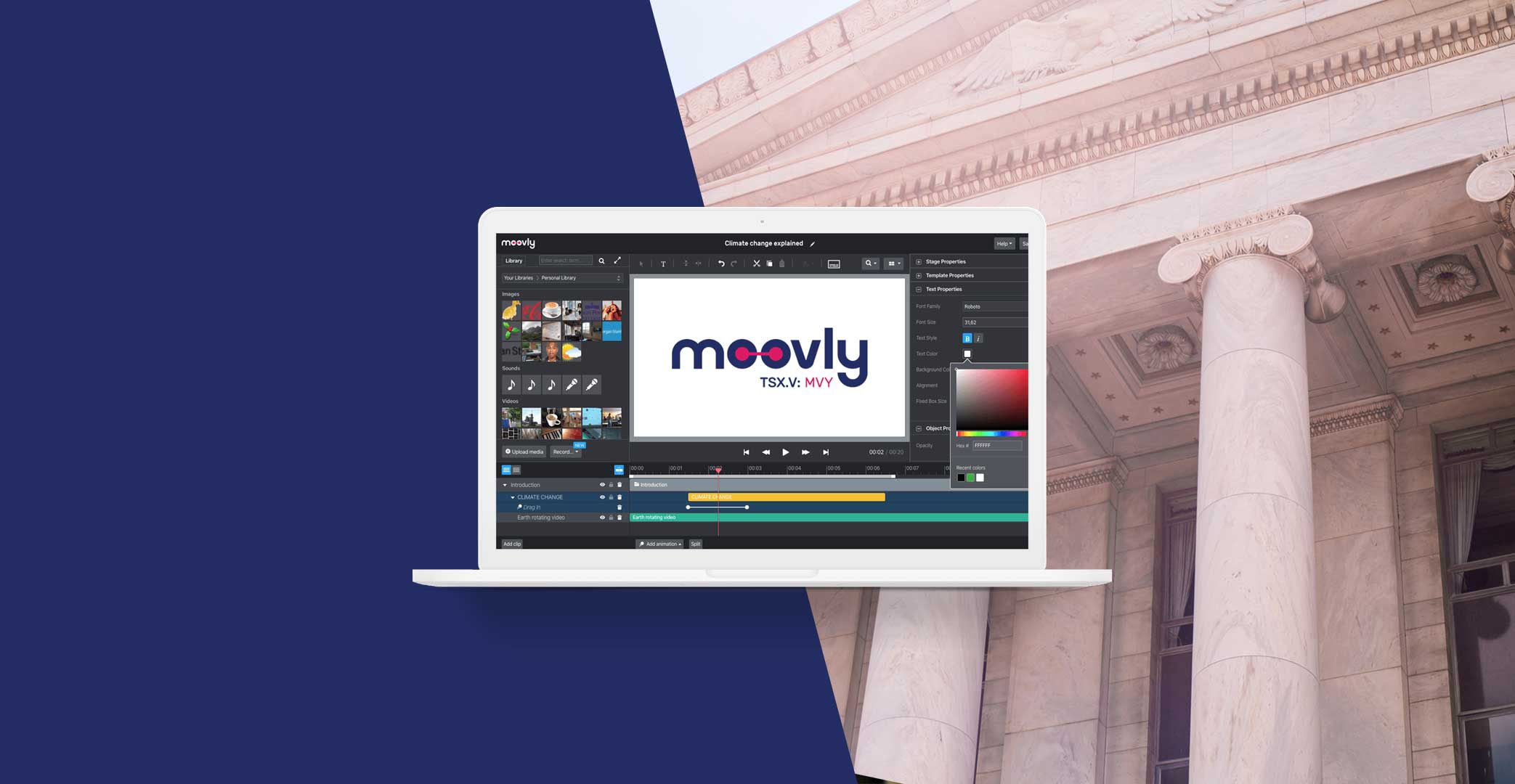 Artificial Intelligence (AI) has the potential to revolutionize online videos by significantly reducing the time and effort required to create a large number of videos and ensuring that all videos are consistent in terms of style and quality, which is particularly important for businesses looking to maintain a strong brand image. AI makes it possible to create a large number of personalized high-quality videos in a short amount of time, which means that businesses can reach their target audience faster and more effectively.
There is one publicly traded small-cap company that is using AI technology to allow businesses to fully automate the video creation process: Moovly Media (TSXV: MVY), currently trading for only $0.14 per share with approximately 172.16 million shares outstanding for a market cap of CAD$24.1 million. MVY also has a U.S. OTCQB symbol MVVYF.
MVY is a leading provider of online video creation software. Its proprietary AI technology allows for the bulk creation of personalized videos, which is a major advancement in the world of video production. The AI-powered solution enables users to create a large number of personalized videos in a fraction of the time it would take to produce them manually. MVY allows companies to improve the quality and effectiveness of the videos they generate while simultaneously allowing them to personalize campaigns, minimize repetitive tasks and fulfill large content creation requirements.
MVY's AI technology uses a combination of machine learning and natural language processing to understand the input given by the user and generate videos accordingly. The technology is designed to work with a wide range of templates, ensuring that the end result is both customized and professional. The bulk creation process is fully automated, which means that users do not have to spend time creating individual videos from scratch.
The personalized videos created using MVY's AI technology are high-quality and professional, which makes them perfect for use in a wide range of applications. For example, businesses can use the technology to create product demos, explainer videos, promotional videos, and more. The videos can also be used in education, where they can be used to explain complex topics in a simple and engaging way.
MVY's machine learning algorithms can analyze large amounts of data, such as customer data from a CRM system, and then generate unique videos based on that data. For every lead, contact or item, a separate highly targeted and personalized video can be triggered and generated automatically.
MVY's Video Automator gives its clients the ability to automatically create videos using data from sources such as Twitter or other news streams or RSS feeds. MVY's powerful engine for automated video content creation analyzes text and media data, and then automatically generates a video based on that data.
MVY allows companies to offer their employees or customers the use of customizable video templates. This allows for quick and efficient video creation, as the AI system only needs to focus on filling in the template, rather than creating a video from scratch. By using the Moovly API, companies can easily integrate MVY's advanced video production capabilities into their own platform or website. This integration saves MVY's clients a significant amount of time and effort, allowing them to take advantage of the latest advancements in video automation technology without any need for them to develop video generation technology of their own.
Past performance is not an indicator of future returns. NIA is not an investment advisor and does not provide investment advice. Always do your own research and make your own investment decisions. This message is not a solicitation or recommendation to buy, sell, or hold securities. NIA has been compensated by Moovly Media USD$25,000 cash for a one-month marketing contract. This message is meant for informational and educational purposes only and does not provide investment advice.