Next Week Could Be HUGE for NPR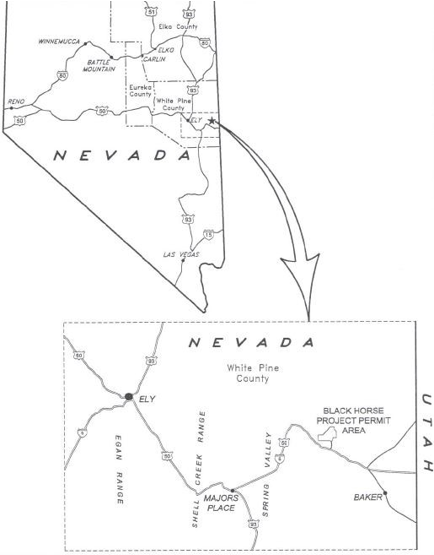 North Peak Resources (TSXV: NPR) is likely to make a HUGE move higher next week. NPR is about to option the Black Horse Gold Project, which is located directly on a major highway in White Pine County, NV, the same county as Fiore Gold (TSXV: F)'s Pan Gold Mine. Black Horse is Nevada's highest quality gold project that isn't currently operated by a publicly traded company or a billion dollar private equity firm.
The Black Horse Gold Project has triple the gold grades of Fiore's Pan Gold Mine. NPR will be able to develop this mine at only 1/3 of the initial CAPEX of what it cost to bring the Pan Gold Mine into production, because NPR will only need the capacity to process 1/3 of the ore per day that Fiore currently processes to produce the same amount of gold.
A good example of what NPR will soon look like is Fortitude Gold (FTCO).
NPR only has 20 million shares outstanding and Black Horse already has a historical near surface resource of 350,000 oz of gold grading 1.2 g/t gold.
FTCO has 24 million shares outstanding and is trading for $7.11 per share. It operates the Isabella Pearl Mine in Nevada which has a reserve of 159,600 oz of gold grading 3.88 g/t gold.
The Black Horse Gold Project historical resource of 350,000 oz of gold is based on only one of two target areas, with the higher grade target area not included in the resource.
After NPR signs the definitive agreement to become the operator of Black Horse it will begin to 1) bring the historical resource of 350,000 oz of gold into 43-101 status by confirming some of the historical drill holes, 2) rapidly expand the resource by drilling the second adjacent higher grade target area, 3) conduct infill drilling to upgrade inferred resources to the indicated category so that it becomes a reserve in the feasibility study.
Black Horse will become one of Nevada's lowest cost, most highly profitable gold mines. Most shareholder value will likely be created by NPR over the next six months, because the market will begin pricing in the future success of the mine. We see no way possible for NPR not to become a 10-bagger.
Past performance is not an indicator of future returns. NIA is not an investment advisor and does not provide investment advice. Always do your own research and make your own investment decisions. This message is not a solicitation or recommendation to buy, sell, or hold securities. NIA's President has purchased 200,000 shares of NPR in the open market. This message is meant for informational and educational purposes only and does not provide investment advice.