MXC Hit $16.25 for Gain of 51.73% in 2 Weeks!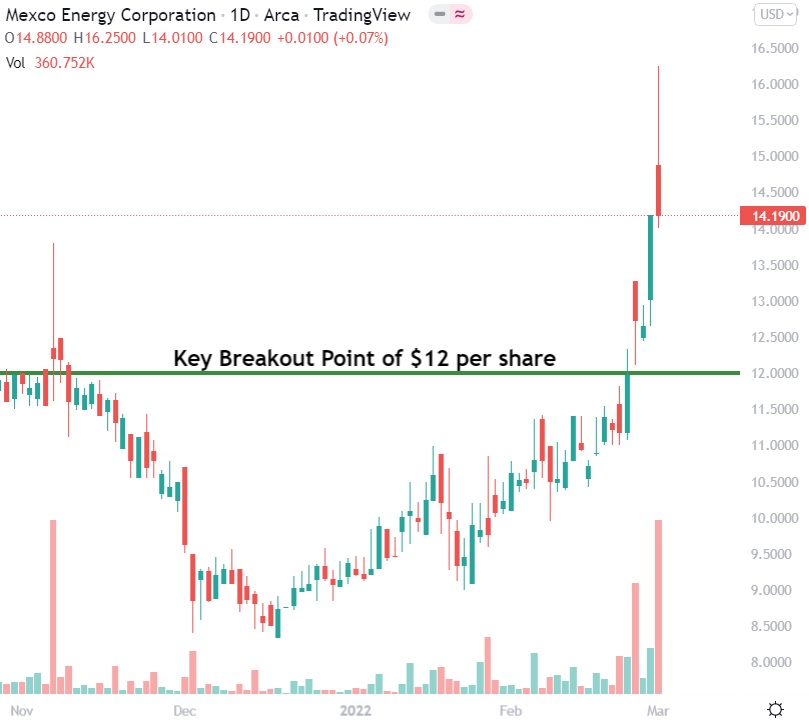 Mexco Energy (MXC) hit a high this morning of $16.25 per share for a gain of 51.73% since NIA announced MXC as its latest brand-new stock suggestion less than two weeks ago on February 16th at $10.72 per share.
Yesterday afternoon at 1:20PMEST with MXC trading at $12.90 per share, NIA sent out an alert entitled, "Mexco Energy (MXC) will break $15 per share and explode in the upcoming days."
NIA's prediction came true only 20 hours later with MXC gaining as much as 25.97% following NIA's Monday afternoon alert.
Most NIA members who we spoke to took profits on MXC today, which is perfectly fine if you believe like us that North Peak Resources (TSXV: NPR) and Virginia Energy Resources (TSXV: VUI) are both about to make triple digit gains in the weeks ahead and you want to add to those positions... but if you took profits because you believe MXC's run is over, you made a big mistake because it is definitely NOT over!
Maybe MXC dips as low as $13.50 per share tomorrow morning, but its next move after the profit takers finish selling will be to $20+ per share!
Past performance is not an indicator of future returns. NIA is not an investment advisor and does not provide investment advice. Always do your own research and make your own investment decisions. This message is not a solicitation or recommendation to buy, sell, or hold securities. NIA's President has purchased 211,000 shares of NPR in the open market and intends to buy more shares. This message is meant for informational and educational purposes only and does not provide investment advice.