MOX's Chart is Setup Perfectly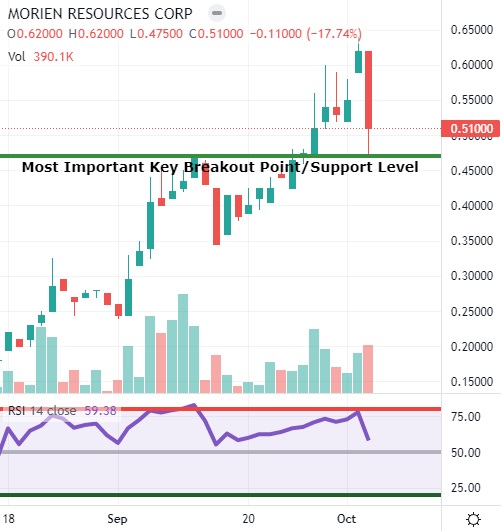 NIA has repeatedly said that Morien Resources (TSXV: MOX) would dip anytime its 14-day relative strength index (RSI) surpasses 80. NIA also said that $0.47 per share would not only be MOX's most important short-term key breakout point, but on the next profit taking dip $0.47 per share would be MOX's most important key support level prior to MOX surging to new record highs.
On Monday when MOX closed at $0.62 per share it had an RSI of 77.81. If MOX had another up day on Tuesday its RSI would have surpassed 80 and MOX would have dipped on Wednesday. Knowing that MOX's RSI was about to surpass 80 some of MOX's "smart investors" took profits on Tuesday.
Unfortunately for the investors who took profits on Tuesday, Newcastle Coal Futures made a record breaking gain during the overnight hours. We anticipate that anybody who exited on Tuesday will be rushing to reenter MOX in the upcoming days.
From MOX's Monday intraday high of $0.64 per share, MOX dipped by 25.78% to an intraday low on Tuesday of $0.475 per share. MOX found huge support just above its most important key support level of $0.47 per share exactly like NIA predicted!
MOX's chart is setup perfectly here at $0.51 per share with a very healthy RSI of 59.38. MOX will be able to reach much higher highs prior to the RSI returning close to 80. Fundamentally, MOX deserves to be trading for $3-$5 per share.
The gap between $0.58 and $0.59 that was created on Monday has also been filled in, which is very important for MOX hitting new highs!
NIA has never once bought or sold a single MOX share. We are covering MOX only for the benefit of NIA members because we know how extremely valuable this royalty is and we have a 100% perfect track record of success with royalty stock suggestions. All three of NIA's previous royalty picks got bought out at huge premiums: NIA's Ely Gold Royalties was acquired by Gold Royalty Corp (GROY), NIA's Coral Gold was acquired by Nomad Royalty (NSR), and NIA's Bullion Monarch Mining was acquired by EMX Royalty (EMX).
Other than the family of Chris Cline who paid a huge premium for their MOX shares and have never sold a single share, nobody controls any large blocks of MOX stock. MOX has been buying back stock every year with NO dilution whatsoever!
Past performance is not an indicator of future returns. NIA is not an investment advisor and does not provide investment advice. Always do your own research and make your own investment decisions. This message is not a solicitation or recommendation to buy, sell, or hold securities. This message is meant for informational and educational purposes only and does not provide investment advice.