NIA Announces #1 Favorite Mid-Year 2021 Stock Suggestion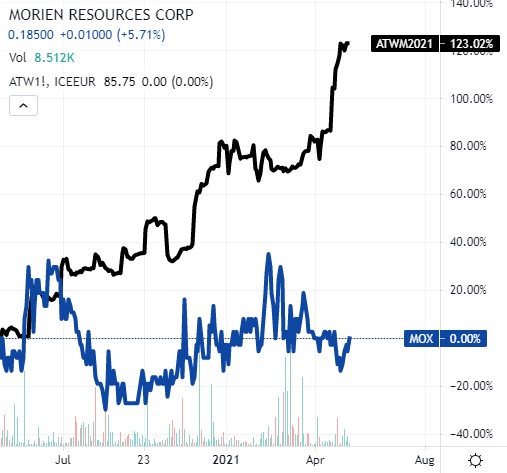 NIA is excited to announce its #1 favorite mid-year 2021 stock suggestion: Morien Resources Corp (TSXV: MOX). It has a U.S. OTC symbol of APMCF.
MOX is currently trading for $0.185 per share with 50.96 million shares outstanding giving it a market cap of CAD$9.43 million. MOX has CAD$2.522 million in cash and no debt giving it an enterprise value of CAD$6.91 million.
MOX owns an extremely valuable royalty of 2%-4% in Canada's highest quality coal mine the Donkin Coal Mine. In March 2020 when coal prices crashed, the Donkin Coal Mine was placed on care and maintenance. The mainstream media falsely reported that the Donkin Coal Mine has permanently closed, but that is simply their wishful thinking due to their anti energy agenda.
The owner of Donkin has invested $250 million into the mine since 2015 and we believe the mine is likely to reopen very soon! Coal futures today hit a new 30-month high of $85.75 per ton!
Back on April 28, 2020 when coal bottomed at $38.45 per ton, MOX was trading for $0.185 per share.
Coal is now trading 123% higher than its April 28, 2020 low yet MOX is still at the same price of $0.185 per share!
Past performance is not an indicator of future returns. NIA is not an investment advisor and does not provide investment advice. Always do your own research and make your own investment decisions. This message is not a solicitation or recommendation to buy, sell, or hold securities. This message is meant for informational and educational purposes only and does not provide investment advice.