NIA's Most Important Update of 2020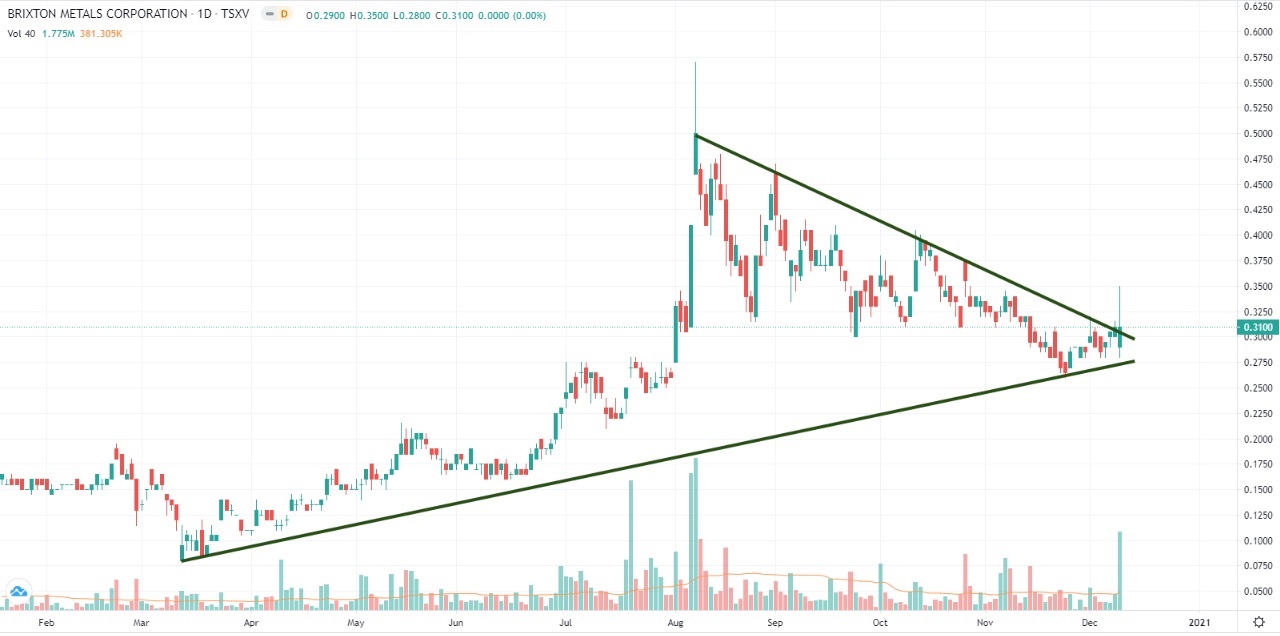 This morning at 10:11AMEST, NIA announced Brixton Metals (TSXV: BBB) at $0.28 per share as its brand new #1 favorite gold stock suggestion. BBB's management team rang today's TSX Venture opening bell of trading. BBB gained as much as 25% following NIA's morning announcement to hit a high of day today of $0.35 per share. BBB's U.S. OTCQB symbol BBBXF traded record volume today of 2.222 million shares or 10X above average. BBB's chart is bullish with the stock closing today at $0.31 per share above its key breakout point of $0.305 per share!
It was exactly three years ago today that NIA's President Gerard Adams co-hosted 'Fownders Mastermind' with the world's #1 ranked motivational speaker Eric Thomas for an exclusive 300 entrepreneurs in Newark, NJ. The web site for 'Fownders Mastermind' is still online today. After the 'Fownders Mastermind' was over, Gerard went to attend the afterparty for his VIP ticketholders where he met an entrepreneur by the name of Daniel DiPiazza. Daniel said to Gerard, "Hey listen I'm going to Brooklyn after this to see a shaman and I'm going to be working with a plant medicine called DMT." He invited Gerard to come and Gerard thought to himself, what the hell is a shaman and what is DMT? Gerard looked over to his right hand man and videographer Digital Jeff and asked if he should do this. Jeff said to Gerard, "Do you remember what you just preached at your own event?" Gerard had just spoken about three principles to live by: 1) Is this the most uncomfortable thing that you can do? 2) Is this the most uncertain thing that you can do? 3) Is this the hardest thing that you can do? If the answer to these questions is yes then you should do it. Ever since that night, Gerard has dedicated his life to helping others improve their lives mentally, physically, financially, and spiritually. Gerard has traveled the world to work with plant medicines like ayahuasca in countries like Peru, where he sometimes will tour the gold mine of a company he is researching for NIA members prior to attending an ayahuasca ceremony later that night.
This past weekend, NIA sent out an alert about its #1 favorite psychedelic stock suggestion Numinus Wellness (TSXV: NUMI) signing a collaboration agreement last week with the Multidisciplinary Association for Psychedelic Studies Public Benefit Corporation (MAPS) to seek approval to deliver MDMA-assisted psychotherapy for PTSD through a compassionate access trial in Canada. If MAPS was a publicly traded for-profit corporation, it would be even larger than psychedelic industry bellwether Compass Pathways (CMPS), which now has a market cap of $2 BILLION... but MAPS is a non-profit research and educational organization that relies on donations to conduct its clinical trials. Last year when Gerard interviewed the founder of MAPS Dr. Rick Doblin about exactly this same topic of MDMA-assisted psychotherapy for PTSD, Dr. Doblin explained to Gerard that his goal in life is not to become a billionaire, but it is to become a legal psychedelic therapist to help people suffering from PTSD.
Dr. Rick Doblin is clearly in the psychedelic space for the right reasons. When Gerard decided to accept NUMI as his first client in the psychedelic space it was because he determined that NUMI's CEO is also in this space for the right reasons. Although NUMI initially got very little reaction to its collaboration agreement with MAPS when it was announced last week, after NIA explained the significance of this deal over the weekend, NUMI has gained by 53.85% so far this week including a gain of 34.83% today with NUMI finishing today at a record high closing price of $1.20 per share! NUMI has now gained by 321.05% since NIA's initial suggestion on September 27th at $0.285 per share!
On November 27th, NIA sent out an alert explaining that besides NUMI, the only other high quality small-cap stock that NIA has discovered so far in the psychedelic space is Revive Therapeutics (CSE: RVV). NIA initially suggested RVV at $0.245 per share and on November 27th after it had reached $0.28 per share we explained that RVV was "beginning to build momentum". Yesterday, RVV hit a new high since NIA's suggestion of $0.45 per share for a gain of 83.67% from NIA's suggestion price!
The stock that NIA considers to be the most undervalued in the market today is Enterprise Group (TSX: E). Since NIA's E update at 3:45PMEST on November 30th at $0.18 per share, E has not had a single down day! E closed today at its exact long-term key breakout point of $0.245 per share!
If E closes tomorrow (Thursday) at $0.25 per share or higher we predict that it will surpass its September 22nd high of $0.34 per share before the end of 2020! We do not own a position in E because this is a small-cap company with not a lot of shares available in the float. We decided from the beginning since our initial suggestion on September 18th at $0.16 per share that we would allow NIA members the opportunity to fully capitalize on E instead of us being greedy and selfish by buying up all of the cheap shares for ourselves.
Past performance is not an indicator of future returns. NIA is not an investment advisor and does not provide investment advice. Always do your own research and make your own investment decisions. This message is not a solicitation or recommendation to buy, sell, or hold securities. NIA has been compensated by BBB USD$30,000 cash for a six-month marketing contract. NIA has been compensated by NUMI USD$30,000 cash for a six-month marketing contract. NIA has been compensated by RVV USD$30,000 cash for a six-month marketing contract. This message is meant for informational and educational purposes only and does not provide investment advice.