METC Exploding, Investors will Discover MOX this Weekend!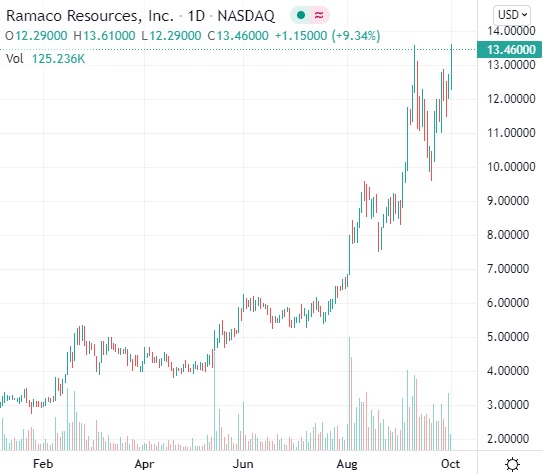 Investors are beginning to search likely crazy for coking coal stocks and Ramaco Resources (METC) is exploding this morning up by 8.94% to $13.41 per share. On September 10th when METC hit a new 58-month high of $13.58 per share, Dalian Coking Coal hit a new all-time high of 3,099 yuan (US$480.91) per tonne, but immediately declined to close September 10th at only 2,826.5 yuan (US$438.63) per tonne.
Dalian Coking Coal finished this week at a new all-time high of 3,290.5 yuan (US$510) per tonne, closing on Thursday at its high of day after gaining by the daily limit of 9%! China's week long holiday begins today meaning the Dalian Commodity Exchange is closed today and will remain closed until one week from today. This is a best case scenario for coking coal stocks!
After finishing 2020 at $2.88 per share, METC has gained by 365.625% so far in 2021!
Morien Resources (TSXV: MOX) finished 2020 at $0.18 per share and we expect MOX to catch up to METC's year-to-date gain next week. For MOX to be up by 365.625% year-to-date in 2021 from its 2020 year-end price of $0.18 per share, MOX will need to hit a new all-time high next week of $0.84 per share!
MOX declined from its Wednesday intraday high of $0.60 per share to a closing price yesterday of $0.53 per share for a healthy profit taking dip of 11.67%. We consider this to be a best case scenario for MOX because we all knew that it needed to make another healthy dip at some point. Now that MOX has gotten its dip out of the way it will be very easy for MOX to make a move to $0.84 per share next week!
MOX is likely to reach its fair value of $2.39 per share by year-end and we expect MOX's largest gains of 2021 to occur over the next week or two. The U.S. MSHA consultants are likely to visit Donkin approximately one week from today. By the U.S. MSHA consultants visiting Donkin it will be confirmation that the mine is preparing to restart operations in the upcoming months.
Be sure to read our last alert if you haven't done so already by clicking here to see how we were able to calculate the present value of MOX's Donkin gross production royalty!
Past performance is not an indicator of future returns. NIA is not an investment advisor and does not provide investment advice. Always do your own research and make your own investment decisions. This message is not a solicitation or recommendation to buy, sell, or hold securities. This message is meant for informational and educational purposes only and does not provide investment advice.