MARA Down 63.28% Since NIA's July 14th Warning
On July 14th, NIA sent out an alert entitled, "Bitcoin Miners Have Fully Priced in a New Bitcoin Bull Cycle".
In this alert NIA said, "Marathon Digital (MARA) closed yesterday at its #1 most overvalued enterprise value in history relative to Bitcoin prices. Bitcoin Miners have fully priced in a new bull cycle for Bitcoin that will never happen. By this time next year, MARA will be turning off their machines because they won't be able to afford the electricity to mine Bitcoin after the next halving event!"
July 14th was MARA's peak at $19.88 per share.
MARA closed today at $7.30 per share down by 63.28% in eleven weeks!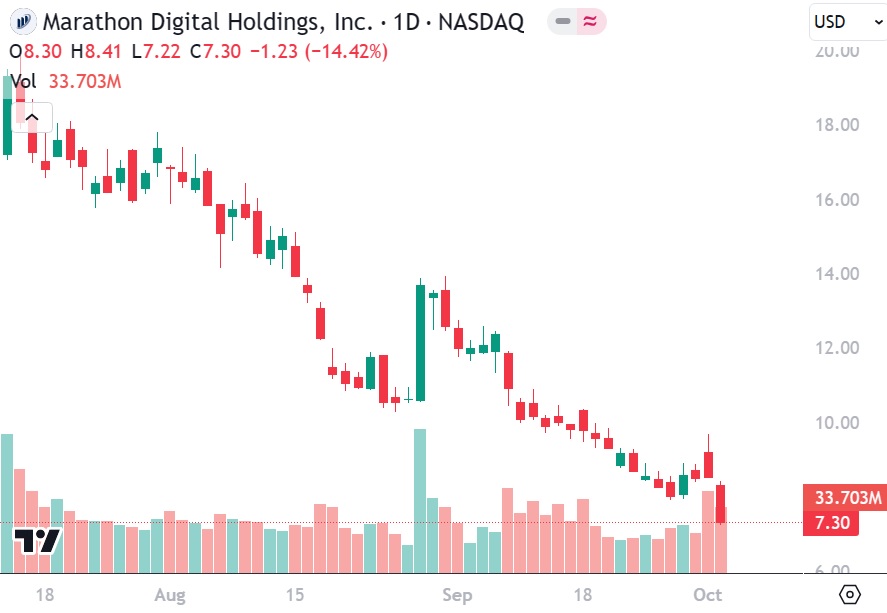 Bitcoin miners don't own resources of Bitcoin like gold exploration companies own resources of gold in the ground!
A new bull market for gold explorers is imminent, but Bitcoin miners will never surpass their July 14th highs!
Past performance is not an indicator of future returns. NIA is not an investment advisor and does not provide investment advice. Always do your own research and make your own investment decisions. This message is not a solicitation or recommendation to buy, sell, or hold securities. This message is meant for informational and educational purposes only and does not provide investment advice.