Investor's Ape NFTs Worth $800,000 Stolen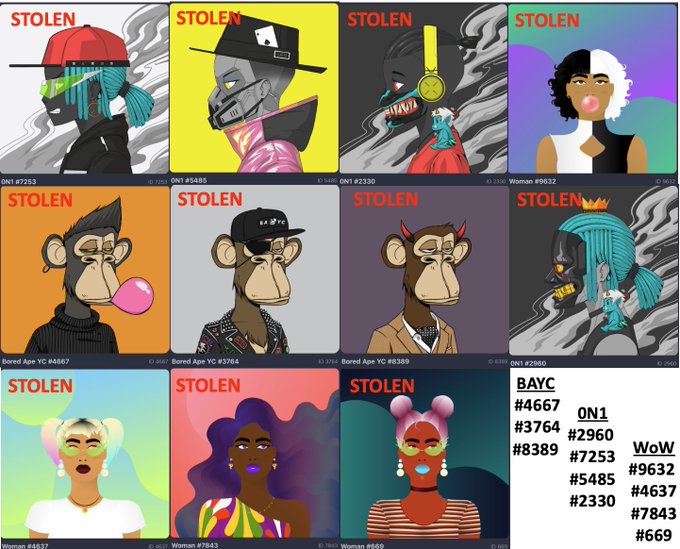 A few hours ago, Twitter user @sohrobf tweeted about how he just had 11 NFTs worth $800,000 stolen from him on Discord. Unfortunately, he didn't have a hardware wallet for his NFTs (it was being delivered on Thursday). He was "socially manipulated" into displaying his MetaMask QR code in a Discord support chat. He lost 3 apes (Bored Ape Yacht Club), 4 0n1s (0n1 Force), and 4 WoWs (World of Women). The timing couldn't have been worse because after Logan Paul tweeted in recent days about his purchases of ape, 0n1, and WoW NFTs their values have quadrupled. These 11 collectible NFTs are now worth a total of 250 Ethereum or $800,000 but they are gone forever! Click here to see his Tweet.
When GoldMoney (TSX: XAU) launches Totenpass in the upcoming weeks they will be hiring the world's most famous influencers to promote it. If Logan Paul and other big name influencers suddenly announce that they are storing their NFTs in gold to keep them safe and link people to Totenpass, you will suddenly see a rush of millions of Crypto investors ordering a Totenpass for each one of their NFTs. After each person orders their NFT Totenpass they will get a message to share (show off) a digital copy of their Totenpass on social media and earn free Bitcoin by helping others protect their NFTs in gold. By sharing their Totenpass on social media anytime somebody clicks on the link associated with their Totenpass and uses it to order their own Totenpass it will result in the person who shared it having Bitcoin transferred to their Totenpass account and once they earn a large amount of Bitcoin they can then have it securely deposited onto a new Totenpass that will be shipped to them.
XAU has a massive cash position and can afford to do the biggest marketing campaign for Totenpass. By year-end Totenpass will be a household name in the Crypto community.
Past performance is not an indicator of future returns. NIA is not an investment advisor and does not provide investment advice. Always do your own research and make your own investment decisions. This message is not a solicitation or recommendation to buy, sell, or hold securities. NIA's President has purchased 45,000 shares of XAU in the open market. He may buy additional shares or sell his shares at any time. This message is meant for informational and educational purposes only and does not provide investment advice.