Important Fiore Gold Update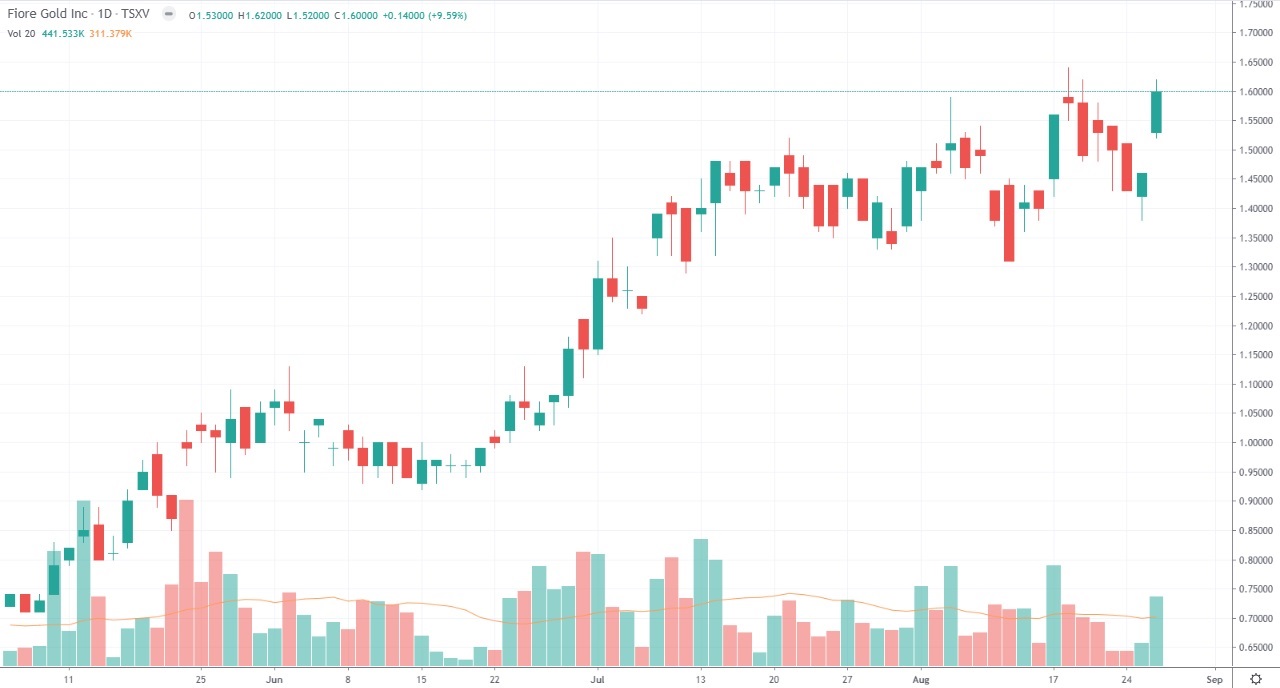 The next 30 days are extremely important for Fiore Gold and we will explain exactly why in this alert...
NIA's #1 favorite producing gold miner for the last 21 months straight has been Fiore Gold (TSXV: F). Last night, Fiore's earnings blew away our highest expectations! Fiore today gained by $0.14 or 9.59% to a new record high closing price of $1.60 per share! Although Fiore has now gained by 595.65% from our November 22, 2018 suggestion price of $0.23 per share, Fiore remains by far the #1 most undervalued producing gold miner in the entire market. In our July 2nd alert entitled "NIA's Most Important Update in History" we predicted with Fiore Gold at $1.17 per share that it would reach $1.50 per share this summer and NIA's prediction has come true! The crazy thing is... Fiore's fundamentals have been improving even faster than its share price has been rising!
When NIA first announced Fiore Gold as its #1 overall stock suggestion for 2019 on November 22, 2018 at $0.23 per share, it had a market cap of USD$17.05 million, which was less than Fiore's working capital at the time of USD$17.345 million or $0.234 per share! Since then, Fiore's working capital has increased for eight straight quarters at a compound quarterly growth rate of 8.81%. Fiore's working capital is now up to USD$34.083 million or $0.473 per share!
Fiore's net cash position is now up to USD$14.265 million after growing by 146.458% last quarter from the preceding quarter! Fiore generated record positive operating cash flow last quarter of USD$10.457 million for an increase of 169.58% from the preceding quarter and an increase of 327.86% from the year ago quarter! 
The next 30 days are extremely important for Fiore Gold because exactly one month from today on September 26, 2020 all of Fiore Gold's outstanding warrants are set to expire. Back on September 26, 2017, Fiore Gold raised CAD$17.01 million in a private placement by selling 14,777,078 shares at $1.15 per share. Each private placement investor also received an equal number of Fiore Gold warrants that were exercisable for three years with an exercise price of $1.70 per share. These warrants have never been in the money but now that their expiration is one month away suddenly Fiore Gold is only $0.10 away from their exercise price! In addition, Fiore also has 6,554,897 outstanding special warrants with an exercise price of $1.77 per share that also expire on September 26th!
A best case scenario for Fiore Gold shareholders would be for the stock to remain below $1.70 per share for the next 30 days allowing all 21,331,975 warrants to expire worthless. This would keep Fiore's shares outstanding at their current level of 98.047 million. Fundamentally, we believe Fiore Gold now deserves to trade with an enterprise value of 3X its trailing twelve month revenue of USD$66.538 million, which would currently value Fiore at $2.87 per share assuming there is no dilution. When Fiore is ready in the future to bring Gold Rock into production and decides to raise additional capital to cover the capital expenditures required to develop this new gold mine and fuel long-term growth... we believe they will have an opportunity to raise the funds at prices far higher than $1.70-$1.77 per share. At this current time, Fiore has no need to raise any capital at all because its Pan Mine is a free cash flow machine!
If Fiore approaches $2 per share within the next 30 days we are afraid that the warrant holders may decide to sell Fiore shares short in a risk-free way knowing that they can cover simply by exercising the warrants prior to September 26th and will profit the difference in between their short sale price and the warrant exercise price. Normally, we view a large short interest in a stock as an extremely bullish thing to have. Look no further than Tesla... Elon Musk purposely acted like a lunatic with crazy tweets to trick hedge funds into selling Tesla stock short... knowing that he has a shareholder base that is equal in loyalty to Trump's voter base... making it easy for him to orchestrate the largest short squeeze in history with the shorts losing $50 billion as their squeeze took Tesla to $2,150+ per share with its market cap reaching $400 billion! Unfortunately, Fiore's warrant holders can short after their warrants are in the money without any worry of getting squeezed, which may create artificial supply in Fiore's shares over the next 30 days... thereby holding it temporarily below $2 per share. Look for Fiore Gold to make a major breakout to well above $2 per share in October because at that point the warrants will be gone!
In general, warrants are a good thing for companies to offer as an added incentive to investors... it's just when they are close to expiring the warrant holders become desperate to immediately get some kind of value out of them!
Past performance is not an indicator of future returns. NIA is not an investment advisor and does not provide investment advice. Always do your own research and make your own investment decisions. This message is not a solicitation or recommendation to buy, sell, or hold securities. Never make investment decisions based on anything NIA says. This message is meant for informational and educational purposes only and does not provide investment advice.