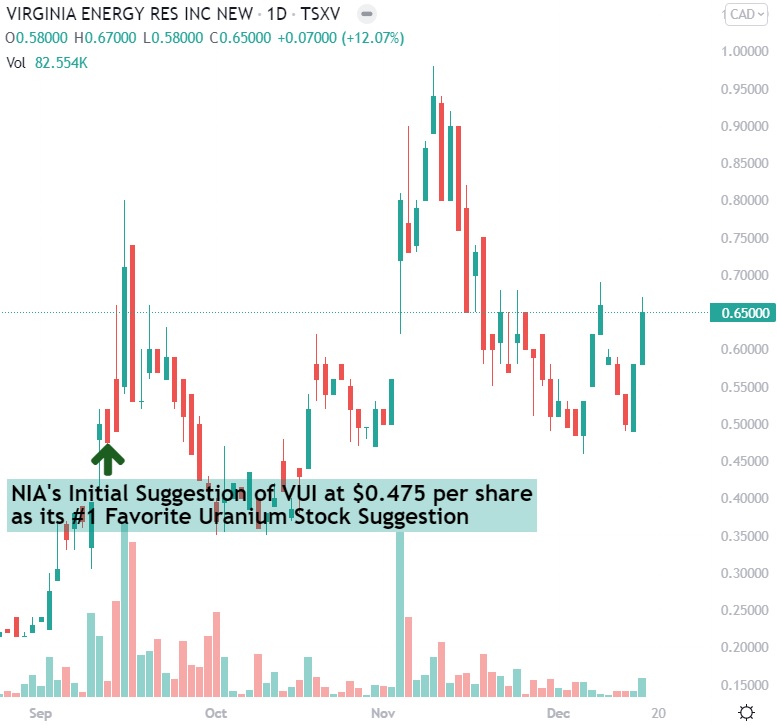 Virginia Energy Resources (TSXV: VUI) gained by 12.07% today to $0.65 per share and is likely to become the second largest gaining TSXV stock of early 2022 after only North Peak Resources (TSXV: NPR). Virginia Governor-Elect Glenn Youngkin takes office next month and his latest comments indicate that he will do everything the exact opposite of the last two Governors (both Democrats), which is a best-case scenario for VUI's Coles Hill Uranium Project. A few days ago, Youngkin announced that he will be using executive action to remove Virginia from the Regional Greenhouse Gas Initiative (RGGI). According to Youngkin, "Just this week Dominion Energy announced that they will seek to double the carbon surcharge that is being applied to ratepayers under the Regional Greenhouse Gas Initiative. RGGI will cost ratepayers over the next four years an estimated $1 billion to $1.2 billion. RGGI describes itself as a regional market for carbon, but it is really a carbon tax that is fully passed on to ratepayers. It's a bad deal for Virginians. It's a bad deal for Virginia businesses. And as governor I will withdraw us from RGGI by executive action."
Youngkin also said in recent days that he wants to get started on "jump-starting" job growth and focus on the challenges of Virginia's business climate. Youngkin's goal is to help create 400,000 new jobs and 10,000 new business startups during the next four years. According to Youngkin, "Governors don't create jobs, you all do. Permits and licensing must move quickly. We have to move at the speed of business and not the speed of government."
All signs point to Youngkin being a huge supporter of VUI's Coles Hill Uranium Project and the high paying jobs the mine will create. We believe Youngkin is likely to fully support the passage of uranium mining regulations that will allow VUI to apply for a permit to develop Coles Hill and bring America's #1 largest untapped uranium resource into production. VUI already has huge support from two of the most powerful U.S. Senators, Ted Cruz and Tom Cotton, both of whom campaigned publicly for Youngkin and are very close friends of the Governor-Elect.
There is growing bipartisan support in Washington for the U.S. to develop new domestic sources of uranium. Yesterday, CNBC published an article entitled, 'Sen. Joe Manchin cheers move to create more uranium for advanced nuclear reactors'. According to the article, "The U.S. government is taking its first step towards encouraging more high-assay low-enriched uranium fuel in the United States, paving the way for a new generation of nuclear reactors that promise to be safer and more efficient than traditional designs."
The article quoted Manchin, "I am pleased that the Department of Energy is moving ahead with this announcement that will lead to a domestic supply of high-assay low enriched uranium in the United States. I have long supported the commercialization of advanced nuclear technologies as a zero-emission source of baseload energy, and I am committed to funding the Advanced Nuclear Fuel program as authorized in the Energy Act of 2020 to prevent reliance on Russia or other foreign suppliers to fuel the next generation of nuclear power."
Past performance is not an indicator of future returns. NIA is not an investment advisor and does not provide investment advice. Always do your own research and make your own investment decisions. This message is not a solicitation or recommendation to buy, sell, or hold securities. NIA's President has purchased 200,000 shares of NPR in the open market. This message is meant for informational and educational purposes only and does not provide investment advice.