Huge Spike in Searches for NTE
Network Media Group (TSXV: NTE) has countless new investors who are beginning to research the stock right now. According to Google Trends, there was a huge spike in searches for "NTE stock" between the hours of 5PMEDT and 12AMEDT last night. As far as who is searching for "NTE stock", Google Trends shows a "breakout" from investors who previously searched for either "GNUS stock" or "CIDM stock". Many of the same investors who jumped into GNUS and CIDM due to nothing but momentum, causing them both to explode for one week gains at their highs yesterday of 534.8% and 571.7%, respectively... are beginning to learn about NTE and have already added the stock to their radar screens. Google Trends also shows that a lot of the searches for "NTE stock" have been occurring after investors had visited the web sites StockTwits and Reddit. Beginning today and accelerating next week, look for investors to exit GNUS and CIDM and enter NTE with the proceeds.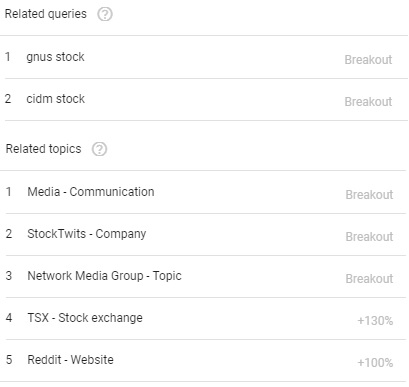 We initially learned about CIDM on Tuesday evening while scrolling through the GNUS page on StockTwits looking for GNUS sympathy plays. After researching CIDM and realizing that it already had an enterprise value at $0.73 per share of $112.56 million equal to 2.58X revenue and 31.52X EBITDA, despite their revenue in the previous quarter declining by 21.38%, we decided to stay up for the entire night researching every single company in the streaming content production space. We had hopes of discovering an extremely undervalued, fundamentally strong, rapidly growing streaming play that the investment community wasn't aware of yet... but we knew that the odds of us doing so would be extremely low.
We were shocked when we came across NTE and realized that this is the parent company of Network Entertainment the company that has produced more well-known, high quality, critically acclaimed, awarding winning documentaries for digital streaming platforms than any other company in the world! NTE's wholly owned Network Entertainment is the company that in partnership with Paramount has been producing the critically acclaimed series of "I Am" documentaries including I Am Patrick Swayze, I Am Richard Pryor, I Am Paul Walker, I Am MLK Jr., I Am Heath Ledger, I Am JFK Jr., I Am Chris Farley, I Am Dale Earnhardt, I Am Steve McQueen, and I Am Evel Knievel. NTE and Paramount are timing the release of their next major I Am documentary to coincide with the peak of the 2020 Presidential Campaign Season when they will release I Am Jackie O, which promises to become their #1 most talked about documentary in history!
Here is the truth... although NTE doesn't produce animated cartoons like GNUS, practically every documentary produced by NTE becomes many times more successful than anything that GNUS has ever released in its history. When it comes to the world of animation... the #1 most successful executive in history is Jeffrey Katzenberg. As Chairman of Walt Disney Studios from 1984 to 1994, Katzenberg oversaw the production of the company's biggest hits in history: The Little Mermaid (1989), Beauty and the Beast (1991), Aladdin (1992), and The Lion King (1994). Afterwards as co-founder and CEO of DreamWorks Animation, he oversaw the production of such animated franchises as Shrek, Madagascar, Kung Fu Panda, Monsters vs. Aliens and How to Train Your Dragon. Today, he is the founder of Quibi, the #1 most valuable unicorn in the short-form mobile streaming video space... and when he decided to fund a very high budget docuseries starring Tyra Banks called 'Beauty' he immediately recognized that NTE stands alone as the #1 highest quality company in this space and Katzenberg hired NTE to produce his #1 most important docuseries that will play the most significant role in determining if Quibi venture capital investors see a positive return on their $1.8 BILLION investment!
Past performance is not an indicator of future returns. NIA is not an investment advisor and does not provide investment advice. Always do your own research and make your own investment decisions. This message is not a solicitation or recommendation to buy, sell, or hold securities. Never make investment decisions based on anything NIA says. This message is meant for informational and educational purposes only and does not provide investment advice.