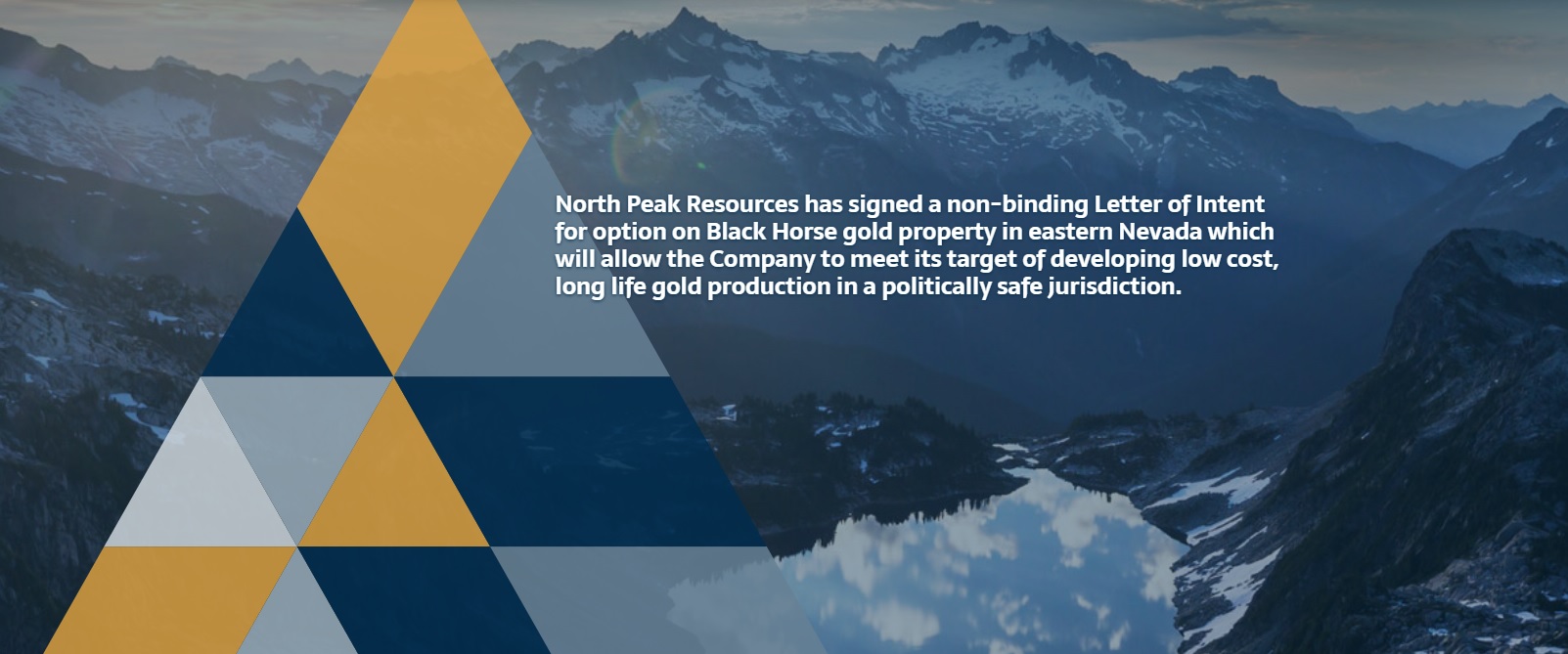 North Peak Resources (TSXV: NPR) gained by 15.71% today to $0.81 per share. NPR is getting ready to sign a definitive agreement for Black Horse, which NIA considers to be the #1 highest quality gold project in all of Nevada with potential to contain a massive near-surface high grade gold resource. With only 20 million shares outstanding, NPR has a market cap of only CAD$16.2 million (US$12.98 million). NPR has a huge cash position of CAD$7.024 million (US$5.63 million), giving NPR an extremely low enterprise value of only CAD$9.176 million (US$7.35 million).
NPR's deal for Black Horse is being structured in a brilliant way. NPR is only making a small down payment so that it can use the majority of its existing cash position to fund a massive drilling program without any dilution to shareholders. The previous operator of Black Horse already made many high grade gold intercepts all within the first 100m of surface! Black Horse has never been explored with modern mining methods. There is an excellent chance that NPR will find a feeder zone of even higher gold grades after they begin exploring Black Horse for the first time in history at depths of below 100m.
The strike of Black Horse will be multiple km long and it will be perfectly suitable for low cost open pit heap leaching. Early metallurgical testing has shown amazingly high rates of gold recoveries. After NPR intercepts extremely high gold grades in its maiden drilling program we are very confident that the company will be able to fund all future development of Black Horse by doing private placements at prices of $5 per share or higher and most likely at prices north of $10 per share considering that gold is getting ready to breakout to new all-time highs of above $2,100 per oz in the upcoming months! We expect NPR's share count to always remain extremely low and we sincerely believe that the only chance to enter NPR at the ground-floor is right now!
NPR has the best CEO and the best geologist in the entire gold mining sector! Their track record is unparalleled and through their exclusive industry contacts after decades of gold mining success they have discovered Nevada's most exciting gold project that nobody knew existed because it has always been owned by privately held companies and hasn't been drilled since 1998! NPR is the biggest opportunity that NIA has discovered since its inception 13 years ago!
Past performance is not an indicator of future returns. NIA is not an investment advisor and does not provide investment advice. Always do your own research and make your own investment decisions. This message is not a solicitation or recommendation to buy, sell, or hold securities. NIA's President has purchased 200,000 shares of NPR in the open market. This message is meant for informational and educational purposes only and does not provide investment advice.