Huge Day for NIA, BIG Announcement Coming!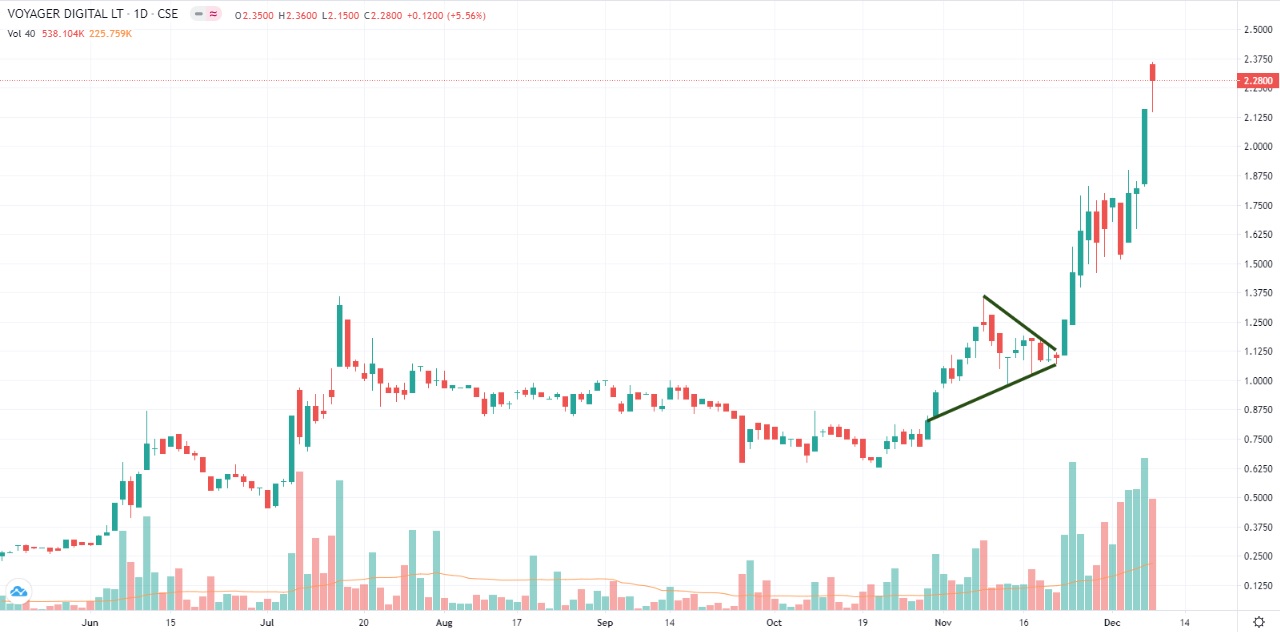 NIA is going to be making a HUGE announcement at 9:30AMEST tomorrow (Wednesday) morning! Over the last six trading days, gold has gained by $94 to $1,874.90 per oz. Three of the world's wealthiest mining investors have quietly taken large stakes in the same small-cap gold exploration company but it has gotten little attention so far. At its current price, this company is going to officially be our new #1 favorite gold stock suggestion.
Even with Bitcoin dipping by 3.77% over the past two days, NIA's #1 favorite Bitcoin stock suggestion Voyager Digital (CSE: VYGR) has gained by 25.27% so far this week to a record high closing price of $2.28 per share! In fact, VYGR hit a new all-time high today of $2.36 per share for a gain of 280% from NIA's initial June 10th suggestion price of $0.60 per share and a gain of 165.17% since NIA reprofiled VYGR on October 30th at $0.89 per share. Voyager's Android app hit a new record high ranking today in the U.S. finance category of #30! Voyager's app is catching up to the Android app of Coinbase an $8 billion unicorn that is ranked #11. Voyager's app is now ranked ahead of the Android apps of: #31 State Farm: a company with $81 billion in annual revenue, #32 Citigroup (C): a $121.5 billion market cap company, and #33 Allstate (ALL): a $32.06 billion market cap company.
Over the weekend, NIA sent out the big news from last week released by its #1 favorite psychedelic stock suggestion Numinus Wellness (TSXV: NUMI). After gaining by 14.1% on Monday to close at $0.89 per share, NUMI hit a high today of $0.97 per share for a gain of 240.35% from NIA's September 27th suggestion price of $0.285 per share!
NIA considers Enterprise Group (TSX: E) to be the most undervalued stock in the market based on its strong balance sheet. On Monday, November 30th at 3:45PMEST, NIA sent out an E update calling it a 100% sure way to profit big from its then price of $0.18 per share. E has closed on the last two straight trading days at $0.24 per share and we believe it will breakout above its long-term key breakout point of $0.245 per share any day now.
Past performance is not an indicator of future returns. NIA is not an investment advisor and does not provide investment advice. Always do your own research and make your own investment decisions. This message is not a solicitation or recommendation to buy, sell, or hold securities. NIA has received compensation from VYGR of USD$60,000 cash for a one-year marketing contract. NIA has received compensation from NUMI of USD$30,000 cash for a six-month marketing contract. This message is meant for informational and educational purposes only and does not provide investment advice.