Huge CLH Development - Must Read!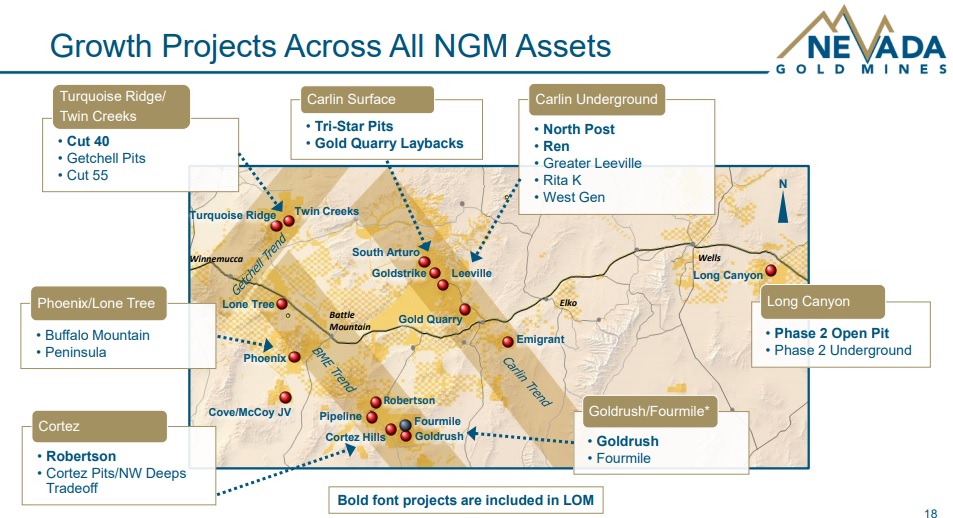 Nevada Gold Mines (NGM) just announced one hour ago that this afternoon in Nevada they will be hosting a group of analysts for their first site visit since the formation of the Barrick / Newmont Goldcorp joint venture at the beginning of July. Click here to read the press release that just hit the wire entitled, 'Showcasing the world's leading gold mining complex'.
According to the press release, "The benefits of combining the assets and infrastructure in Northern Nevada will be showcased in a presentation by the Nevada team to the visitors today. A copy of the presentation is available on the Barrick website."
NIA found the brand new presentation and read through it real quick. One thing we noticed is an extremely HUGE development for Coral Gold (TSXV: CLH).
On Page 18 entitled, 'Growth Projects Across All NGM Assets' there is a map of the entire NGM complex and for each gold mine it lists the deposits/projects that NGM is relying on to fuel that mine's future production growth. Furthermore, it says at the bottom, "Bold font projects are included in LOM" meaning life of mine!
For NGM's Cortez Mining Complex, which is NGM's #1 most important mining complex with production last year of 1.26 million oz of gold, Robertson is listed as the #1 project to fuel future growth! Furthermore, Robertson is in bold meaning that production from Robertson is officially being counted towards Cortez's Life of Mine, which is a MAJOR new development that hasn't  been announced yet!
This is an extremely bullish sign for CLH, which holds a sliding-scale NSR royalty in Robertson currently worth 1.5% and will be worth 2.25% after gold surpasses $2,000 per oz! It means that NGM internally has already calculated Robertson's resource/reserve size and their Pre-Feasibility Study must almost be ready for release! The results MUST be good if NGM is featuring Robertson to analysts as the #1 project to fuel production growth of Cortez, which is NGM's largest producing gold mining complex!
Past performance is not an indicator of future returns. NIA is not an investment advisor and does not provide investment advice. Always do your own research and make your own investment decisions. This message is not a solicitation or recommendation to buy, sell, or hold securities. Never make investment decisions based on anything NIA says. This message is meant for informational and educational purposes only and does not provide investment advice.