HP Gains Another 44% to New All-Time High!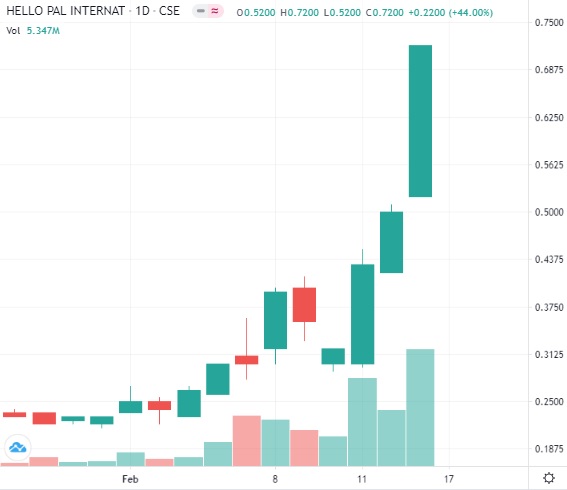 NIA's latest brand new stock suggestion Hello Pal (CSE: HP) gained by 44% on Tuesday to close at its exact high of day and a new all-time high of $0.72 per share on record volume of 5,327,151 shares! Since NIA's initial announcement on Thursday morning HP has gained by 125% in three trading days on total three-day volume of 11,879,085 shares!
China is way ahead of the U.S. in rolling out 5G services. China has more 5G subscribers than the U.S. not just in total but also on a per capita basis. China has far more 5G phones for sale than the U.S. at far lower prices and China's 5G network has much more widespread coverage. China is expected to have over 1.7 million 5G base stations by year-end 2021 providing services to 180 million devices!
China's 5G revolution is helping fuel explosive growth for HP's Hello Pal livestreaming platform! All together, HP currently has over 5.4 million registered users from 200 countries/regions around the world! HP's Hello Pal app enables users to speak in their own language regardless of the other person's language they are speaking to! Hello Pal makes it easy to instantly interact with others around the world while giving them the tools to communicate with each other in a joyful and fun way!
HP's livestreaming technology allows Hello Pal users to broadcast themselves to other users in real time, receive virtual gifts, and redeem the gifts using HP's built-in blockchain/crypto technology!
Past performance is not an indicator of future returns. NIA is not an investment advisor and does not provide investment advice. Always do your own research and make your own investment decisions. This message is not a solicitation or recommendation to buy, sell, or hold securities. NIA has received compensation from HP of USD$50,000 cash for a six-month marketing contract. This message is meant for informational and educational purposes only and does not provide investment advice.