Homestake Mining Wanted NPR's Property
Back in 2001, Homestake Mining the longest listed NYSE company of all time wanted to acquire North Peak Resources (TSXV: NPR)'s newly acquired Prospect Mountain Mine Complex. Homestake signed a joint venture agreement with European American Resources to earn a controlling stake in it. However, after drilling only two holes in NPR's project area, Barrick acquired Homestake Mining and immediately closed down Homestake's adjacent Ruby Hill Mine thereby ending their need to explore Prospect Mountain. NPR was able to get the drilling data for Homestake's two holes and they were successful at intercepting strong grades of gold in a totally different area of the property compared to where European American Resources was discovering high grade gold.
The Prospect Mountain/Ruby Hill District in Eureka, NV is the only place we have ever seen besides the Beatty Gold District where Augusta Gold (TSX: G) has its two gold projects... where there is gold nearly everywhere!
NPR's Prospect Mountain is in between the exact same faults as all of i-80 Gold (TSX: IAU)'s largest/highest grade gold deposits directly to the north.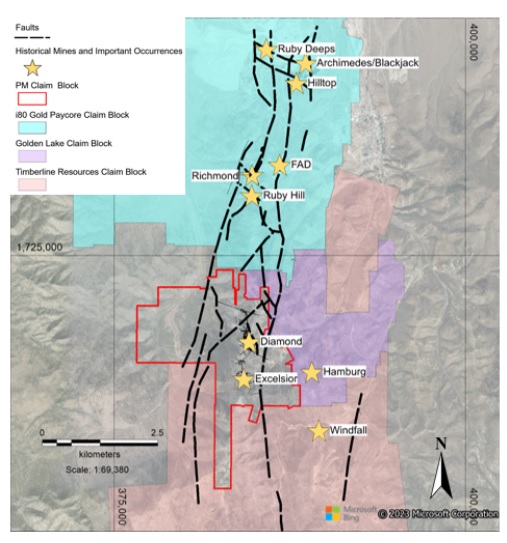 IAU is worth $512 million. NPR is currently worth only $33.52 million and about to rise significantly higher.
NPR and G are the only two gold companies with management teams that consistently create multi-billion-dollar market cap companies.
Past performance is not an indicator of future returns. NIA is not an investment advisor and does not provide investment advice. Always do your own research and make your own investment decisions. This message is not a solicitation or recommendation to buy, sell, or hold securities. NIA's President has purchased 60,000 shares of NPR in the open market and intends to buy more shares. NIA's President has purchased 224,200 shares of G in the open market and intends to buy more shares. This message is meant for informational and educational purposes only and does not provide investment advice.