Gold's Most Important Key Breakout Point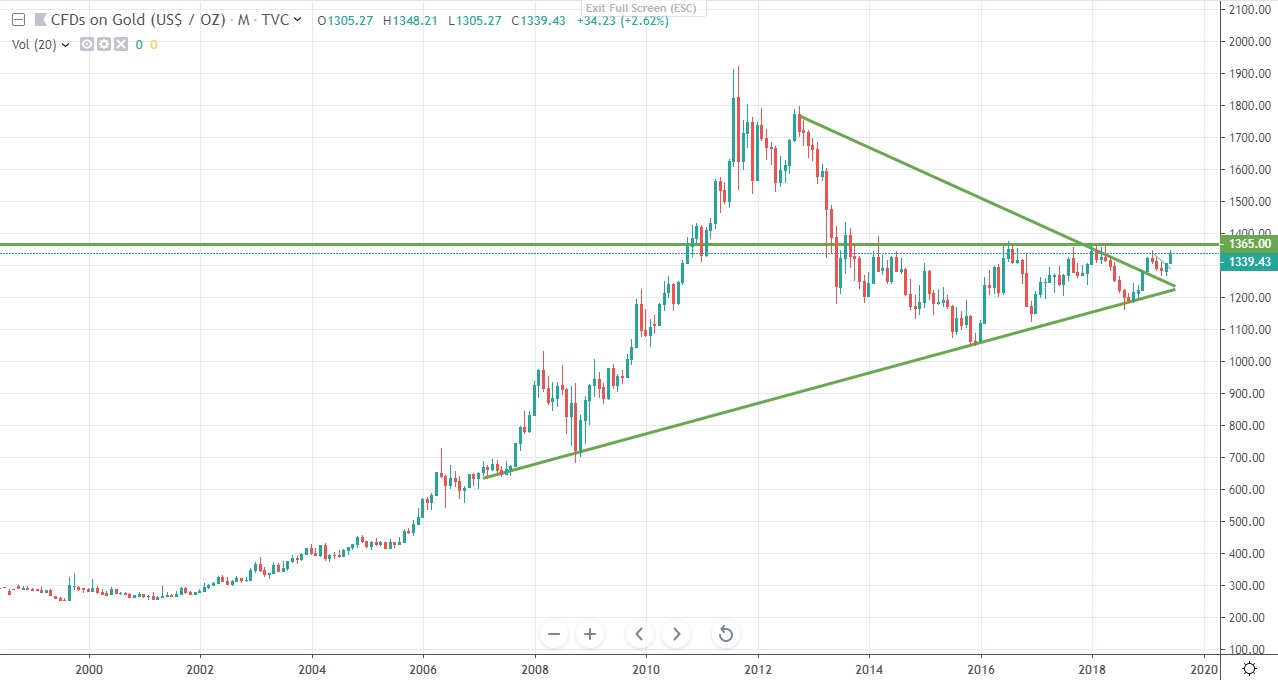 Gold is up today for its 11th of the past 12 trading days gaining $7.53 to $1,339.43 per oz. Gold's long-term chart couldn't possibly look any more bullish than it does today!
In January 2019, gold achieved a bullish breakout from its long-term pennant chart formation. Gold is rapidly approaching its most important key breakout point in history of $1,365 per oz. As soon as gold achieves a convincing breakout past $1,365 per oz, which will be 100% confirmed by gold reaching $1,375 per oz, we will likely see gold make its largest short-term price explosion in history.
Billionaire hedge fund manager Paul Tudor Jones said yesterday that gold is his top trade for the next 12-24 months, predicting that when gold breaks $1,400 per oz it will see $1,700 per oz "rather quickly".
By far, NIA strongly believes the #1 way to capitalize on gold's imminent price explosion is with NIA's #1 stock suggestion for 2019, Fiore Gold (TSX Venture: F).
Over the last twelve months, Fiore has successfully increased its working capital by 37.86% to CAD$28.84 million or $0.30 per share. Fiore's working capital consists of CAD$11.08 million in cash up 49.9% from one year ago and $22.53 million in inventory (mined ore already placed on its leach pads) up 64.33% from one year ago!
At Fiore's current share price of $0.35 per share it is only receiving $0.05 per share in value for its mining properties, huge gold reserve/resource, infrastructure, equipment, etc. This is complete insanity because just Fiore's Pan Gold Mine reserves that are 100% proven/probable of 275,600 oz have a current in-ground value of CAD$492 MILLION! If we reduce their value to reflect Fiore's most recent all-in sustaining production costs of USD$899 per oz (CAD$1,198 per oz), it will cost Fiore an estimated CAD$330.169 million to remove this gold from the ground, which will leave CAD$161.831 million or $1.65 per share in value for Fiore shareholders ON TOP of its working capital of $0.30 per share for a total fair value of $1.95 per share!
Past performance is not an indicator of future returns. NIA is not an investment advisor and does not provide investment advice. Always do your own research and make your own investment decisions. This message is not a solicitation or recommendation to buy, sell, or hold securities. Never make investment decisions based on anything NIA says. This message is meant for informational and educational purposes only and does not provide investment advice.