Gold No Longer Has Any Competition
With Bitcoin crashing by 30% during the past week alone to a low this weekend of $17,592.78, gold no longer has any real competition as a safe haven store of value. The closest thing to a competitor to gold at this point is Apple (AAPL) stock, but as we have been explaining in recent weeks... the most important chart in the world right now is AAPL's enterprise value/revenue ratio vs. its long-term medians. The stock market isn't going to bottom until AAPL declines back to at least its 5-year median EV/revenue ratio of 4.50 and quite possibly its 10-year median EV/revenue ratio of 3.60. Right now, AAPL is still trading with an enterprise value of 5.739X revenue, which is one of its highest multiples in history... despite the fact that rapidly rising U.S. price inflation will cause AAPL's profit margins to deteriorate moving forward.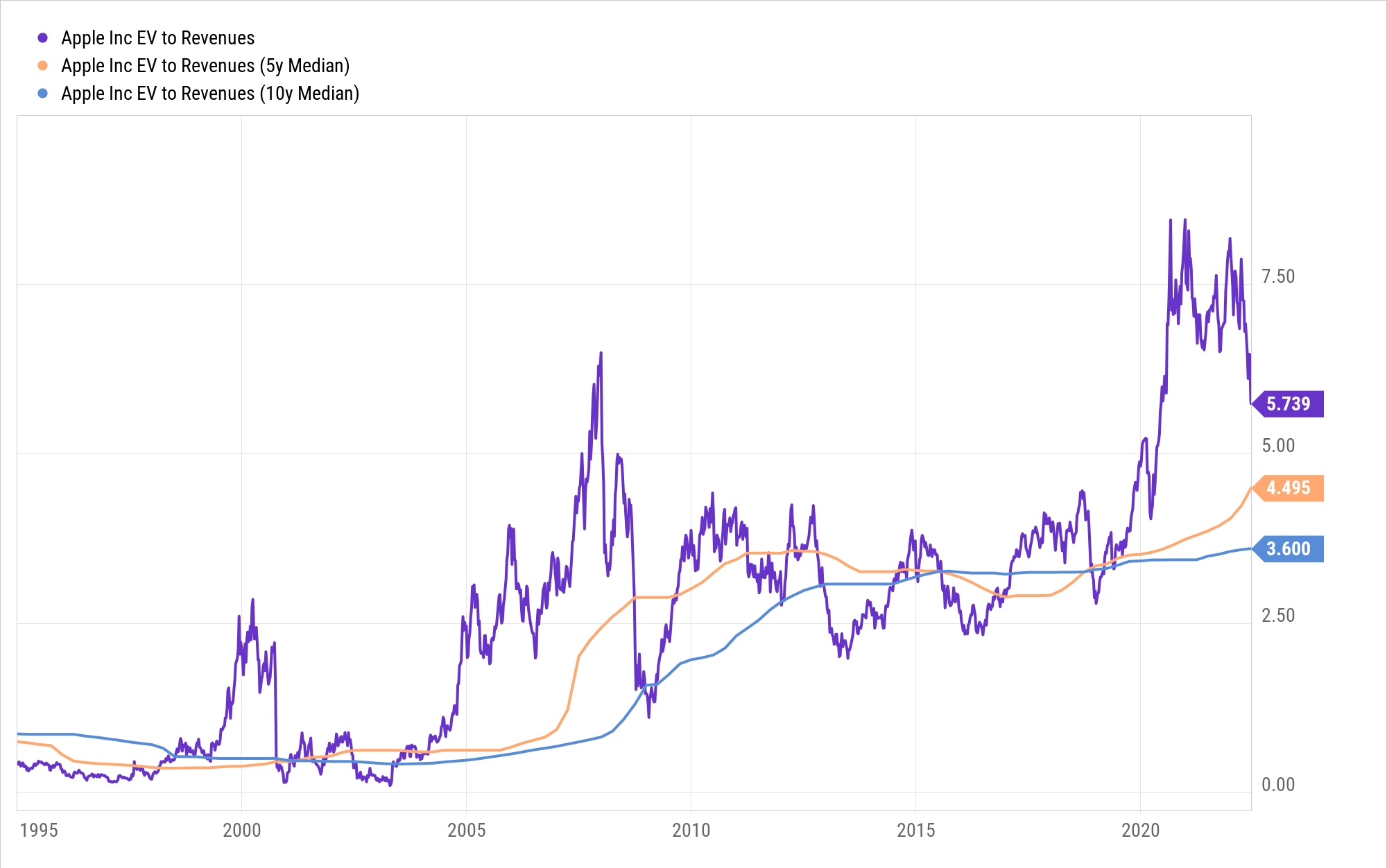 If a Fed Funds Rate Hike of 75 basis points was unable to drive gold back down to its May 16th low of $1,785 per oz, we don't know of any catalysts that will. At this point, all of the upcoming rate hikes are already fully priced into gold. Moving forward, gold will begin to price in future emergency rate cuts that will occur during the upcoming recession/depression that will cause U.S. price inflation to become a secondary concern... similar to how gold fully priced in the current price inflation crisis in advance between March 2020 and August 2020 when gold rallied from $1,450.90 per oz up to $2,089.20 per oz.
It won't take much fund flows into gold to drive it to new all-time highs of above $2,089.20 per oz. Gold has already hit new all-time highs this year in Euros and Yen, and new all-time highs in U.S. dollars are coming. As soon as gold hits a new all-time high in U.S. dollars we could instantly see a $400-$500 per oz rally in the price of gold within the following month!
Augusta Gold (TSX: G) is the stock that is best leveraged to rising gold prices, but without the risks that come with buying a stock on leverage. G's Bullfrog and Reward gold projects will be very profitable at current gold prices and G only needs a very small increase in the price of gold for the value of its Bullfrog and Reward gold projects to instantly multiply!
Past performance is not an indicator of future returns. NIA is not an investment advisor and does not provide investment advice. Always do your own research and make your own investment decisions. This message is not a solicitation or recommendation to buy, sell, or hold securities. NIA's President has purchased 174,200 shares of G in the open market and intends to buy more shares. This message is meant for informational and educational purposes only and does not provide investment advice.