Gold Hits $1,244.40! Fiore Could Reach $0.50+ in Days Ahead!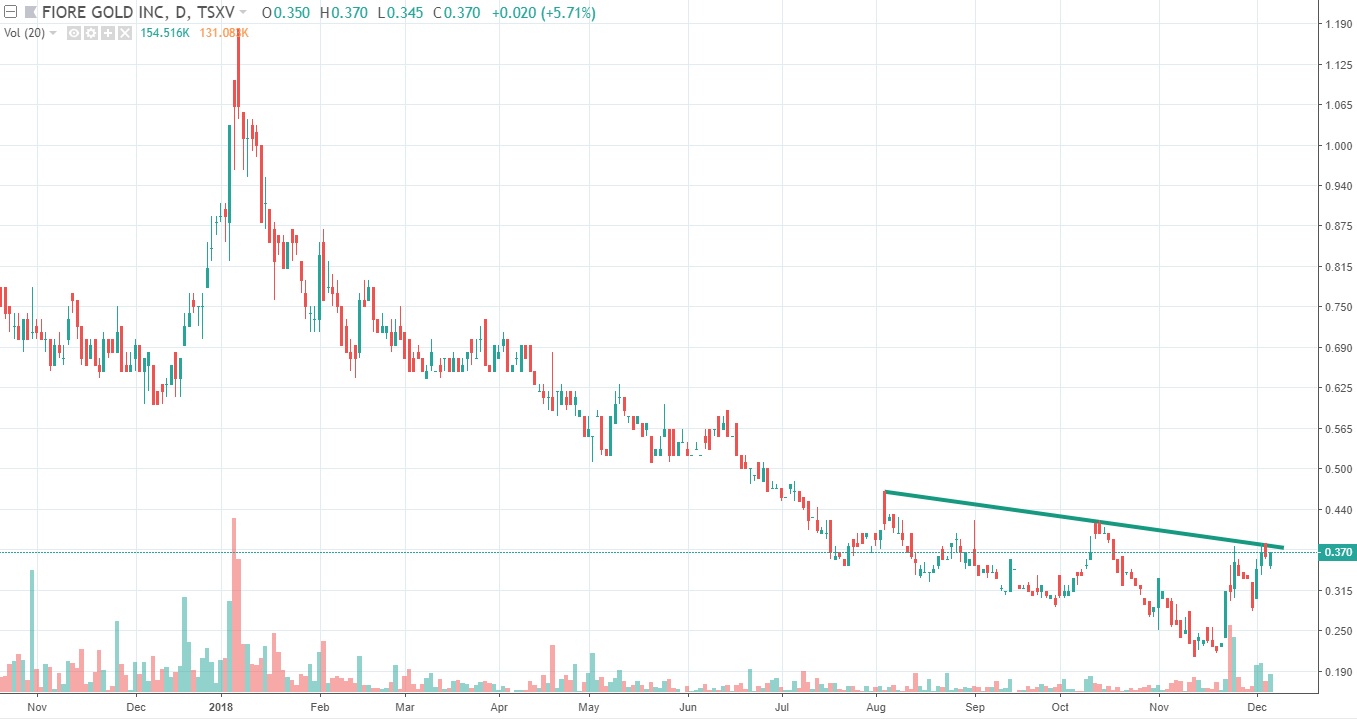 With the Dow, NASDAQ, and S&P 500 once again crashing this morning, gold is once again breaking out big, rising another $7.30 to $1,244.40 per oz! NIA's Fiore Gold (TSXV: F) has the best looking chart out of all gold miners and appears to be setup perfectly to explode past its key breakout point of $0.38 per share. It could quickly reach $0.50 per share or higher in the days ahead, in NIA's opinion!
As NIA members conduct their research on Fiore Gold, we have received about a dozen emails from members who have been requesting our opinion on a press release issued by Fiore Gold's predecessor company Fiore Exploration back on August 3, 2017, entitled, "Fiore Closes $17 Million Private Placement." Although Fiore Exploration did raise $17.01 million in August of last year in a private placement by issuing 55,762,561 subscription receipts at an issuance price of $0.305 per subscription receipt, it is important to understand that Fiore Exploration shareholders only received 1 share of Fiore Gold for every 3.77 shares of Fiore Exploration.
When major institutions invested $17.01 million into Fiore Exploration last year after the announcement of its plan of arrangement to merge with GRP Minerals Corp and form Fiore Gold (TSXV: F) - a brand new Nevada-based producing gold miner with a HUGE gold reserve - their 55,762,561 subscription receipts converted into only 14,777,078 shares of Fiore Gold. This means they actually invested $17.01 million at a price of $1.15 per share, which is more than TRIPLE the current Fiore Gold share price! Therefore, we expect to see little/no resistance at $0.50 per share considering that the last major share issuance took place at $1.15 per share!
Fiore's CEO and COO both came to the company after most recently holding similar positions in the management of two publicly traded mining companies with market caps of approximately $500 million. The main investor backing Fiore Gold, Frank Giustra, has throughout his career been credited for successfully building many different companies that have achieved market caps of well over $1 BILLION including Wheaton River Minerals, Goldcorp, Silver Wheaton (now Wheaton Precious Metals), UrAsia Energy/Uranium One, Pacific Rubiales Energy, Lions Gate Entertainment, and Hive Blockchain. Another major investor in Fiore Gold is Brian Paes-Braga the Founder and former CEO of Lithium-X, which gained 193.81% following NIA's suggestion and was acquired this year for $265 million in cash!
Past performance is not an indicator of future returns. NIA is not an investment advisor and does not provide investment advice. Always do your own research and make your own investment decisions. This message is not a solicitation or recommendation to buy, sell, or hold securities. Never make investment decisions based on anything NIA says. This message is meant for informational and educational purposes only and does not provide investment advice.