Gold Explodes After Fed Statement!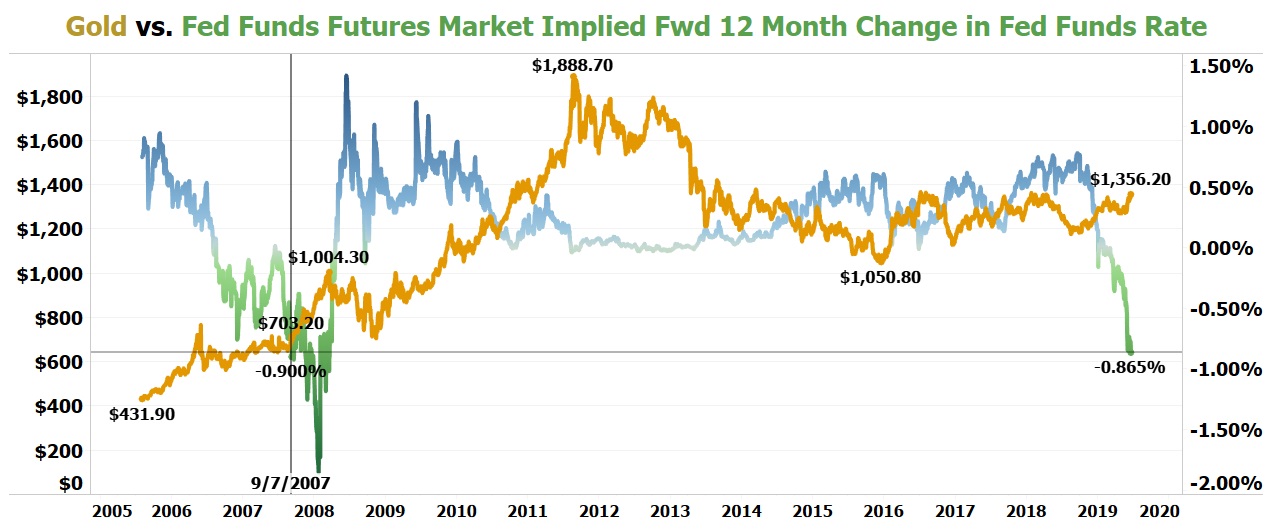 Following today's FOMC Statement, gold prices immediately exploded by $10 to a new 14-month high of $1,356.20 per oz! Gold is now only $8.80 per oz away from its most important key breakout point in history of $1,365 per oz!
The Fed Funds Futures market is now pricing in a total of 86.5 basis points in Federal Reserve rate cuts over the next 12 months, which is 10 basis points more than yesterday! The last time that the U.S. economy was rapidly headed towards a rate cut cycle and the Fed Funds Futures market began pricing in Fed Rate Cuts over the following 12 months of more than 86.5 basis points was back on September 7, 2007.
At that time, gold was trading for $703.20 per oz. Over the following six months, gold exploded higher by $301.10 or 42.82% to $1,004.30 per oz. This was gold's largest six month rally of the last 13 years!
Next week, NIA predicts that Fiore Gold (TSXV: F) will become one of the largest percentage gainers on the TSX Venture Exchange as the company is set to launch its brand new primary crushing circuit that will cause Fiore's gold production to explode beginning on July 1st, which is the start of fiscal 4Q 2019! We are extremely confident that 4Q 2019 will be another record quarter for Fiore Gold and in 2020 the company could produce an unbelievably HUGE 50,000 oz of gold!
Past performance is not an indicator of future returns. NIA is not an investment advisor and does not provide investment advice. Always do your own research and make your own investment decisions. This message is not a solicitation or recommendation to buy, sell, or hold securities. Never make investment decisions based on anything NIA says. This message is meant for informational and educational purposes only and does not provide investment advice.