Gold in CAD Hits New All-Time High of $1,930!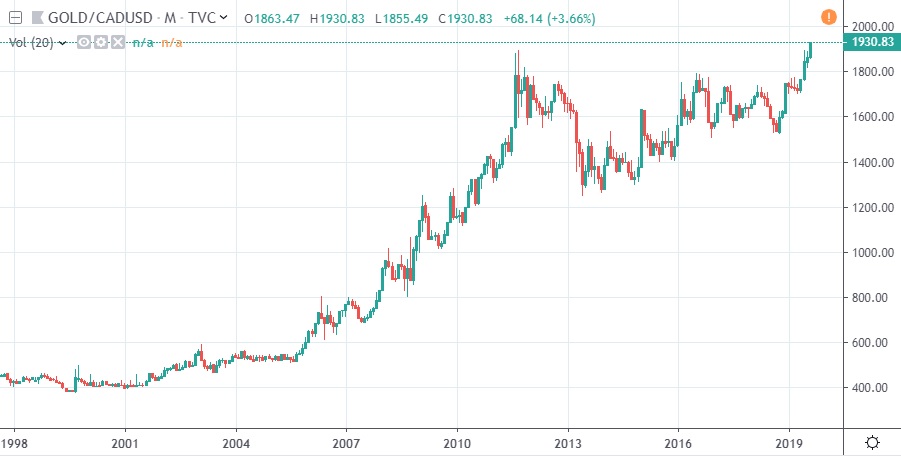 Gold just hit a new all-time high priced in Canadian Dollars rising this morning by $28.68 to $1,930.83 per oz! Gold in CAD first reached a new all-time high on Thursday of last week, surpassing the previous all-time high set in September 2011 of $1,894.89 per oz!
By far, the highest grade gold discoveries made in Canada over the past year were at the Fenelon Mine in Québec, which NIA's brand new #1 gold royalty stock suggestion Ely Gold (TSXV: ELY) owns a 2.0% NSR royalty in! ELY will receive 2% of Fenelon's output without spending a penny on its operating expenses or CAPEX!
Although the TSXV is closed today our U.S. members can capitalize on ELY through its OTC symbol ELYGF.
Fenelon is owned and operated by Wallbridge Mining (TSX: WM). At WM's closing price last week of $0.46 per share it has now gained by 475% from one year ago making it the #1 largest gaining TSX stock of the past twelve months! WM is one of only three TSX companies to have outperformed NIA's Burcon NutraScience (TSX: BU), which finished last week at $1.54 per share for a gain of 456% from one year ago. BU hit a high on Friday of $1.74 per share for a gain of 253.37% from NIA's May 24th suggestion at $0.4924 per share!
WM's recent 33,233 tonne bulk sample taken from the Fenelon Mine produced an unbelievable 19,755 ounces of gold - averaging an ENORMOUS 18.49 g/t! WM's official Fenelon measured & indicated resource of 38,000 oz of gold grading 12.97 g/t is based entirely on drilling conducted by the mine's previous owner prior to 2016. WM's initial 2017 drilling alone discovered grades as high as 311.08 g/t over 3.06 metres and is likely to have expanded their resource by an additional 70,000-120,000 oz of gold at grades of 10-15 g/t in the area immediately adjacent to the existing resource. WM's 2017 drilling was conducted within 150 metres of the surface. Last month, WM discovered gold grades of 17.58 g/t over 11.04 metres at a depth of 600 metres! This means their gold resource has suddenly become 4X deeper than anybody ever imagined!
In June 2019, WM had already conducted 25,000 metres of drilling in 2019 and by year-end their total 2019 drilling is expected to reach 50,000-70,000 metres. Recent drilling has significantly extended existing zones, located additional parallel zones, and discovered an entirely new gold system referred to as Area 51!
At ELY's closing price last week of $0.40 per share its market cap is only CAD$40 million vs. WM's latest market cap of CAD$208.44 million!
Past performance is not an indicator of future returns. NIA is not an investment advisor and does not provide investment advice. Always do your own research and make your own investment decisions. This message is not a solicitation or recommendation to buy, sell, or hold securities. NIA has received compensation from ELY of USD$30,000 cash for a six-month marketing contract. Never make investment decisions based on anything NIA says. This message is meant for informational and educational purposes only and does not provide investment advice.