Gold Averages a Gain of 45% with Today's Conditions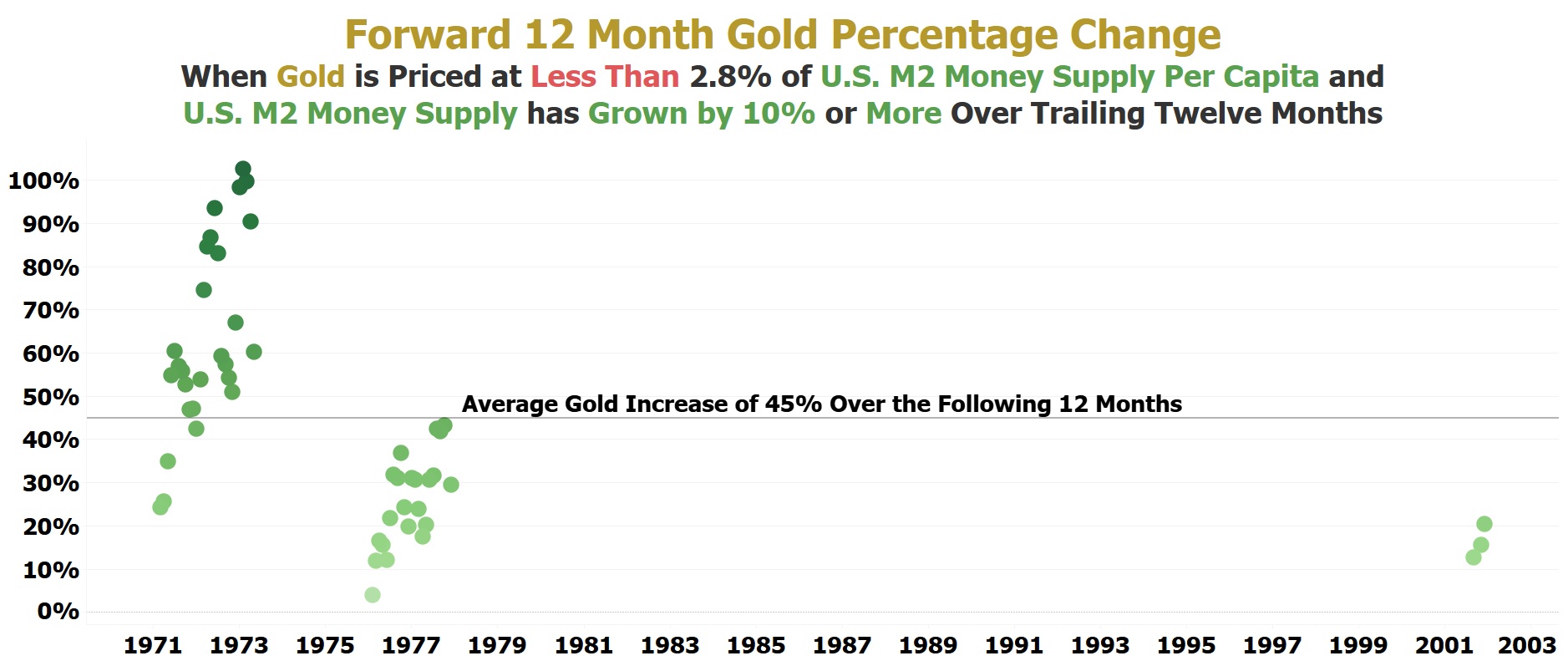 When gold is priced at less than 2.8% of U.S. M2 Money Supply Per Capita at the same time that U.S. M2 Money Supply has grown by 10% or more over the trailing twelve months...
Gold averages a gain of 45% over the following 12 months and has never once declined in history. These conditions were first met in October 2021, which suggests that gold's largest gains will occur between now and the end of October 2022.
Gold has practically no downside risk at this time and has been bottoming at higher lows for months, while technology stocks and Crypto have been falling to lower lows. You don't go from investors playing technology and Crypto to suddenly investing into gold all at once, it is a complicated process of emotions that takes a period of months, but this process IS taking place right now and gold will be the strongest major asset for the remainder of 2022 (only silver, platinum, tellurium, and uranium are slightly more undervalued than gold).
We predict that North Peak Resources (TSXV: NPR) will be the #1 largest gaining gold stock of the next few months. NPR's maiden drilling programs at Black Horse will launch this month! When Black Horse was last in production and produced what were among the highest grades of gold ever mined in the history of Nevada... gold was only $20 per oz. Any gold not worth mining at $20 per oz gold was left in the ground. The only exploration that has taken place at Black Horse since then was in 1998 when gold was $295 per oz, and it was confirmed that a 2-mile strike of mineralization still exists at Black Horse. The property has never been explored using modern technology. In the upcoming weeks, a team led by Kirkland Lake Gold (KL) and Rupert Resources (TSXV: RUP) founder Brian A Hinchcliffe will begin exploring Black Horse using modern technologies for the first time in history. NPR intends to develop Black Horse into Nevada's next low cost producing gold mine. NPR's Black Horse is a low-risk project with massive upside. We know for sure that gold considered to be very high grade at today's gold prices, especially in Nevada, still remains at Black Horse, and it begins very close to the surface. We believe NPR will begin discovering it with perfect timing for gold's largest upward move in history.
Past performance is not an indicator of future returns. NIA is not an investment advisor and does not provide investment advice. Always do your own research and make your own investment decisions. This message is not a solicitation or recommendation to buy, sell, or hold securities. NIA's President has purchased 201,000 shares of NPR in the open market and intends to buy more shares. This message is meant for informational and educational purposes only and does not provide investment advice.