GGG Gains 39.13% to Hit New 21-Month High!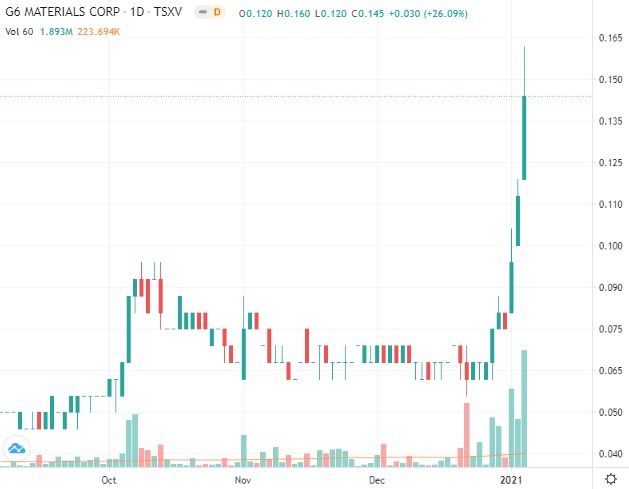 This morning, for the second straight day, NIA alerted its members about G6 Materials (TSXV: GGG), NIA's #1 favorite graphene stock. GGG gained by as much as 39.13% today to hit a new 21-month high of $0.16 per share for a gain of 113.33% since NIA's initial suggestion on October 6th at $0.075 per share! GGG traded huge volume today of 1.893 million shares or 9.61X above average!
GGG is one of the biggest undiscovered technology gems on the TSX Venture. We introduced GGG to you exactly three months ago at a market cap of only CAD$7.27 million after the company filed Provisional Patent Application #63/021,996, entitled 'Antiviral Graphene Oxide Air Filtration Device and Associated Methods'. This Provisional Patent Application covers GGG's proprietary formulation of a graphene-oxide antiviral coating for HEPA air filters.
We explained in our initial GGG alert that the company had already been awarded three major patents in recent months including a patent entitled 'Electrochemical Devices Comprising Nanoscopic Carbon Materials Made by Additive Manufacturing' covering a technology developed by GGG to formulate 3D printing materials that are suitable to make functional electrical energy storage devices. In support of GGG's 3D printed battery patent, GGG applied for and was awarded another patent entitled 'Fused Filament Fabrication Using Multi-Segment Filament' covering a technology that is useful in making functional devices that are meant to be operational immediately after being 3D printed.
GGG's two patents covering the production of 3D printed batteries could be valuable to a company like Tesla (TSLA) that is beginning to utilize 3D printing at its Gigafactory in Nevada. GGG's third recently awarded patent entitled 'Process for Synthesizing of Trifluoroketones' has already been licensed by GGG to a pharmaceutical company that uses trifluoroketones to make an active drug ingredient that is currently under development. We look for GGG to license its two 3D printed battery related patents to a Fortune 500 company in the near-future! 
Most Fortune 500 technology companies are already clients of GGG! Some of GGG's most notable clients include: NASA, Apple, Samsung, IBM, Xerox, Ford, GE, Harvard University, and Stanford University. GGG's 100% owned Graphene Supermarket is the #1 leading e-commerce web site for the sale of graphene products, which are produced by GGG from its 8,000 sqft state-of-the-art facility in Ronkonkoma, New York!
GGG will soon be launching sales of its proprietary graphene-based air filtration and purification system!
Past performance is not an indicator of future returns. NIA is not an investment advisor and does not provide investment advice. Always do your own research and make your own investment decisions. This message is not a solicitation or recommendation to buy, sell, or hold securities. This message is meant for informational and educational purposes only and does not provide investment advice.