Generation Z is Exposing the Fed, Humiliating Powerful People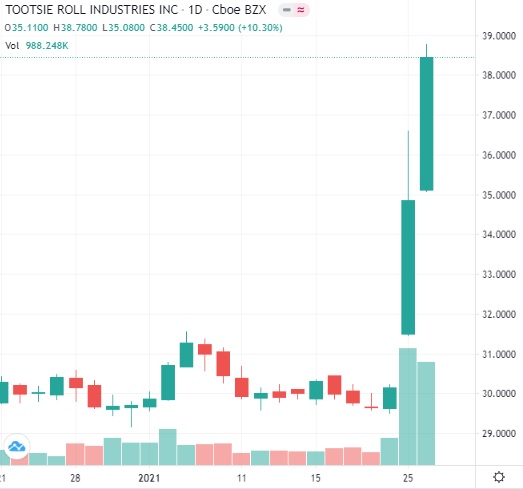 Generation Z traders from Wall Street Bets who trade on Robinhood are absolutely exposing the Federal Reserve's artificially low interest rates. This is supposed to be an insiders game where only well connected elites are allowed to become wealthy off of the Fed's destructive monetary policies, but Generation Z by working together and targeting heavily shorted stocks have forced massive short squeezes in stocks like Gamestop (GME). Besides exposing the Fed they have humiliated Citron Research while bankrupting Melvin Capital who were short GME before the mother of all short squeezes! These Generation Z traders are causing very powerful people to lose a lot of money and we expect them to be treated like domestic financial terrorists who are a threat to the global financial system. What they have done is even worse than storming (entering after being invited into) the Capitol!
GME is too unpredictable for us to play in any way. Our strategy to capitalize on the chaos is simple: we are suggesting call options in real household name companies that are similar to GME with huge short positions for no good reason and have an excellent chance of becoming the next stock to get squeezed by this Wall Street Bets mob of Generation Z Robinhood traders. At the same time, we are suggesting put options in stocks that we know for a 100% fact are phony/fake scam companies that Generation Z has mistakenly targeted and will soon be left holding the bag.
This past weekend we did an in-depth analysis on every heavily shorted stock in existence. We came to a conclusion that Tootsie Roll (TR) is the stock that is most likely to experience a GME-like short squeeze in the near-future. We can't figure out who on earth would short 7.387 million shares of TR a stock that has only 16.88 million shares in the float and averages daily volume of only 225,752 shares. A stunning 43.76% of TR's float is sold short, which is equal to 32.72X its average daily volume. No matter how high TR rises in the upcoming weeks we see no chance of any dilution. TR has generated positive free cash flow for 27 consecutive years. TR has been buying back stock and reducing its shares outstanding for 24 consecutive years. TR has a large net cash position of $152.13 million.
Yesterday morning at 9:36AMEST with TR trading at exactly $32.63 per share NIA predicted that a massive TR short squeeze was imminent and suggested the TR February 19th $30 call option at $3.80. TR closed today up by 10.30% to $38.45 per share and has gained by 17.84% since our alert yesterday morning. Our TR February 19th $30 call option suggestion closed today at $9 for a gain of 136.84% in two trading days! Some of you have told us that you are playing the TR February 19th $35 call option, which was actually very smart of you because it has now gained by 205.56% since our alert yesterday morning.
The phony/fake scam company that these Generation Z traders have ran up in recent weeks without doing any research is Blink Charging (BLNK). When we suggested February 26th BLNK $50 put options the other day at $9.80 we made it clear that we expect BLNK's big decline to occur after ChargePoint begins trading in mid-February. BLNK saw a short squeeze today as a result of Jim Cramer touting EV charging stocks last night on CNBC, which is always a sign of a stock's top. We were very much aware that this could happen which is why NIA's President started off by buying only 20 February 26th BLNK $50 put options last week. A few minutes prior to today's close NIA's President increased his stake 3 1/2 fold by buying 50 February 26th BLNK $50 put options at $6.70 to increase his stake to 70 contracts. BLNK currently has a market cap of $2.527 billion or 564X its trailing twelve month revenue of only $4.478 million. Last quarter, BLNK's total charging station revenue was only $162,654 for a year-over-year decline of 48.85%. The majority of BLNK's revenue is coming from the sale of low margin at home chargers. BLNK's EV charging station business is an absolute failure with plunging revenue and an average review on Google Play of 2.3 stars: click here to see for yourself!
Prediction: One month from today, TR will be trading at a significantly higher share price than BLNK!
Past performance is not an indicator of future returns. NIA is not an investment advisor and does not provide investment advice. Always do your own research and make your own investment decisions. This message is not a solicitation or recommendation to buy, sell, or hold securities. NIA's President has purchased 70 BLNK February 26th $50 put options. He intends to sell his contracts in the future for a profit. This message is meant for informational and educational purposes only and does not provide investment advice.