GDX Strongly Outperforming GLD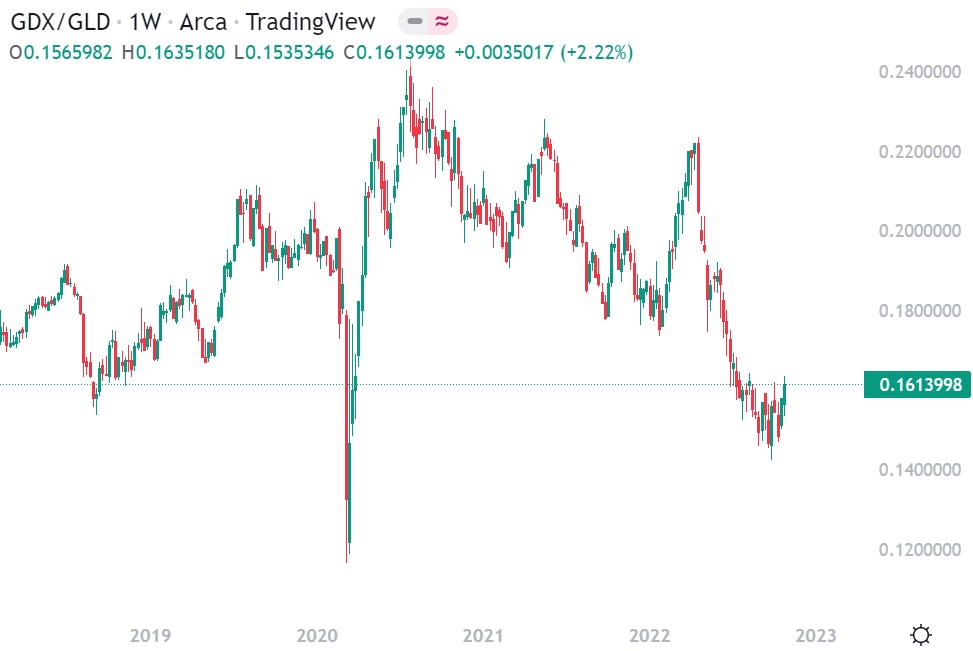 Although VanEck Gold Miners ETF (GDX) declined yesterday it finished near its high of day and we love the way GDX is trading. It has been strongly outperforming SPDR Gold Trust (GLD).
Apple (AAPL) was up big yesterday but has become a bigger bubble than ever before in history. The AAPL/IXIC ratio is up to a new all-time high, which means AAPL is singlehandedly propping up the NASDAQ. AAPL is nowhere close to a bottom, but GDX has been going through a bottoming process for many weeks, which will soon be followed by the most explosive breakout in the history of gold stocks when GDX breaks through $26 per share.
To be clear, GDX is not a good investment because it is full of gold stocks that people like Eric Sprott and Peter Schiff own who have the world's worst track records. Outperforming GDX is the easiest thing in the world to do. Augusta Gold (TSX: G)'s permanent breakout above $2 is coming soon followed by a rapid revaluation into the $5-$10 range. G's current market cap at $1.75 per share is US$100 million, which is silly stupid low. It is 100% impossible for G to remain with a valuation this low! We know for a fact G's assets are worth US$500 million+. Richard Warke knows it. AngloGold Ashanti (AU) knows it. The smartest thing to do is to accumulate G on dips and hold tightly. G is not a 2-week trade it will take 6-8 weeks for G to breakout into the $5-$10 range.
If you are looking for a 2-week trade to make 300-500% look into TraceSafe (CSE: TSF) and its history of breakouts when it surpasses its 200-day moving average! Carbon Credits will soon reach new all-time highs while Crypto will never reach new all-time highs again!
Past performance is not an indicator of future returns. NIA is not an investment advisor and does not provide investment advice. Always do your own research and make your own investment decisions. This message is not a solicitation or recommendation to buy, sell, or hold securities. NIA's President has purchased 174,200 shares of G in the open market and intends to buy more shares. NIA has received compensation from TSF of US$100,000 cash for a twelve-month marketing contract. This message is meant for informational and educational purposes only and does not provide investment advice.