FTEL Gains by 30.43% to $0.15!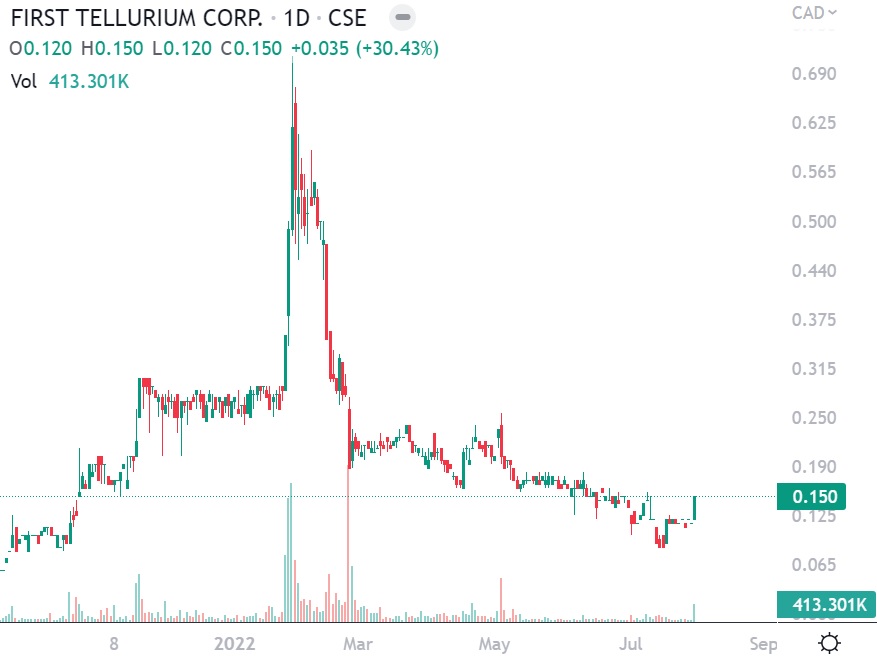 First Tellurium (CSE: FTEL) gained by 30.43% today to $0.15 per share!
FTEL's Klondike Project is a high-grade tellurium prospect held previously by First Solar, Inc., one of the world's largest solar panel producers.
Due to the property's exceptional tellurium grades, Klondike was considered one of First Solar's top tellurium prospects worldwide. First Solar planned to use Klondike as a potential primary source of tellurium for manufacture of the company's cadmium-telluride (CdTe) solar panels. When First Solar decided to cancel their tellurium mining initiative, the property was purchased in 2013 by the geological team leading the company's property acquisitions.
First Solar performed geophysics, sampling, drill targeting, and permitting from 2009 to 2011, then abandoned their global Te exploration program before drilling the identified Klondike targets. FTEL acquired an option to purchase the property from First Solar's former team, who are now managing the upcoming exploration program at Klondike.
The Colorado Geological Survey (CGS), in partnership with the Colorado School of Mines, reported on First Solar's exploration at Klondike in the 2015 Colorado Mineral and Energy Industry Activities 2014-2015 publication. In particular, the CGS noted:
"Surface sampling by First Solar, Inc. in 2006 found very high tellurium grades of up to 3.3% (33,000 ppm), along with locally high gold grades. Tellurium grades at Klondike were the highest encountered in the company's nationwide exploration program."
Past performance is not an indicator of future returns. NIA is not an investment advisor and does not provide investment advice. Always do your own research and make your own investment decisions. This message is not a solicitation or recommendation to buy, sell, or hold securities. NIA has received compensation from FTEL of US$100,000 cash for a six-month marketing contract. This message is meant for informational and educational purposes only and does not provide investment advice.