Fiore Gold Surpassing NIA's Highest Expectations!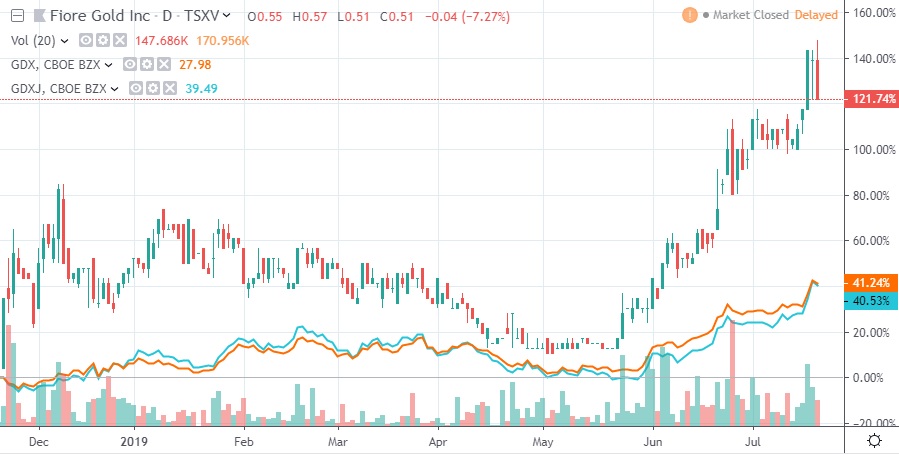 NIA first announced Fiore Gold (TSXV: F) on November 22, 2018 as its #1 overall stock suggestion for 2019. NIA has continued to maintain Fiore Gold as its #1 favorite overall stock suggestion with a perfect confidence rating of 100 out of 100.
On Friday morning, Fiore Gold (TSXV: F) reached a new high since NIA's initial suggestion by hitting $0.57 per share for a gain of 147.83% from NIA's November 22nd suggestion price of $0.23 per share! During this same eight month time period, VanEck Vectors Gold Miners ETF (GDX) increased by only 43.125% and VanEck Vectors Junior Gold Miners ETF (GDXJ) increased by only 43.55%. Fiore Gold has been rising at a rate that is 3.43X faster than GDX and 3.39X faster than GDXJ! Between now and year-end, look for Fiore Gold to rise 5-10X faster than GDX and GDXJ!
On Tuesday of last week, Fiore Gold announced its fiscal 3Q 2019 production results, and the company once again blew away our highest expectations! Fiore Gold produced a record 11,573 oz of gold, up 7.57% on a quarter-to-quarter basis from its previous record quarterly production of 10,759 oz of gold produced in fiscal 2Q 2019. Fiore Gold's gold production also increased by an amazing 16.15% on a year-over-year basis from 9,964 oz of gold produced in fiscal 3Q 2018.
Fiore Gold's trailing twelve month gold production is now up to a new record high of 41,090 oz and has increased for a stunning six straight quarters! Fiore Gold's 3Q 2019 gold production on an annualized basis was equal to 46,292 oz!
Fiore Gold had previously given gold production guidance for the full fiscal year of 2019 ending September 30th of between 40,000 and 42,000 oz. If Fiore Gold simply matches its 3Q 2019 gold production in 4Q 2019, it will finish fiscal year 2019 with total gold production of 43,670 oz, which would blow away the mid-range of its guidance by 2,670 oz or 6.512%.
Keep in mind that Fiore Gold's new crushing circuit didn't begin its first ore throughput until June 25th. We won't begin to see increased gold recovery rates from the new crushing circuit until Fiore Gold announces its fiscal 4Q 2019 production results in October 2019, with the full impact of the new crushing circuit likely to be seen in Fiore Gold's fiscal 1Q 2020 production results in February 2020.
Fiore's new crushing circuit is expected to increase the company's annual gold production by 7,000 oz! It is beginning to look extremely likely that Fiore Gold in fiscal 2020 will easily surpass 50,000 oz of gold production!
Even through Fiore Gold dipped by $0.06 on Friday afternoon from its morning high of $0.57 per share to finish the week at $0.51 per share, it gained by $0.04 or 8.51% last week from the previous week's closing price of $0.47 per share.
Fiore Gold (TSXV: F) is much more undervalued than it appears to be on financial portals like Yahoo Finance because they are mistakenly comparing its CAD market cap to its USD balance sheet and USD income statement.
Approximately one month from now in late-August 2019, Fiore Gold will release its fiscal 3Q 2019 financial results. Based on reported fiscal 3Q 2019 gold sales of 11,504 oz, an average gold price last quarter of USD$1,309 per oz, and the average USD/CAD exchange rate last quarter of $1.3378, look for Fiore to report record quarterly revenue of approximately CAD$20.146 million, which will increase Fiore Gold's annualized revenue run rate to CAD$80.584 million.
Currently, Nevada gold producers are trading with a median enterprise value/revenue ratio of 2.55. An enterprise value/revenue ratio for Fiore Gold of 2.55 would value the company with an enterprise value of CAD$205.49 million and market cap of CAD$216.57 million, which would give Fiore Gold a share price on the TSX Venture exchange of $2.18. NIA predicts that Fiore Gold will more than quadruple from its current share price between now and year-end!
In addition to Fiore Gold's 3Q 2019 financial results due for release in late-August 2019 and its 4Q 2019 production results due for release in October 2019, another HUGE calalyst for Fiore Gold will be released in December 2019! Fiore Gold in December 2019 is expected to release a Preliminary Economic Assessment (PEA) for its Gold Rock project that is adjacent to the company's currently producing Pan Gold Mine. This PEA will likely show a significant increase in Fiore Gold's total Gold Rock resource including large upgrades from the inferred category to the measured & indicated categories. It is estimated that Gold Rock will have average gold grades that exceed the Pan Gold Mine by more than 60%!
Past performance is not an indicator of future returns. NIA is not an investment advisor and does not provide investment advice. Always do your own research and make your own investment decisions. This message is not a solicitation or recommendation to buy, sell, or hold securities. Never make investment decisions based on anything NIA says. This message is meant for informational and educational purposes only and does not provide investment advice.