DroneShield Gains by 10.64% to New 2-Year High!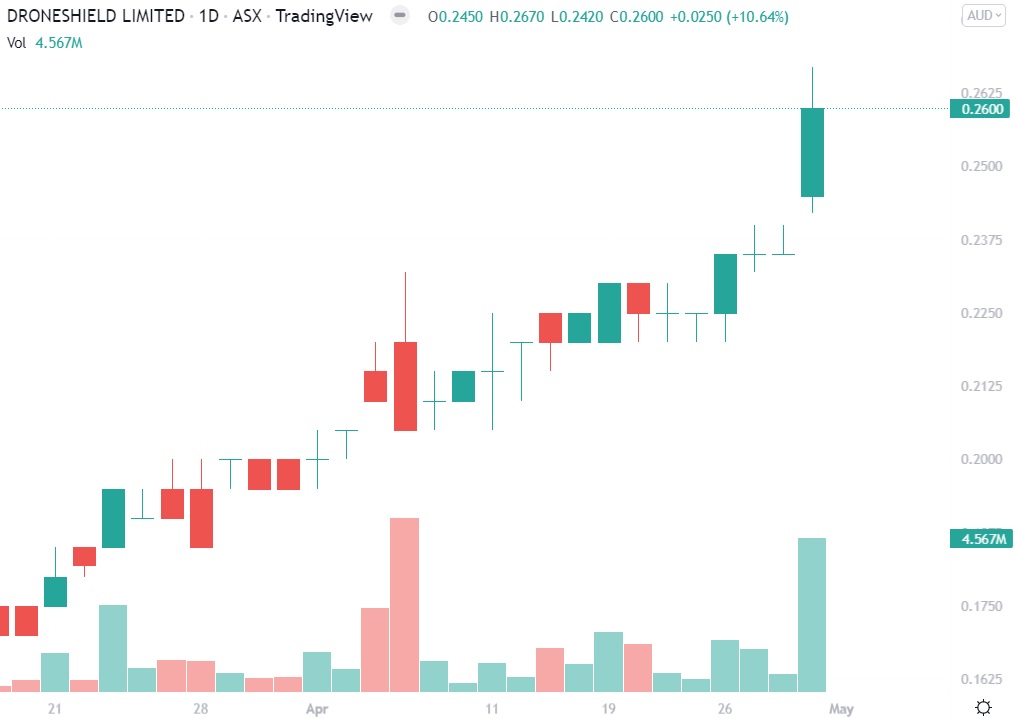 NIA's DroneShield (ASX: DRO) gained by 10.64% in its Friday trading session on the Australian Stock Exchange to finish the week at a new 2-year high of $0.26 per share! DRO traded very strong volume of 4,567,127 shares or 6.33X above average!
DRO has gained by 30% since NIA's April 3rd suggestion at $0.20 per share, which means you haven't missed anything yet... but this is your very last chance to setup Australian Stock Exchange trading if you want to have a chance of entering next week at prices of less than $0.50 per share. We fully expect to see DRO trade 30, 40, or even 50 million share volume days during the month of May!
The White House has just unveiled its brand new 'Domestic Counter-Unmanned Aircraft Systems National Action Plan'. The Biden Administration is calling it "the first whole-of-government plan" to address the threat from unmanned aerial systems, or UASs, more commonly known as drones, on American soil. Click here to read a brand-new article published by The Drive about the Biden Administration's anti-drone plan!
DRO is the only publicly traded pure play in the counter drone space! DRO is about to become one of NIA's largest percentage gainers of all-time!
Past performance is not an indicator of future returns. NIA is not an investment advisor and does not provide investment advice. Always do your own research and make your own investment decisions. This message is not a solicitation or recommendation to buy, sell, or hold securities. This message is meant for informational and educational purposes only and does not provide investment advice.