DRO Hits New 2-Year High of $0.28 for Gain of 40% in One Month!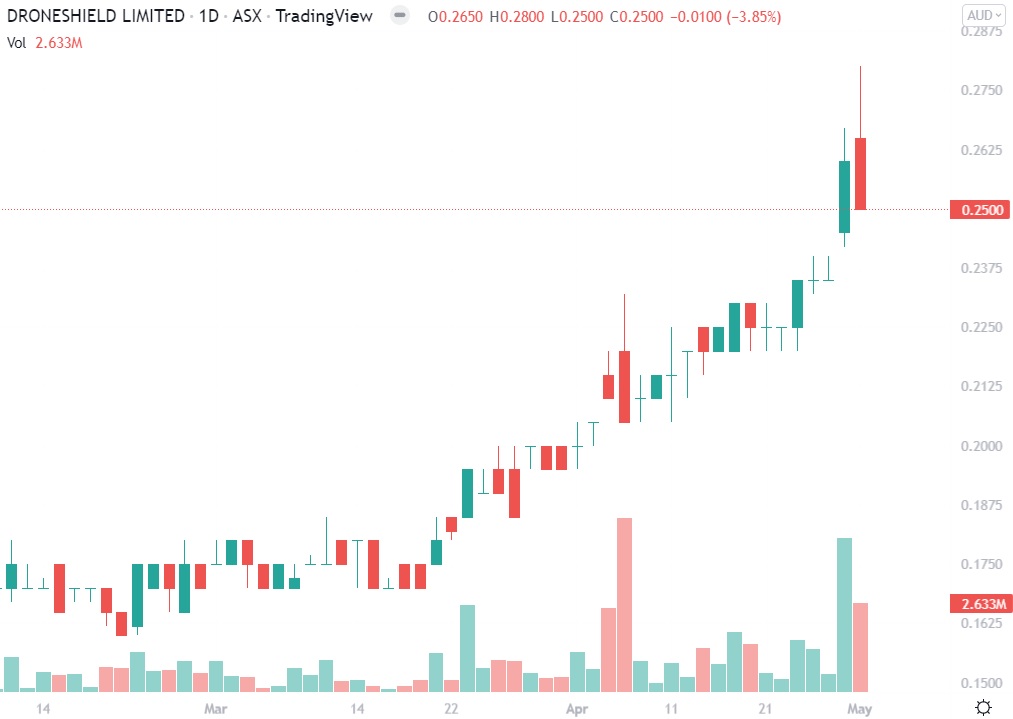 DroneShield (ASX: DRO) hit a new 2-year high today in Australian Stock Exchange trading of $0.28 per share for a gain of 40% since NIA's suggestion one month ago at $0.20 per share. DRO dipped from its high of day to close at $0.25 per share. DRO will explode to $0.30+ per share in the days ahead before breaking out into the $0.50-$1 per share range in the upcoming weeks and surpassing $1 per share in the upcoming months.
Every airport and outdoor sports stadium in America will soon adopt counter drone technology. Most city police departments across the U.S. are also likely to begin using counter drone technology by year-end. DRO is the only publicly traded counter drone pure play. DRO has just become cash flow breakeven and will grow exponentially moving forward. DRO's customers are mostly governments that can print their own money so this is a very safe, defensive stock even though it is also a rapidly growing technology stock! DRO is one of only a handful of stocks in the world hitting new 2-year highs at this moment!
DRO is the most obvious sure thing in history with only Augusta Gold (TSX: G) having greater short-term upside.
Past performance is not an indicator of future returns. NIA is not an investment advisor and does not provide investment advice. Always do your own research and make your own investment decisions. This message is not a solicitation or recommendation to buy, sell, or hold securities. NIA's President has purchased 159,200 shares of G in the open market and intends to buy more shares. This message is meant for informational and educational purposes only and does not provide investment advice.