DEF: Two District Scale Projects in Mexico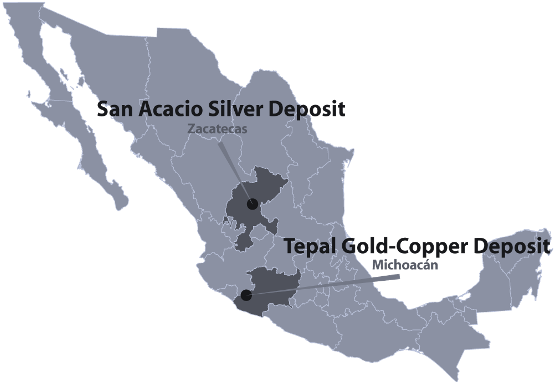 Defiance Silver (TSXV: DEF) or DNCVF at its current price of $0.41 per share has a market cap of only USD$46.3 million when the company has two district scale precious metals projects in Mexico.
DEF's 100% owned 1,440 hectare Tepal Project in Michoacán, Mexico by itself has an after-tax Net Present Value with a 5% discount rate of USD$345 million. This is based on a Preliminary Economic Assessment (PEA) from 2017 using a gold price of $1,500 per oz and copper price of $3 per lb. Tepal contains a measured & indicated resource of 1,804,000 oz of gold grading 0.30 g/t and 813 million lbs of copper grading 0.20%.
DEF's Tepal Project is one of the best leveraged projects in the world to rising gold prices. DEF gained ownership of the Tepal Project by acquiring ValOro Resources in a deal that was announced on September 17, 2018 when gold was priced at only $1,200 per oz. DEF practically stole ValOro paying only $4.2 million to acquire the company because Tepal was NOT economically viable at $1,200 per oz gold and ValOro ran out of cash.
DEF's Tepal is extremely similar to the Cordero silver project in Chihuahua, Mexico that was previously owned by Levon Resources, which we suggested on July 1, 2014 at an enterprise value of CAD$16 million. Levon had an enormous indicated resource of 363.9 million oz of silver, but its grades were very low at 20.67 g/t.  At the time, silver was trading for $20 per oz, where Levon's PEA valued Cordero at negative (USD$30 million). However, Levon's PEA showed that an increase in the price of silver to $27.67 per oz would give Cordero an after-tax NPV with a 5% discount rate of USD$648.82 million!
NIA's Levon was recently acquired by Discovery Resources (TSXV: DSV), which is now focused entirely on the Cordero project. Over the last three months, as silver has rallied to $27 per oz, DSV has gained by 400% and now trades with an enterprise value of USD$520 million!
DEF's Tepal is an advanced stage project with 82,895m of total drilling in 443 drill holes. In late-2010, during the last major gold bull market, DEF's now wholly owned ValOro Resources then known as Geologix Explorations saw it market cap reach USD$100 million due to exploration success at the Tepal Project... and Tepal's indicated resource at the time had only 800,000 oz of gold and 311.1 million lbs of copper - less than half of its current measured & indicated resource (Tepal didn't yet have any measured resources in 2010)!
Between August 12, 2010 and December 7, 2010, as gold rallied from $1,213 per oz up to $1,420 per oz for a gain of 17.07%, ValOro aka Geologix increased from $0.20 per share up to $1 per share for a gain of 400%.
Considering that DEF has already extended the mineralized envelope by 230m below the limits of the current silver resource at higher grades than DEF's maiden silver resource... we are extremely confident that DEF will rapidly grow the size of its silver resource in the upcoming quarters. DEF has just launched a major new 5,000m drilling program exploring additional new targets outside of its existing silver resource!
Some of the world's largest silver miners have been rapidly acquiring the projects surrounding DEF's San Acacio silver property due to the recent success of the Cozamin Mine operated by Capstone Mining (TSX: CS) only 5km southwest of San Acacio. CS's enterprise value is now USD$511 million after CS hit a new 52-week high on Friday.
Resource Statement for the Tepal project located in Michoacán, Mexico: JDS Energy & Mining Inc., Effective Date January 19, 2017, Authored by Gord Doerksen, P. Eng., Dino Pilotto, P.Eng.,and Kelly McLeod, P.Eng. of JDS Energy & Mining Inc.; Daniel Friedman, P.Eng, Knight Piesold Ltd.; Michael Godard, P.Eng., Independent Consultant; and David K. Makepeace, P.Eng.,Micon International Ltd. The project has a M&I Resource of 187M tonnes grading 0.30 g/t Au, 0.20% Cu, 1.54 g/t Ag, 0.004% Mo using a US $5/t cut off.
Past performance is not an indicator of future returns. NIA is not an investment advisor and does not provide investment advice. Always do your own research and make your own investment decisions. NIA has received compensation from DEF of USD$40,000 cash for a six-month marketing contract. NIA intends to invest into DEF in the event of a future private placement. This message is not a solicitation or recommendation to buy, sell, or hold securities. Never make investment decisions based on anything NIA says. This message is meant for informational and educational purposes only and does not provide investment advice.