DEF Already Up 17.57% in Two Trading Days!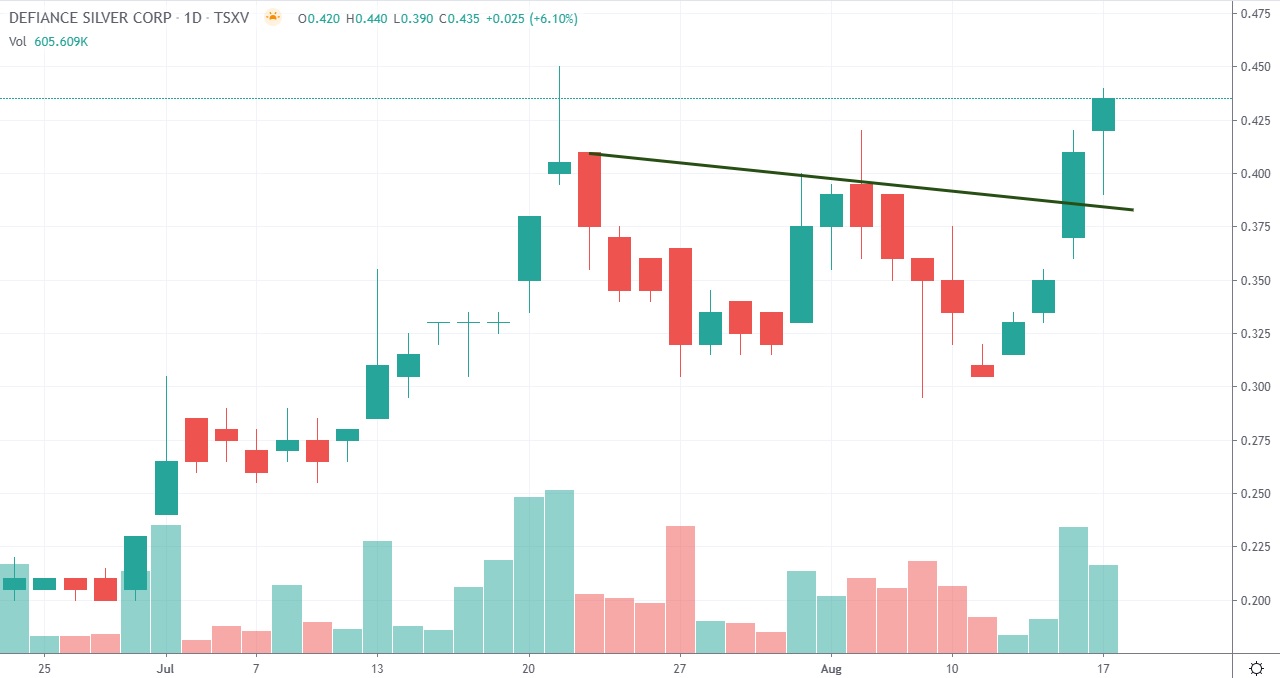 Defiance Silver (TSXV: DEF) closed yesterday at $0.435 per share and is already up by 17.57% since NIA announced DEF as its #1 favorite Mexican silver stock suggestion on Friday afternoon at $0.37 per share with a key breakout point of $0.385 per share. Over the last two trading days, DEF's U.S. OTC symbol DNCVF has traded total volume of 1,925,295 shares or 3.25X above average.
DEF's San Acacio property was previously operated by SSR Mining (SSRM) a $2.54 billion market cap gold/silver miner. San Acacio lies along the trend of the Veta Grande vein system, which has historically produced over 200 million oz of silver. The San Acacio property covers 65% of the entire Veta Grande vein system and includes the San Acacio mine, which has historically produced 100 million oz of silver. The San Acacio mine's historical silver production came from near surface high grade oxide shoots along a 1,200m strike.
DEF has a maiden inferred resource of 16,976,000 oz of silver grading 181.94 g/t, contained within the San Acacio mine's existing workings. In recent years, DEF has discovered many wide intercepts of higher grade silver by drilling below the existing resource and has extended the known mineralized envelope by 230m at depth. DEF controls an additional 3.9km of the Veta Grande vein system that have never been explored and has just launched a new 5,000m drilling program.
On June 25, 2018 with silver at an artificially low price of $16.33 per oz, DEF expanded its land package to 1,543 hectares by acquiring the Zacatecas Silver District holdings of Mag Silver (MAG) a $1.55 billion market cap silver miner.
This message has not been seen, reviewed, or approved by DEF. Past performance is not an indicator of future returns. NIA is not an investment advisor and does not provide investment advice. Always do your own research and make your own investment decisions. This message is not a solicitation or recommendation to buy, sell, or hold securities. NIA has received compensation from DEF of USD$40,000 cash for a six-month marketing contract. NIA intends to invest into DEF in the event of a future private placement. This message is meant for informational and educational purposes only and does not provide investment advice.