Dalian Coking Coal Breaks 3,400 Yuan Up 6.29% from Friday Close!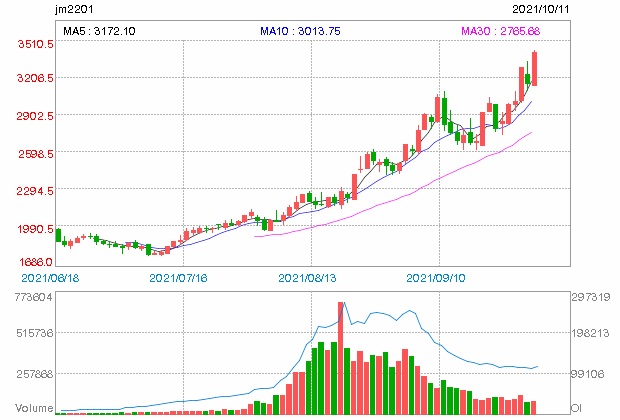 Last night, NIA sent out an alert after Dalian Coking Coal hit a new all-time high of 3,300 yuan (USD$512.65) per tonne. Following NIA's alert, Dalian Coking Coal continued exploding higher during the overnight trading hours! Dalian Coking Coal successfully broke through 3,400 yuan and is currently trading for 3,409 yuan (USD$528.73 per tonne) for a gain of 6.29% from its Friday closing price!
Morien Resources (TSXV: MOX) after hitting a new 18-month high exactly one week ago of $0.64 per share made a healthy profit taking dip of 29.69% and bottomed at a Thursday closing price of $0.45 per share. On Friday, MOX bounced by 15.56% to finish last week at $0.52 per share!
At MOX's new 18-month high reached one week ago of $0.64 per share its 14-day relative strength index (RSI) reached an extremely overbought level of above 80 and was due for a healthy pullback. Previously, MOX's RSI reached an extremely overbought level of 82.78 on September 13th when MOX closed at its most important key breakout point of $0.47 per share. After a healthy pullback of 26.6% to a September 15th closing price of $0.345 per share, MOX rallied as much as 85.5% within the following 13 trading days! If MOX gains once again by 85.5% from its latest bottom established on Thursday of $0.45 per share it would result in MOX rising to a new all-time high of $0.83 per share before its next profit taking dip!
We have a feeling that MOX will rise far beyond $0.83 per share during its current rally that began on Friday! MOX's weak hands are gone and MOX's current RSI is only 58.45! The amount of investors searching today for 'coal stocks' to buy is up to a level that far exceeds any other point in recent years!
Read this Reuters article just published this morning:
China coking coal, coke prices soar on supply fears
Oct 11 (Reuters) - Dalian coking coal scaled a contract high on Monday while coke futures hit a six-week peak, as a recent flooding in China's top coal-producing Shanxi province intensified supply fears.
Worries about production and transportation of coal from Shanxi added to lingering concerns over an energy crunch that has gripped the world's biggest steel producer and hampered operations of many industries, including coal mining.
The northern province of Shanxi had shut 27 coal mines last week as heavy rain caused flooding.
Coking coal's most-active January contract on China's Dalian Commodity Exchange rose as much as 6.9% to 3,428 yuan ($532.80) a tonne. Coke advanced 5.4% to 3,728 yuan a tonne, its strongest since Sept. 10.
"The main coke production areas in the country are still facing varying degrees of production restrictions," Sinosteel Futures analysts said in a note, citing the Shanxi flooding and power shortages.
Coke, the processed form of coking or metallurgical coal, is the primary reducing agent of iron ore, the main steelmaking ingredient.
Dalian iron ore ended daytime trading 6.5% higher at 797.50 yuan a tonne, just below a session-high 799.50 yuan, its loftiest since Sept. 1.
Iron ore on the Singapore Exchange climbed 10.1% to $137.25 a tonne by 0708 GMT.
Past performance is not an indicator of future returns. NIA is not an investment advisor and does not provide investment advice. Always do your own research and make your own investment decisions. This message is not a solicitation or recommendation to buy, sell, or hold securities. This message is meant for informational and educational purposes only and does not provide investment advice.