DAKT's Highest Close Since NIA's Suggestion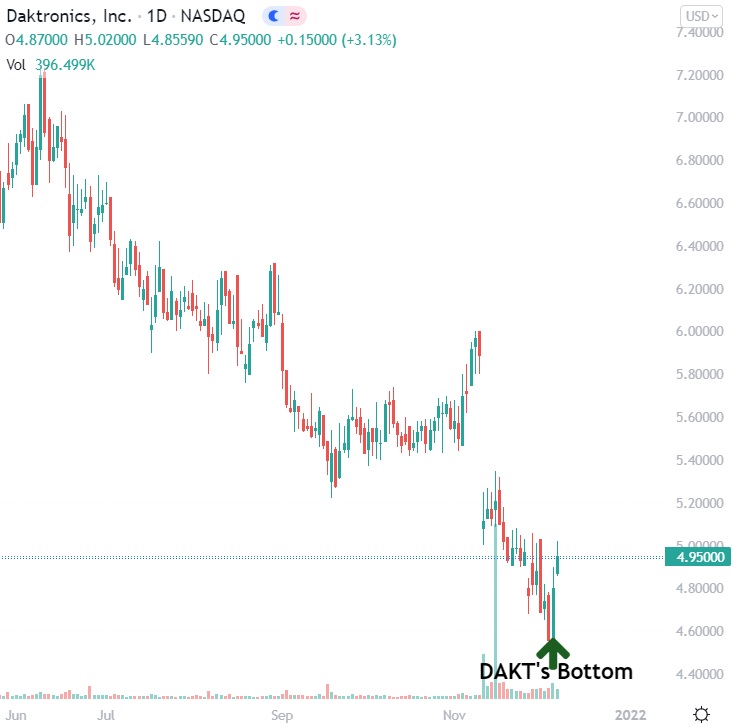 Daktronics (DAKT) gained by 3.13% today to $4.95 per share, which is its highest closing price since NIA's November 28th suggestion. It looks like DAKT's bottom is in and it will continue to breakout higher. DAKT is the most undervalued NASDAQ technology stock.
North Peak Resources (TSXV: NPR) declined by 0.61% today to $1.64 per share but hit a new high this morning of $1.89 per share. NPR will breakout above $2 per share shortly and finish this year in the $2-$3 per share range. The only question is how close does NPR finish this year to $3 per share. If NPR finishes the year close to $3 per share, January could be a cooling off month. If NPR only finishes the year slightly above $2 per share, it will likely gain by 50% or more during the month of January. The big breakout into the $5-$9.80 per share range will come in March.
Past performance is not an indicator of future returns. NIA is not an investment advisor and does not provide investment advice. Always do your own research and make your own investment decisions. This message is not a solicitation or recommendation to buy, sell, or hold securities. NIA's President has purchased 200,000 shares of NPR in the open market. This message is meant for informational and educational purposes only and does not provide investment advice.