Corn Hits New 6-Month High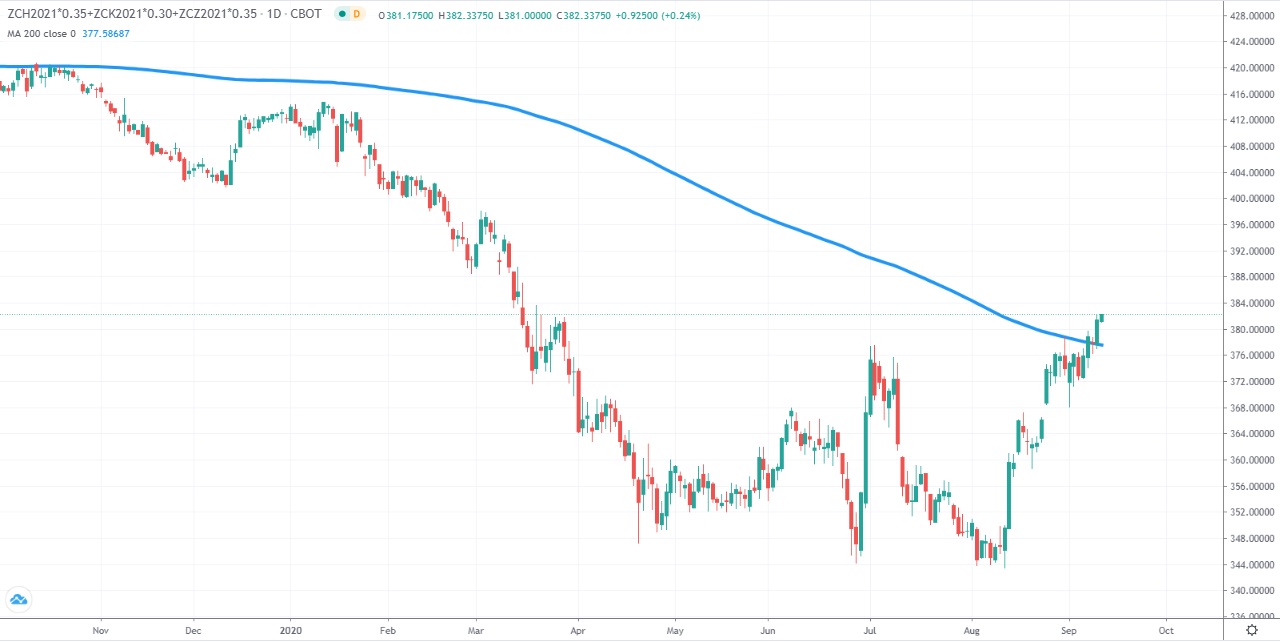 Teucrium Corn Fund ETV (CORN) gained by $0.12 or 0.94% today to close at $12.84 per share its highest closing price since March 31, 2020. The average corn futures price adjusted for CORN's updated holdings gained by $0.0356 or 0.94% today to settle at $3.814 per bushel and just hit a new 6-month high of $3.823 per bushel in overnight trading. This past Tuesday, it surpassed its 200-day moving average of $3.776 per bushel.
On August 25, 2020, NIA announced the CORN January 2021 $13 call option at $0.70 as its new #1 favorite option suggestion (after NIA's President purchased 737 contracts at prices ranging from $0.55-$0.70). NIA's CORN call option suggestion hit a new high today of $1 for a gain of 42.86% in 12 trading days. Its open interest is now up to 8,420 contracts vs. an open interest of 1,844 contracts at the time of NIA's initial announcement, for an increase of 6,576 contracts worth $624,720 at today's closing price of $0.95.
NIA continues to believe that its CORN call option suggestion has potential to gain 500%-1,000% from our initial suggestion price just like our only other 2020 option suggestion the iShares Silver Trust (SLV) December 2020 $15 call option that NIA suggested on March 12, 2020 at $1.44 (click here to see for yourself). NIA said in its March 12th SLV call option alert, "This is a sure thing way to make a 500%-1,000% return." On August 10, 2020, NIA's SLV call option suggestion hit a high of $12.40 for a gain of 761.11% in only 5 months.
The December 2020 corn futures contract gained by $0.046 or 1.28% today to a new 6-month high settlement price of $3.65 per bushel.
CORN always remains diversified between three corn futures contracts and never owns any of the front month contract. Today was a roll date for CORN where it sold its December 2020 corn futures contracts about one week prior to it becoming the new front month contract. CORN previously had 35% of its total assets in the December 2020 contract. CORN purchased May 2021 corn futures contracts for the first time today - investing 30% of its total assets. CORN increased its March 2021 corn futures contract holdings today to 35% of its total assets up from 30%. CORN continues to have 35% of its total assets in the December 2021 corn futures contract.
If you are like us and use TradingView to get your stock/commodity charts, we have created a custom symbol for you to use to track the current corn price based on the three contracts owned by CORN and adjusted for the percentage of CORN's total assets that are currently invested into each contract. Simply copy & paste the following symbol into TradingView: (CBOT:ZCH2021*0.35)+(CBOT:ZCK2021*0.30)+(CBOT:ZCZ2021*0.35) 
Past performance is not an indicator of future returns. NIA is not an investment advisor and does not provide investment advice. Always do your own research and make your own investment decisions. This message is not a solicitation or recommendation to buy, sell, or hold securities. NIA's President has purchased 737 CORN January 2021 $13 call options and may either buy more contracts or sell his contracts owned at any time. This message is meant for informational and educational purposes only and does not provide investment advice.