Copper Just Surpassed Most Important Key Breakout Point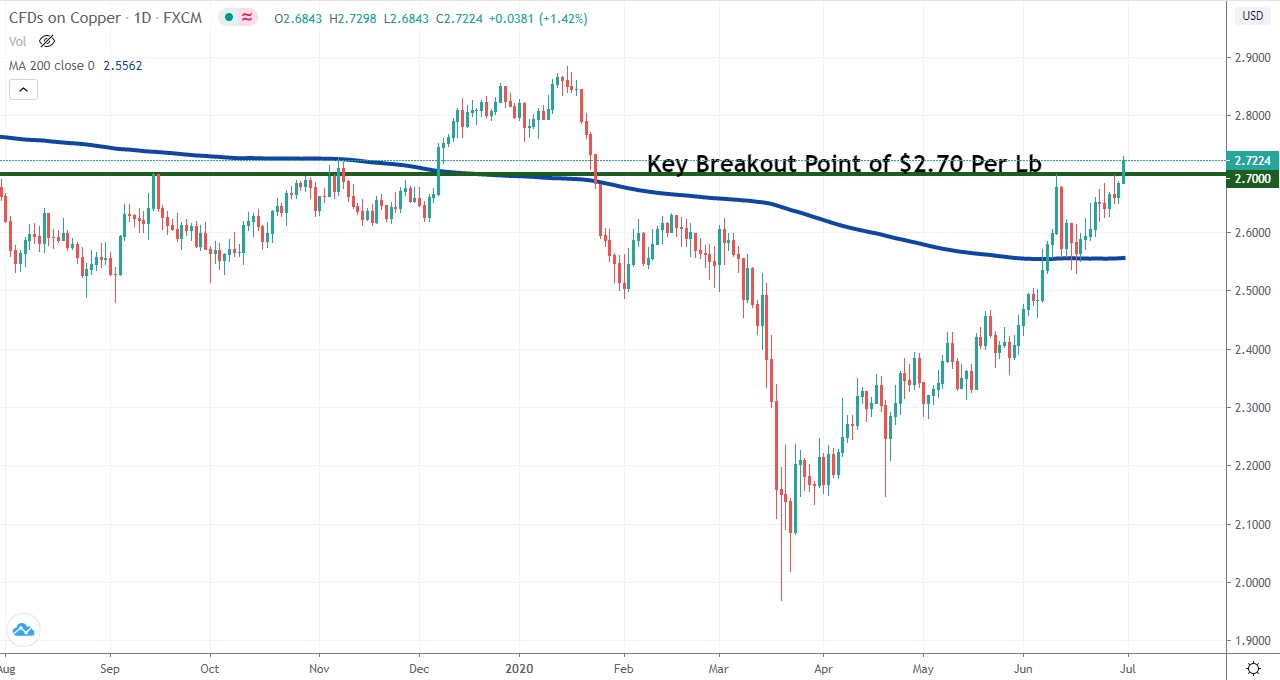 Copper has just surpassed its most important key breakout point of $2.70 per lb and is currently up by 1.42% this morning to $2.7224 per lb. Copper most recently experienced major resistance at $2.70 per lb on both June 10th and June 26th.
Previously, copper faced major resistance at $2.70 per lb in mid-September 2019 and late-October 2019. When copper finally broke through $2.70 per lb in a convincing manner on December 6, 2019, it rallied over the following three weeks to a December 26, 2019 settlement price of $2.85 per lb. On January 16, 2020, copper reached $2.884 per lb and was getting ready to breakout above $3 per lb, until COVID-19 caused the Chinese economy to completely shut down. 
This morning, it was announced that China's June 2020 manufacturing PMI reached 50.9 beating the consensus forecast of 50.4, which is extremely bullish for copper prices. In addition, Chinese copper demand is also exploding from China's rapidly growing production of gold plated copper bars: click here to see for yourself!
Yesterday afternoon at 3:40PMEDT, NIA announced Braveheart Resources (TSXV: BHT) at $0.055 per share as its first ever confidence rating of 100 copper play. BHT reminds us almost exactly of Fiore Gold (TSXV: F) back when we first suggested it at $0.23 per share. BHT's 100% owned 10,285 hectare Bull River Mine located in East Kootenay, British Columbia, Canada has an indicated resource of 1,511,000 tonnes grading 1.911% copper, 0.407 g/t gold, and 15.6 g/t silver using a cut-off of 1% copper equivalent. These are very strong grades for an underground mine when you consider that BHT's full indicated resource has been pre-developed on seven different levels by 22 kilometres of ramps, raises and lateral developments.
BHT already has extensive surface infrastructure including a 750 tonne per day conventional mill with adjoining crushing facilities as well as offices and mine maintenance facilities. The property is connected to grid power and there is year-round access to the site by paved and all-weather roads.
BHT plans to initially process its preexisting surface stockpile of 165,000 tonnes grading 1.7% copper equivalent.
We will be publishing an in-depth report about BHT this afternoon!
Past performance is not an indicator of future returns. NIA is not an investment advisor and does not provide investment advice. Always do your own research and make your own investment decisions. This message is not a solicitation or recommendation to buy, sell, or hold securities. NIA has received compensation from BHT of USD$30,000 cash for a six-month marketing contract. This message is meant for informational and educational purposes only and does not provide investment advice.