Coking Coal Gained 30% Last Week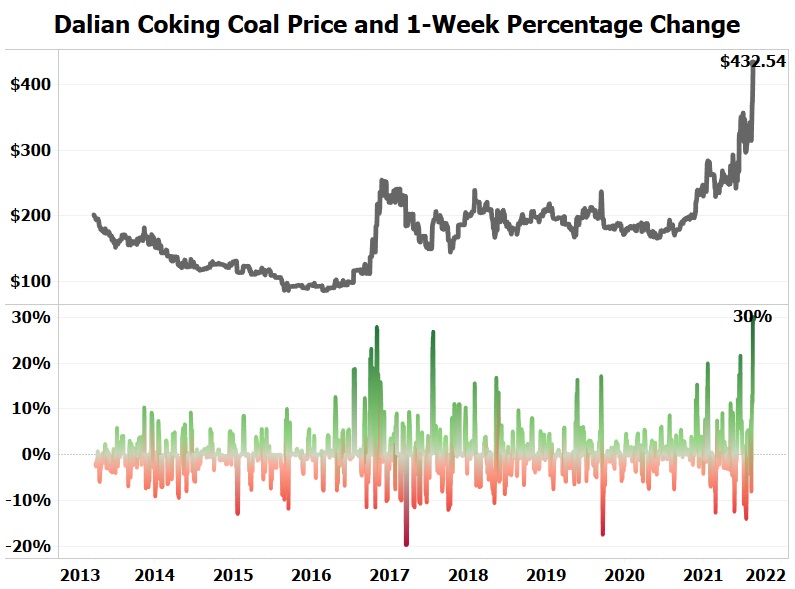 Chinese coking coal in the Dalian futures market gained by 30% last week to a new all-time high of $432.54 per tonne! Last week was the #1 largest percentage gaining week for Chinese coking coal in history!
Morien Resources (TSXV: MOX) owns a 2%-4% gross production royalty on all coal sales from the Donkin coking coal mine in Nova Scotia. 
Donkin has one of the world's largest coking coal resources and is the only massive fully permitted/developed coking coal mine in North America that can quickly be brought into production. It has its own trucking road that goes directly to the nearby port, which was recently deepened allowing for large exports of coking coal to China. Chris Cline the greatest coal miner of all time who was good friends with President Trump, spent $250 million fully developing Donkin and bringing the mine into production. The mine was originally explored by MOX in partnership with Glencore one of the largest mining companies in the world. MOX/Glencore spent $43 million building a large enough coking coal resource for a 30+ year mine life!
U.S. coking coal producer Ramaco Resources (METC) finished January 2020 at a price of $3.07 per share. METC closed last week at $8.21 per share for a gain of 167.43% since the end of January 2020.
MOX finished January 2020 at a price of $0.56 per share. A gain of 167.43% for MOX since the end of January 2020 would value MOX today at $1.50 per share or more than 6.5X higher than its current price of $0.23 per share!
Past performance is not an indicator of future returns. NIA is not an investment advisor and does not provide investment advice. Always do your own research and make your own investment decisions. This message is not a solicitation or recommendation to buy, sell, or hold securities. This message is meant for informational and educational purposes only and does not provide investment advice.