BWEN Recently Built 2.7 Million Pound U.S. Navy Crane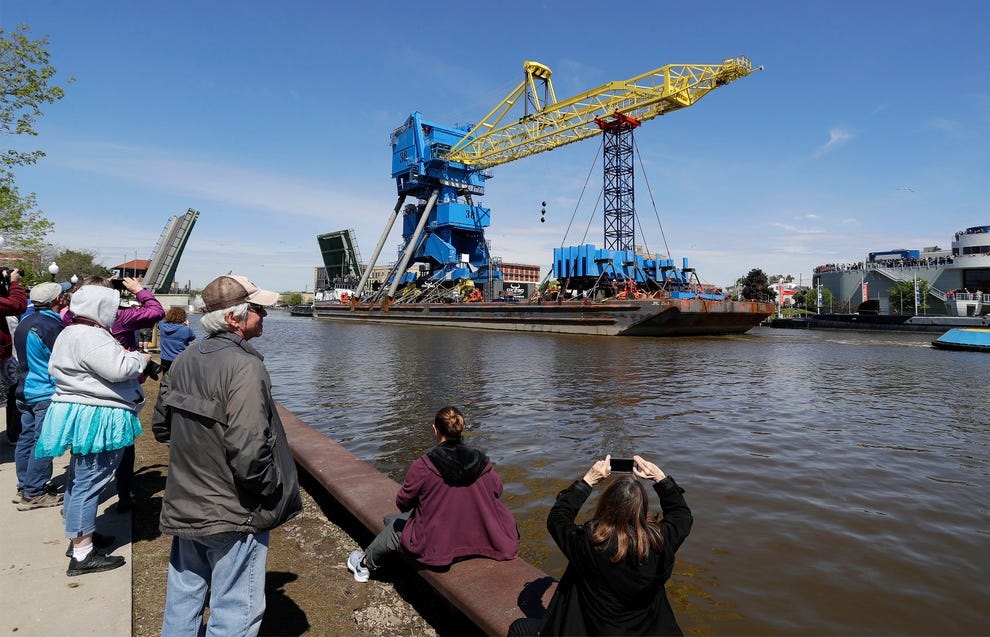 Broadwind (BWEN) has seen its non-wind energy revenue grow by 300% since 2016 to approximately $60 million per year. A few months ago, BWEN completed the construction of the 2.7-million-pound Big Blue Navy Crane for the U.S. Navy's Portsmouth Naval Shipyard, which is capable of lifting 140 tons allowing the Navy to conduct service life extension work on America's nuclear-powered attack submarines.
An article was published three weeks ago in the Manitowoc Herald Times entitled, 'Manitowoc County's 2021 People of the Year left a lasting impact in the community'.
The article said, "As Manitowoc County entered year two of the coronavirus pandemic, the community banded together, creating many cool things — including, literally, the Coolest Thing Made in Wisconsin, the Big Blue crane built by Broadwind Heavy Fabrications for the U.S. Navy."
The article continued, "Not only did the Big Blue Navy crane made by Broadwind Heavy Fabrication in Manitowoc gather a following of 6,000 watching videos of it making its way slowly from Lake Michigan to the Atlantic Ocean and an East Coast shipyard this year, but it also was voted by fans as the winner of the Coolest Thing Made in Wisconsin contest in fall. Nearly 210,000 votes were cast over multiple rounds of the contest, sponsored by Wisconsin Manufacturers & Commerce, and about 70,000 votes were placed in the final round naming Big Blue, as the 195-foot-tall crane became known on social media, the champion. Big Blue was engineered, fabricated, machined, painted, assembled and delivered by Broadwind for Konecranes. The 2.7-million-pound crane was shipped by barge to Portsmouth, New Hampshire, on Memorial Day weekend. Big Blue extends heavy lifting capability to all the dry docks at the shipyard and allows an increase in the scope of submarine overhaul and modernization work done at the site."
Click here to read the article! It is crazy how insanely undervalued BWEN is right now! If they could successfully build a 2.7-million-pound crane for the Navy, they will have no problem building massive wind towers for America's imminent offshore wind boom!
Past performance is not an indicator of future returns. NIA is not an investment advisor and does not provide investment advice. Always do your own research and make your own investment decisions. This message is not a solicitation or recommendation to buy, sell, or hold securities. This message is meant for informational and educational purposes only and does not provide investment advice.