NIA's BU Up 302.85% Largest Gaining TSX Stock of Last 4 Months!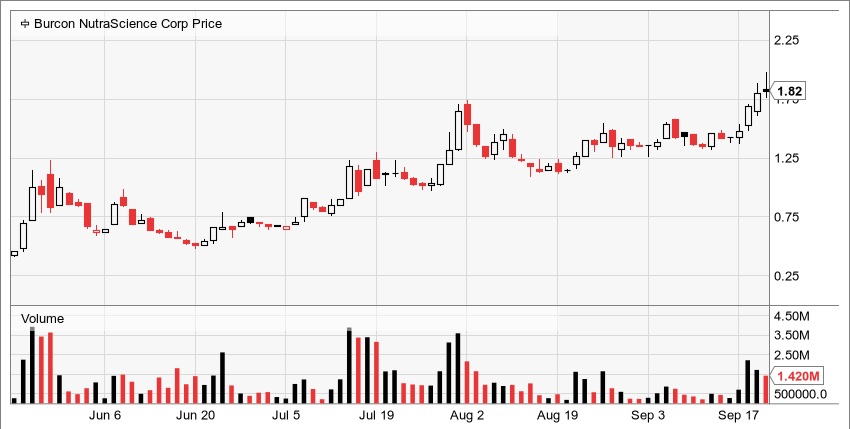 On May 24th, 2019, NIA announced Burcon NutraScience (TSX: BU) at a rights offering adjusted suggestion price of $0.4915 per share as its #1 pea protein stock suggestion to capitalize on the success of plant-based meat companies Beyond Meat (BYND) and Impossible Foods. On Friday, BU reached a high of $1.98 per share for a gain of 302.85% in four months!
BU has been the #1 largest gaining TSX listed stock during this time period!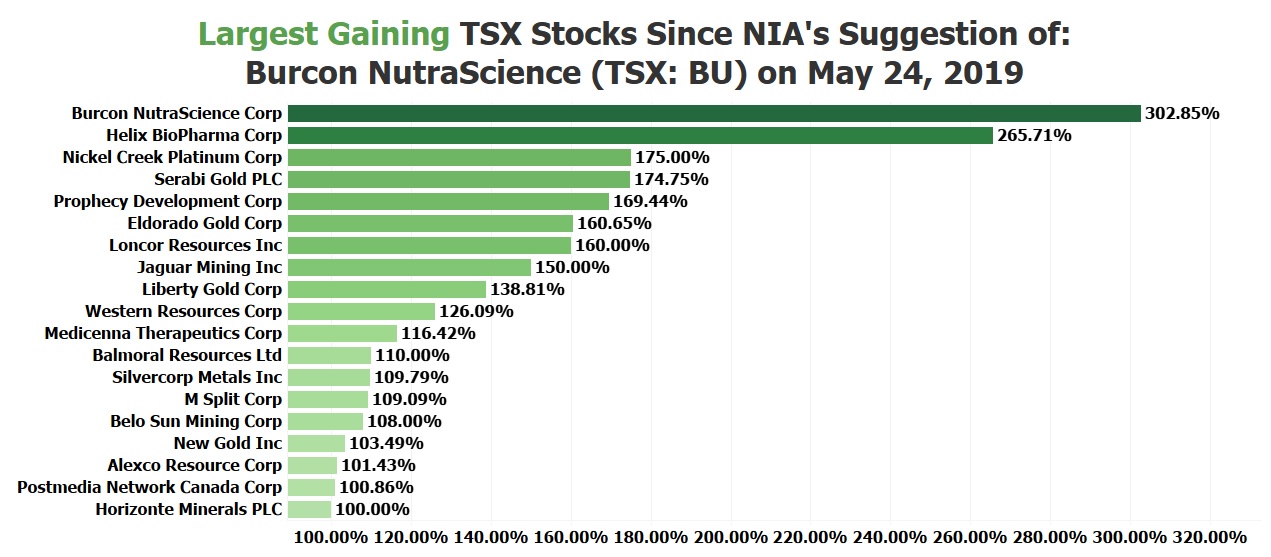 NIA said on May 24th:
"With BYND having the most successful IPO of the decade, private competitor Impossible Foods on May 13th announced a new $300 million venture captial round of funding and Burger King just announced that it will begin offering the Impossible Burger!
 
How are these companies making their plant-based meat? Using pea protein, but there is a major shortage of this important raw material. NIA has discovered a company Burcon Nutrascience (TSX: BU) that has dozens of patents covering all of the most efficient methods for extracting protein from peas and the company has just entered into a major joint-venture agreement to build one of the world's largest pea and canola protein production facilities. It will initially process 20,000 tonnes of peas per year starting in mid-2020 to produce BU's Peazazz® and Peazac™ pea proteins, as well as BU's Supertein®, Puratein® and Nutratein® canola proteins.
 
BU is a steal here at $0.80 per share and we believe will become a $2-3 per share stock by year-end!"
Adjusted for BU's oversubscribed rights offering that occurred following NIA's suggestion, NIA's initial BU suggestion price of $0.80 per share became $0.4915 per share and NIA's price prediction of $2-$3 per share became $1.23-$1.84 per share. Therefore, BU at Friday's high of $1.98 per share surpassed NIA's highest expectations!
Past performance is not an indicator of future returns. NIA is not an investment advisor and does not provide investment advice. Always do your own research and make your own investment decisions. This message is not a solicitation or recommendation to buy, sell, or hold securities. Never make investment decisions based on anything NIA says. This message is meant for informational and educational purposes only and does not provide investment advice.