BLNK Crash has Begun, Consider Puts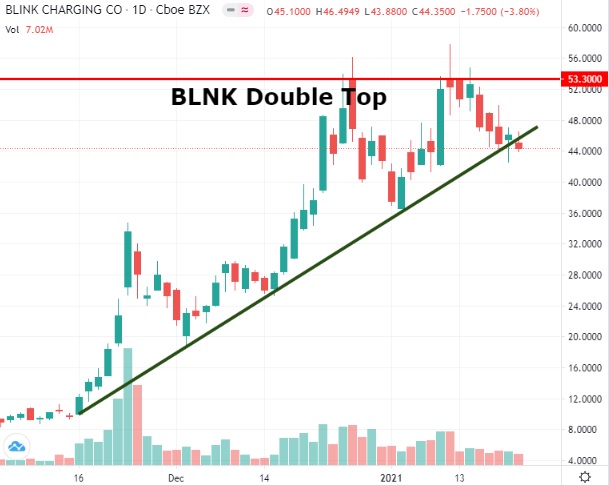 On the morning of January 13th, NIA said that Ehang Holdings (EH) would become "The Next Mega Bubble Stock" at $31.40 per share and predicted it would rapidly rise to $50-$100 per share. In this same alert, NIA predicted that Blink Charging (BLNK) would crash from its then price of $52.31 per share.
EH hit a new all-time high on Thursday of $81.99 per share for a gain of 161.11% from NIA's suggestion price in seven trading days! Meanwhile, BLNK's crash has begun with it finishing last week at $44.35 per share for a decline of 15.22% in eight trading days!
NIA continues to love the BLNK February 26th $50 put option. It finished last week at $11 for a gain of 12.25% since NIA's recent suggestion at $9.80.
BLNK has the most bearish chart we are aware of in the market today. BLNK recently formed a clear double top at $53.30 per share. On Friday, BLNK broke down and closed below its key support level of $45.50 per share.
On Thursday, NIA's President purchased a small position in the BLNK February 26th $50 put option of 20 contracts and will likely be buying more.
Past performance is not an indicator of future returns. NIA is not an investment advisor and does not provide investment advice. Always do your own research and make your own investment decisions. This message is not a solicitation or recommendation to buy, sell, or hold securities. NIA's President has purchased 20 BLNK February 26th $50 put options. He may add to his position or sell his position at any time. This message is meant for informational and educational purposes only and does not provide investment advice.