Bitcoin's Market Cap Going to $1 Trillion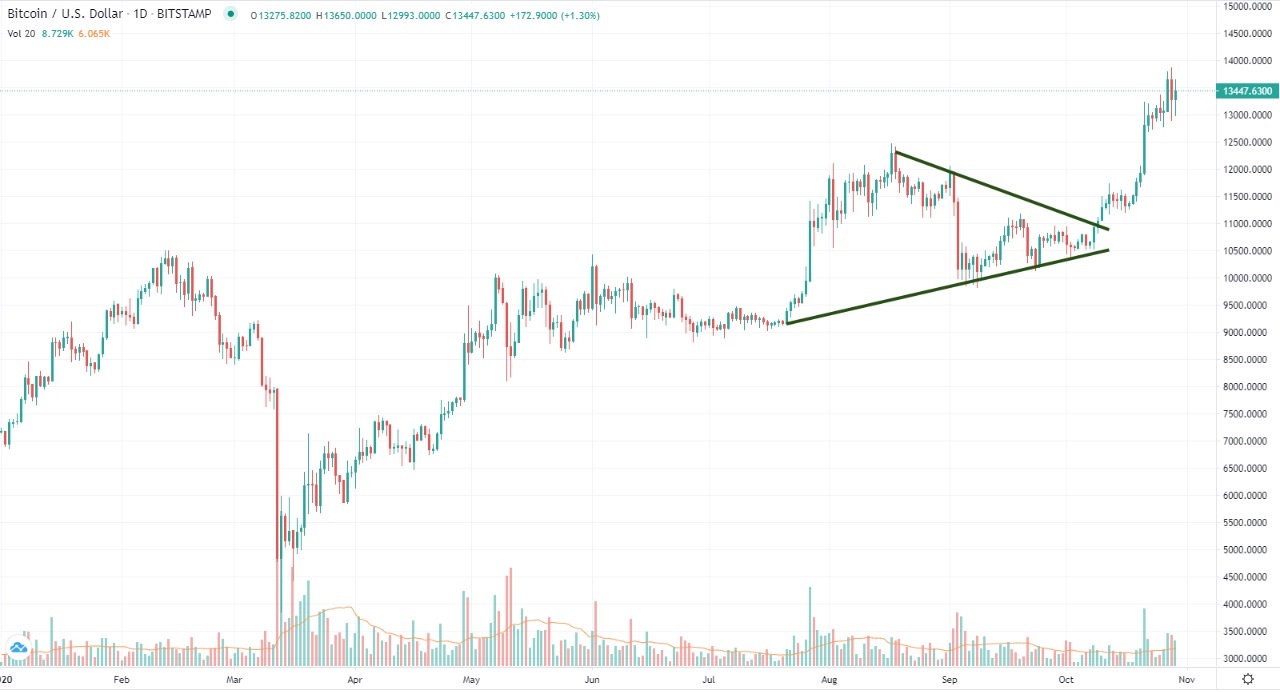 Bitcoin currently has its most bullish chart in history after surpassing its key breakout point earlier this month. Bitcoin's market cap is now up to $248.5 billion and is fast approaching its record high from December 2017 of $327.2 billion.
Billionaire hedge fund manager Paul Tudor Jones says that Bitcoin reminds him of gold in the 1970s! Another prominent money manager expects Bitcoin's market cap to conservatively reach $1 trillion: click here to see for yourself!
Many large publicly traded companies are beginning to park a portion of their cash assets into Bitcoin. Last month, the $1.57 billion market cap NASDAQ company MicroStrategy (MSTR) increased its Bitcoin holdings to 38,250 with an average purchase price of $11,111 for a total investment of $425 million. At Bitcoin's current price of $13,426, MSTR's Bitcoin is now worth $513.54 million. MSTR is making a profit on their Bitcoin of $88.54 million. For comparison, during the previous three years of 2017 through 2019 combined, MSTR earned a total net profit of only $75.05 million!
Earlier this month, Square (SQ) the owner of Cash App announced that it had purchased 4,709 Bitcoins worth $50 million for investment purposes: click here to see for yourself! SQ said, "Square believes that cryptocurrency is an instrument of economic empowerment and provides a way for the world to participate in a global monetary system, which aligns with the company's purpose."
SQ is now trading for $169.86 per share for a gain of 1,787.33% from its 2015 IPO at $9 per share. SQ's Cash App besides sending cash allows users to invest into Bitcoin. Last quarter, SQ generated $875.456 million in revenue from Bitcoin for growth of 600% from only $125.085 million in Bitcoin revenue in the year-ago quarter. In 2Q 2020, Bitcoin accounted for an unbelievable 45.5% of SQ's total revenue! In 2Q 2019, Bitcoin only accounted for 10.65% of SQ's total revenue! Bitcoin accounted for ALL of SQ's revenue growth! SQ's non-Bitcoin revenue streams actually declined year-over-year!
One week ago, PayPal (PYPL) announced that it has added a service that allows its customers to invest into Bitcoin: click here to see for yourself!
NIA is getting ready to announce its #1 favorite Bitcoin stock suggestion for the rest of 2020 and early 2021!
Past performance is not an indicator of future returns. NIA is not an investment advisor and does not provide investment advice. Always do your own research and make your own investment decisions. This message is not a solicitation or recommendation to buy, sell, or hold securities. This message is meant for informational and educational purposes only and does not provide investment advice.