The Biggest Mystery in Financial Markets
The biggest mystery in financial markets today is how have so many people been suckered into buying the iShares 20 Plus Year Treasury Bond ETF (TLT). We can't imagine any kind of a bullish investment thesis for TLT. In our opinion, investors who have purchased TLT were seeking a safe haven but mistakenly purchased the worst possible asset they could buy at this time.
Since May 7, 2021, TLT has seen its shares outstanding increase from 87.2 million up to 434.4 million at Tuesday's close of trading! This is a 5-fold increase in TLT ownership in a period of only 29 months! The fact that millions of Americans have invested into TLT at the worst possible time is the #1 most bullish scenario for gold!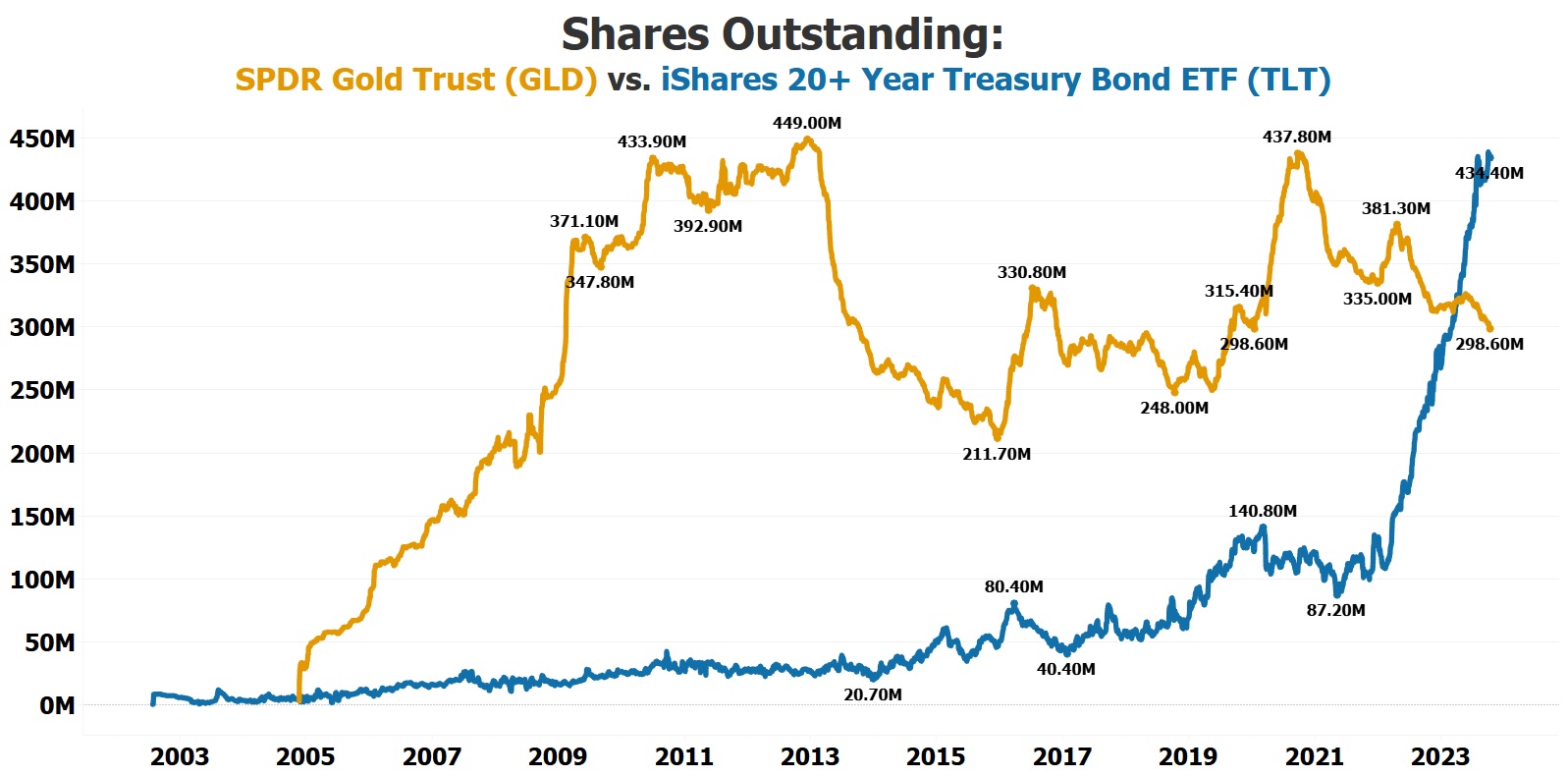 SPDR Gold Trust (GLD) would have provided the perfect safe haven asset they were seeking, but social media brainwashed them into burning away their savings by buying TLT! Since September 21, 2020, GLD has seen its shares outstanding decline from 437.8 million down to 298.6 million at Tuesday's close of trading! This is a 31.8% decline in GLD ownership in a period of 37 months, which is the longest ever duration of a decline in GLD shares outstanding.
Between December 10, 2012, and December 17, 2015, GLD saw its shares outstanding decline over a period of 36 months. Gold bottomed on December 17, 2015, at $1,050 per oz and over the following seven months... gold rallied by 30.95% as VanEck Gold Miners ETF (GDX) gained by 138.30% and VanEck Junior Gold Miners ETF (GDXJ) gained by 180%. Some of the highest quality gold exploration stocks achieved gains of between 1,000% and 10,000% during this same seven-month time period.
The odds are high that GLD shares outstanding are at or near a bottom and will rapidly rise in the months ahead as managed money gold shorts are forced to cover in the futures+options market!
This perfect storm scenario of GLD buying after a record 37 months of outflows alongside a short squeeze in the gold futures+options market will not only send gold to new all-time highs within months but will send shares of Augusta Gold (TSX: G) and a select few other high-quality gold explorers to prices that are 1,000%-10,000% above the prices they closed at today!
It won't be long until TLT investors realize that their best hope to regain their losses from the collapsing bond market is by investing into GLD and gold mining/exploration stocks!
Past performance is not an indicator of future returns. NIA is not an investment advisor and does not provide investment advice. Always do your own research and make your own investment decisions. This message is not a solicitation or recommendation to buy, sell, or hold securities. NIA's President has purchased 224,200 shares of G in the open market and intends to buy more shares. This message is meant for informational and educational purposes only and does not provide investment advice.