BHT Surpasses Key Breakout Point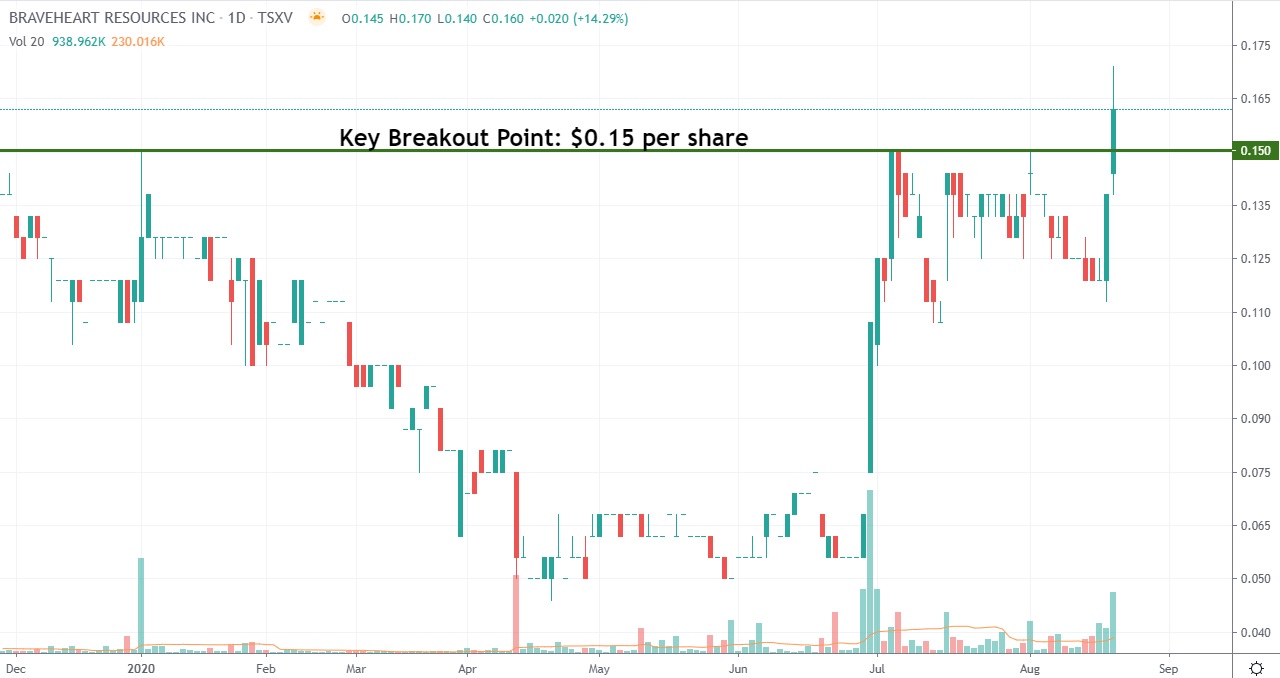 Braveheart Resources (TSXV: BHT) has finally surpassed its key breakout point of $0.15 per share in a very convincing manner after four failed attempts at breaking through $0.15 per share earlier this year. BHT closed yesterday up by $0.02 or 14.29% to $0.16 per share on volume of 938,962 shares or more than quadruple its average daily volume. It reached a high of day yesterday of $0.17 per share.
BHT's debenture holders just converted CAD$2.4 million in debt to 12 million BHT shares at a price of $0.20 per share, believing that BHT is extremely undervalued at these current prices. Earlier in the month, BHT's director John Robert Morgan exercised warrants to purchase 400,000 BHT shares at $0.15 per share. Last month, BHT's CFO Dwayne Albert Vinck purchased 333,500 BHT shares in the open market at an average price of $0.1385 per share.
BHT has one of the most bullish charts in the entire market! BHT's current valuation comes no where close to reflecting the true value of BHT's Bull River Mine, which has a huge indicated resource along with extremely valuable surface and underground infrastructure including a 750 tpd processing plant and adjacent crushing facilities! BHT even has a large stockpile of pre-mined ore ready to process!
Past performance is not an indicator of future returns. NIA is not an investment advisor and does not provide investment advice. Always do your own research and make your own investment decisions. This message is not a solicitation or recommendation to buy, sell, or hold securities. NIA has received compensation from BHT of USD$30,000 cash for a six-month marketing contract. This message is meant for informational and educational purposes only and does not provide investment advice.