Beyond Meat Breaks $100 in Pre-Market Trading
Shares of Beyond Meat (BYND) rose yesterday by $11.50 or 13.37% to close at a record high of $97.50 per share up 290% from its May 2nd IPO price of $25 per share. In pre-market trading, BYND is up another $5.50 to $103 per share!
NIA's pea protein extraction play Burcon NutraScience Corp (TSX: BU) did NOT really decline by $0.70 or 45.75% to $0.83 per share on Wednesday but actually hit a new high since NIA's suggestion! The company is conducting a rights offering and everybody who owned BU shares prior to yesterday, received one right yesterday for each share owned to purchase an additional share at a price of $0.35 per share. These rights can be publicly traded and closed yesterday at a price of $0.53 per share!
Therefore, the total combined value of BU common shares plus the BU rights that each shareholder received is currently $1.36 per share, which means investors are still up by 70% from NIA's suggestion Friday morning at $0.80 per share. At one point yesterday morning, their combined value peaked at a high of $1.97 per share for a gain of 146.25% from NIA's Friday morning suggestion price! Here is an adjusted BU chart including the value of the BU right, from NIA's suggestion at $0.80 through yesterday's close: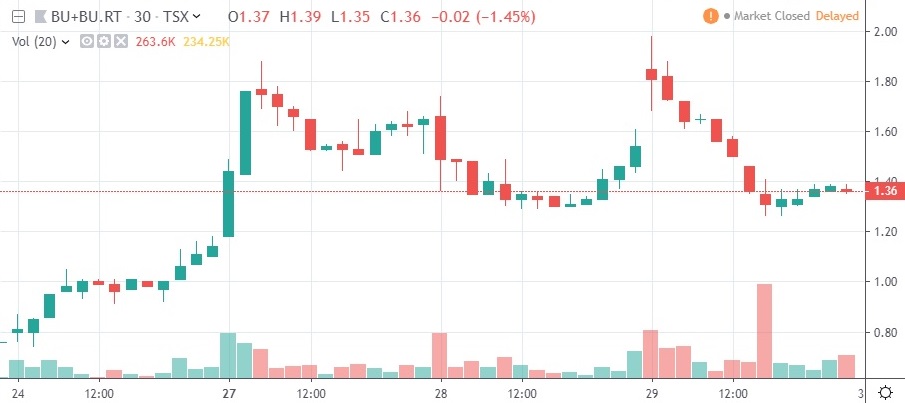 BU's rights offering will likely be fully exercised and will raise the company $15.2 million in cash. These funds will allow BU to contribute the full $8 million it has committed towards the construction of a $65 million pea protein commercial production facility in Western Canada, which is planned to initially process approximately 20,000 tonnes of peas per year starting in mid-2020 and will produce BU's Peazazz® and Peazac™ pea proteins, as well as BU's Supertein®, Puratein® and Nutratein® canola proteins. BU is only funding 12.3% of the $65 million cost to build the facility and bring it into production, but will own a 40% stake in the plant.
NIA has discovered a new pea protein play that it believes will become another MAJOR short-term gainer like BU! NIA intends to announce it sometime today!
Past performance is not an indicator of future returns. NIA is not an investment advisor and does not provide investment advice. Always do your own research and make your own investment decisions. This message is not a solicitation or recommendation to buy, sell, or hold securities. Never make investment decisions based on anything NIA says. This message is meant for informational and educational purposes only and does not provide investment advice.