Augusta Gold (TSX: G) Now Has 1.92M Oz of Gold!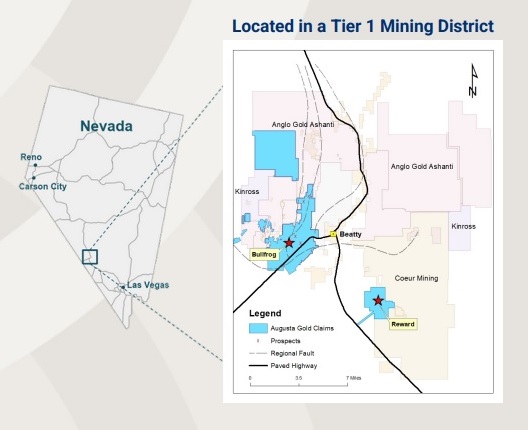 Augusta Gold (TSX: G) now has a total combined gold resource of 1.92 million oz, all of it located in the Beatty District of Nevada that the world's fourth largest gold miner AngloGold Ashanti (AU) is attempting to consolidate.
At $1.73 per share, the existing infrastructure at Bullfrog alone is worth more than G's market cap!
In the upcoming weeks as G unveils its development plans for Reward as it advances the permitting process at Bullfrog, G will be rapidly revalued to the upside! G acquired Reward at a 70% discount below its Net Present Value (based on the 2012 PEA released by its previous operator). Reward's initial CAPEX is extremely low, and it will take only 9 months to construct the mine! The positive cash flow from Reward will allow G to develop its flagship Bullfrog Project with minimal dilution to shareholders!
G is the craziest steal in the market at any price of below $5 per share!
With Richard Warke buying 95,000 more G shares this week alone, G's resistance is almost completely gone for good! It won't take much volume for G to rapidly rise to new 52-week highs!
Past performance is not an indicator of future returns. NIA is not an investment advisor and does not provide investment advice. Always do your own research and make your own investment decisions. This message is not a solicitation or recommendation to buy, sell, or hold securities. NIA's President has purchased 174,200 shares of G in the open market and intends to buy more shares. This message is meant for informational and educational purposes only and does not provide investment advice.