ART Gains Another 15% to $0.27!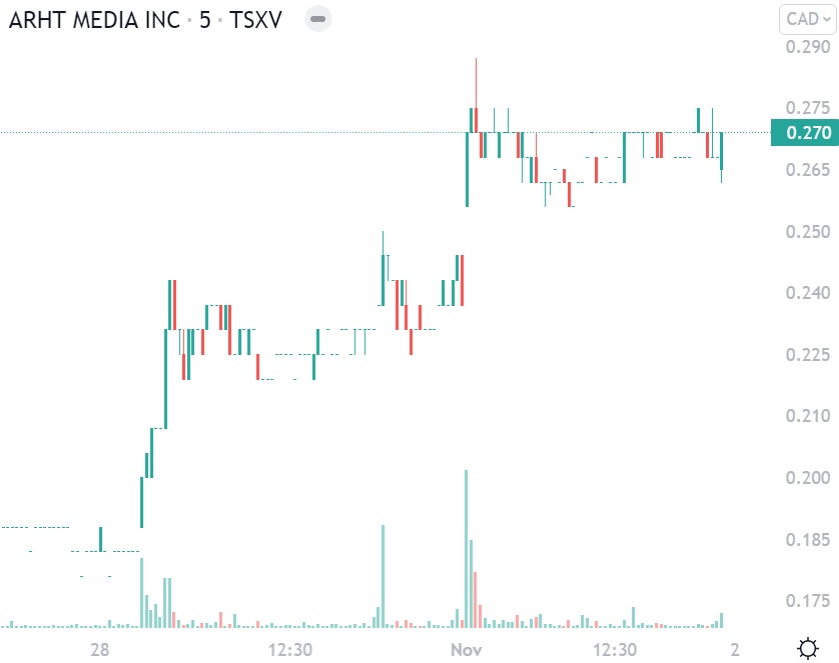 ARHT Media (TSXV: ART) gained another 14.89% on Monday to close at $0.27 per share and was once again the 5th most actively traded stock on the TSX Venture Exchange.
ART is going MUCH higher and anybody who doesn't research the company immediately will totally miss out on massive short-term gains. 2020 was the year of Zoom (ZM), but now people are sick of Zoom and countless major corporations, colleges/universities, and government/defense organizations are gravitating to ART's HoloPresence to provide the most realistic 3D experience that looks exactly like the presenter is there in real life, except they could be beaming in from the other side of the world. HoloPresence pays for itself by reducing travel expenses and allowing executives to give the most high tech, impactful, unforgettable presentation of their career!
ART's market cap is still only $35.9 million (US$29 million), which is insanely low. These valuations will never be seen again.
Past performance is not an indicator of future returns. NIA is not an investment advisor and does not provide investment advice. Always do your own research and make your own investment decisions. This message is not a solicitation or recommendation to buy, sell, or hold securities. This message is meant for informational and educational purposes only and does not provide investment advice.