ART is Exactly Like AMY Before it Broke Through its $0.27 Resistance!
Since NIA's suggestion of ARHT Media (TSXV: ART) on October 29th at $0.185 per share as its #1 favorite technology stock suggestion for 2022 it has been unable to close above $0.27 per share. Following NIA's suggestion of American Manganese (TSXV: AMY) on November 25, 2019 at $0.22 per share as its #1 favorite technology stock suggestion for 2020 it too was initially unable to close above $0.27 per share. Both companies had warrants that were being exercised and creating resistance. This is a very positive thing because without the warrants it wouldn't be possible to accumulate ART at such an artificially low share price.
We all know what happened to AMY after it broke through its $0.27 per share resistance. Within two months, AMY hit $2.86 per share for a gain of 1,200% from NIA's suggestion price.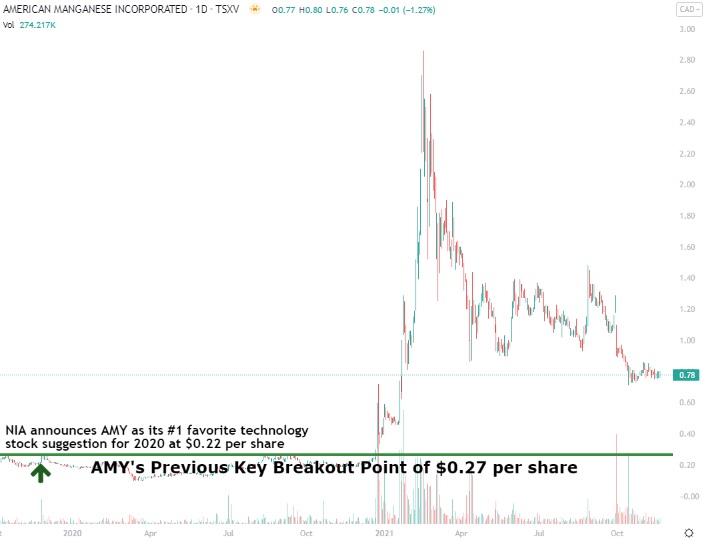 Similar to how AMY is the global leader in EV battery recycling technology, ART is the global leader in hologram technology and also has its own proprietary, one-of-a-kind hybrid Hologram/Metaverse platform called Virtual Global Stage. CNBC featured ART's disruptive hologram technology last week but failed to mention that ART is a publicly traded company that is set to grow exponentially in the years ahead. In fact, CNBC misspelled ART's name so anybody looking up the company didn't even realize it was publicly traded.
We spoke with ART's founder years ago, but we determined it was too early for us to suggest ART at that time, because 5G wasn't yet widely available. We correctly decided that AMY was the bigger opportunity for 2020, but we kept ART on our radar screen and followed its progress very closely. As soon as we saw Mark Zuckerberg announce his Metaverse plans and he brought up the importance of holograms countless times during his presentation, we quickly decided within hours that we needed to announce ART as our #1 favorite technology stock suggestion for 2022.
Although we expect North Peak Resources (TSXV: NPR) to outperform all other stocks in 2022, ART will be one of the world's largest gaining technology stocks of 2022!
Past performance is not an indicator of future returns. NIA is not an investment advisor and does not provide investment advice. NIA previously received compensation from AMY of USD$30,000 cash for a six-month marketing contract which has since expired. NIA's President has purchased 200,000 shares of NPR in the open market. This message is not a solicitation or recommendation to buy, sell, or hold securities. This message is meant for informational and educational purposes only and does not provide investment advice.