ARKK Bottomed at $57.50 Almost Exactly Like NIA Predicted!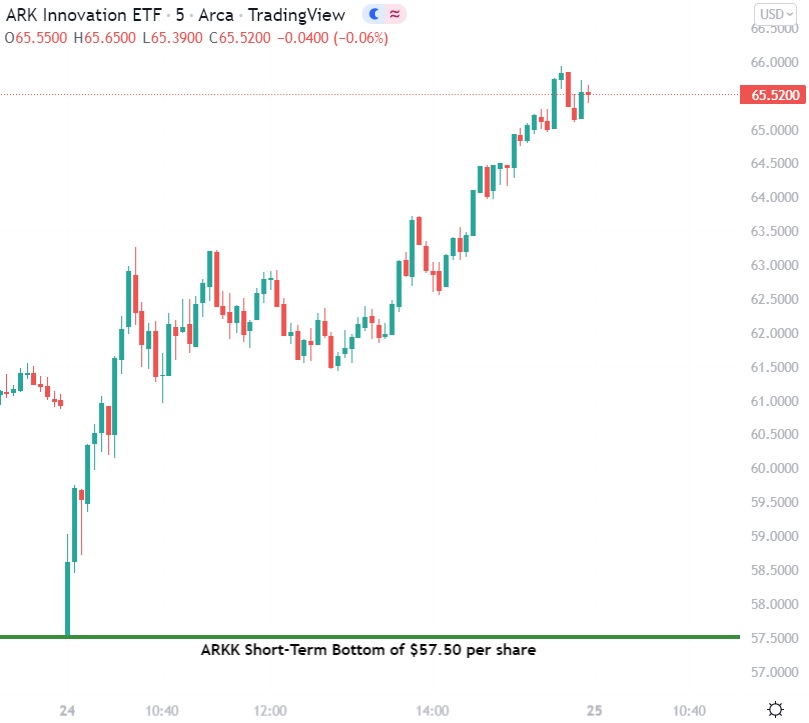 Two nights ago, with ARKK at $63.39 per share and SARK at $51.69 per share, NIA sent out an alert entitled, 'Do We Prefer SARK or ARKK?' explaining that we "wouldn't buy ARKK or SARK at this moment" but we said "ARKK is due for a large short-term bounce" and "it will be time to buy ARKK but only as a short-term bounce play" at "about the $57 per share level".
This morning, ARKK bottomed at $57.50 per share almost exactly like NIA predicted! ARKK bounced by 14.12% from this morning's short-term bottom to close today at $65.62 per share!
In the upcoming weeks ARKK will bounce to $75-$80 per share but technology stocks will remain in a bear market. Ultimately, ARKK will fall to new lows and won't reach a final bottom until 2023 at about $38 per share.
Gold and energy stocks will remain in a bull market.
Over the next 6-8 weeks, North Peak Resources (TSXV: NPR) will become the #1 largest percentage gainer in the entire market!
Mexco Energy (MXC) and Broadwind (BWEN) will also make massive gains in the weeks ahead!
Past performance is not an indicator of future returns. NIA is not an investment advisor and does not provide investment advice. Always do your own research and make your own investment decisions. This message is not a solicitation or recommendation to buy, sell, or hold securities. NIA's President has purchased 211,000 shares of NPR in the open market and intends to buy more shares. This message is meant for informational and educational purposes only and does not provide investment advice.