AMY had an Amazing Day - Must Read!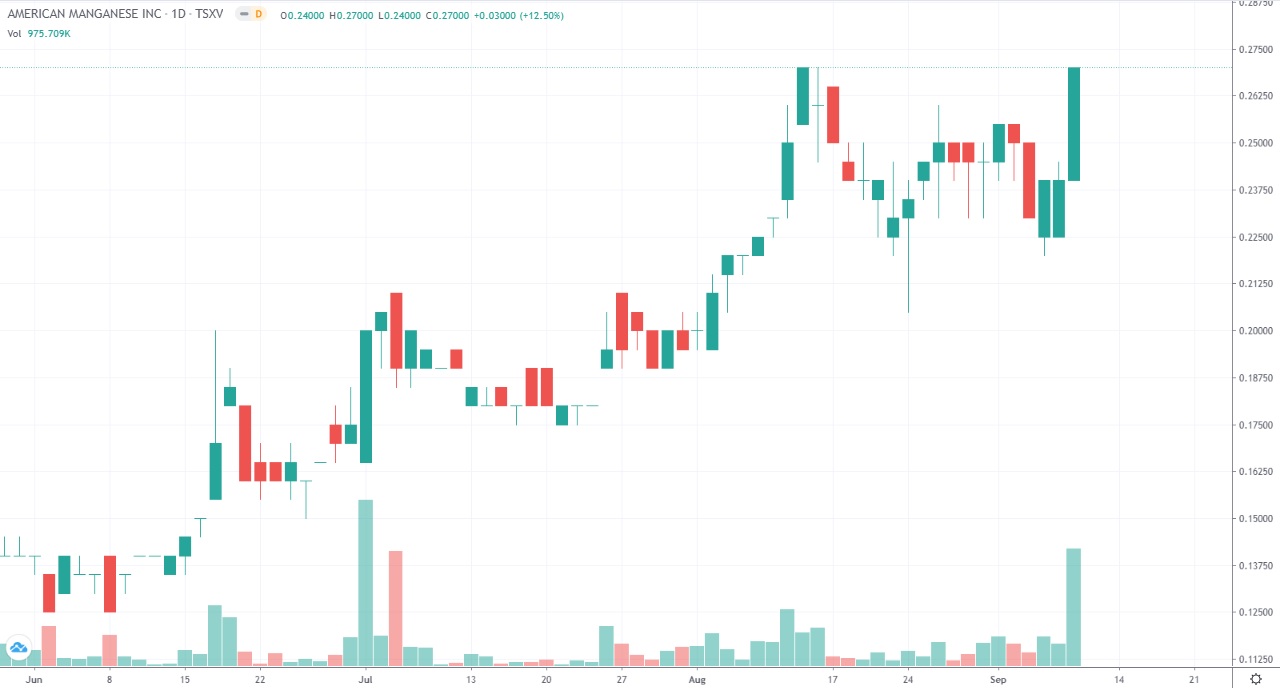 NIA's #1 favorite technology stock suggestion: American Manganese (TSXV: AMY) gained by 12.50% today to close at $0.27 per share on very strong volume of 975,709 shares or more than 6X above average!
On Friday morning at 11:30AMEDT, NIA sent out an alert, 'Focus Your Attention on AMY'. At the time of NIA's alert, American Manganese (TSXV: AMY) was trading for only $0.225 per share and was down 2.17% for the day even though AMY had released huge news that morning. Previously on August 12th with AMY at $0.23 per share, NIA sent out an alert, 'AMY's Optimization Results Coming Soon!' - explaining that AMY was able to obtain new specialized equipment for continued optimization of their EV Battery Recycling Pilot Plant's pre-leach stage. NIA said that AMY's goal was to further increase its process capacity without sacrificing the high recovery of lithium, nickel, cobalt, manganese, and aluminum.
AMY's optimization results were released on Friday morning. AMY was able to successfully increase the processing capacity of the EV Battery Recycling pilot plant's pre-leach stage to 292 kg/day. Earlier in 2020, AMY completed engineering upgrades to allow the pilot plant's pre-leach stage to operate at a higher pulp density, which successfully increased its processing capacity from 64 kg/day up to 160 kg/day for an increase of 150%! After AMY's new optimization results released on Friday, the company in 2020 has achieved a 356% improvement to the pre-leach stage processing capacity! (The pre-leach stage is where the cathode active material - comprised of lithium, nickel, manganese, and cobalt - is separated from the aluminum foil.)
After NIA's Friday morning AMY alert at $0.225 per share - the stock rallied by 6.67% on Friday afternoon to finish last week at $0.24 per share. With AMY gaining today by 12.50% to $0.27 per share, AMY is now up by 20% since NIA said to focus on the company!
The mainstream media is beginning to pay major attention to the EV Battery Recycling Space now that Tesla's co-founder and former CTO JB Straubel - who resigned from Tesla last year to focus fully on his EV battery recycling start-up Redwood Materials - is beginning to accept interview requests from the media with speculation that Redwood will go public in 2021. For the first time ever, investors are searching for EV Battery Recycling plays and AMY is one of the most established publicly traded pure plays in the EV Battery Recycling Space. 
Past performance is not an indicator of future returns. NIA is not an investment advisor and does not provide investment advice. NIA previously received compensation from AMY of USD$30,000 cash for a six-month marketing contract which has since expired. This message is not a solicitation or recommendation to buy, sell, or hold securities. This message is meant for informational and educational purposes only and does not provide investment advice.