AHG will Lead CBD Industry Together with ABCS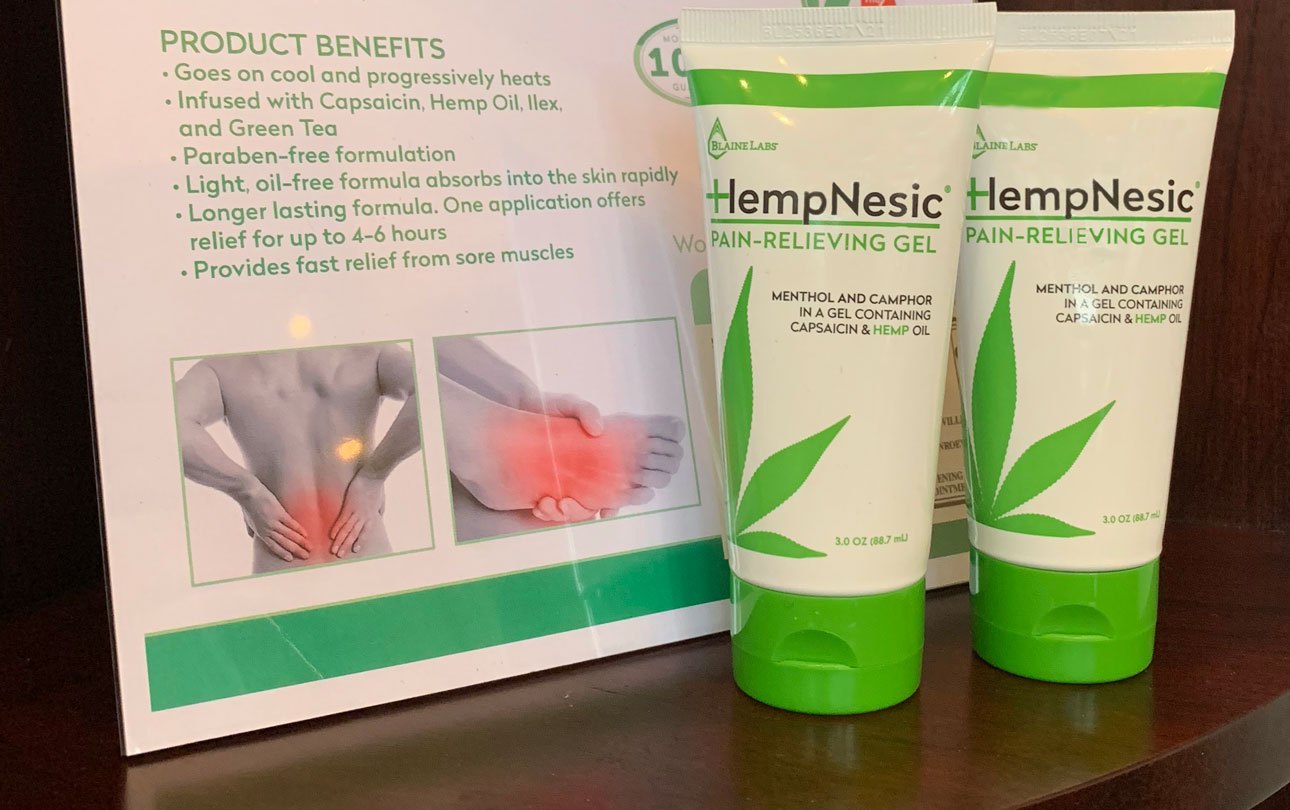 In the U.S. over-the-counter (OTC) drug industry for the last 15+ years, the two leading privately held small/mid-sized pharmaceutical companies engaged in the research & development, manufacturing, marketing, and distribution of medical grade topical skin care treatments that deliver healing and relief from pain, foot/nail fungus, psoriasis, wounds, warts, scars, and calluses have been: Aidance Scientific and Blaine Labs. Both companies have developed well-known competing brands with products sold nationwide at the largest U.S. retail chains. Both companies have also developed large networks of private practice podiatrists, dermatologists, chiropractors, and other physicians that trust their products and earn extra income for their practice through doctor-to-patient distribution.
Both Aidance Scientific and Blaine Labs recognized early that a major CBD-infused topical products boom would be their biggest drivers of future growth. Although hundreds of cannabis start-ups have formed in recent years, most have been focused on producing THC-based products for the recently legalized Canadian recreational market. Unfortunately, with so many competitng companies producing cannabis products for an economy 1/12th the size of the United States, it will eventually cause deflation in cannabis prices and Canadian producers will suffer. Therefore, over the past year, many companies have begun focusing on the development of THC-based cannabis brands in the state of California, which by itself has a larger economy than Canada. However, many companies realized that a black market for marijuana in California is still booming, forcing cannabis companies to focus on developing premium brands with strong profit margins.
However, to achieve major revenues and profits in the cannabis industry, companies will need to get their products into major nationwide retailers, which will probably never happen for THC-based products. Luckily the 2018 Farm Bill was a game-changer for the cannabis industry, because it allowed farmers to legally grow hemp, which cannabidiol (CBD) can be extracted from. CBD achieves all of the same medicinal benefits of THC, but with essentially no reported psychoactive properties. Today, the largest multi-billion dollar cannabis companies are forming plans to invest billions into the U.S. CBD space, with retailers like CVS and Walgreens already rolling out sales of topical CBD-infused products in thousands of stores across about a dozen initial states.
Aidance Scientific and Blaine Labs already had a major head start in the CBD market, because they fully developed major CBD-infused products years before the 2018 farm bill became enacted. Both companies are uniquely positioned to become America's leading CBD-infused OTC product manufacturers. Besides their first mover advantage, they are two of the only US FDA inspected cGMP manufacturers in the CBD-infused products space! Most importantly, they both have the unique ability to legally make medical claims on the packaging of their CBD-infused products by using approved active pharmaceutical ingredients to achieve FDA registration. Both Aidance Scientific and Blaine Labs have a wealth of experience manufacturing and registering over-the-counter (OTC) products with the FDA. With major U.S. retail chains like CVS and Walgreens beginning to launch sales of topical CBD-infused products in select states, they are likely to feel most comfortable offering the CBD-infused products of Aidance and Blaine Labs.
Aidance in 2014 created a separate subsidiary for its CBD-infused products called Abacus Health Products. Earlier this year, Aidance spun-off Abacus and took Abacus Health Products public on the CSE exchange under the symbol ABCS. In 2017, ABCS's first full year of selling its CBD Clinic product, the company generated revenue of USD$2.58 million and in 2018 it increased its revenue by 231% to USD$8.54 million.
On a fully diluted basis, ABCS has approximately 22.94 million shares outstanding, for a market cap at $11.80 per share of CAD$270.69 million or USD$200.73 million. This values ABCS at 23.5X its 2018 full year revenue!
On April 12th when ABCS annouced that it was seeking to raise CAD$15 million in a private placement of 1,071,500 shares priced at $14 per share - the deal became oversubscribed by a stunning 130%! The private placement closed this month with ABCS selling 2,464,450 newly issued shares at $14 per share for proceeds of CAD$34,502,300!
Instead of Blaine Labs spinning off a separate subsidiary for its new CBD-infused pharmaceutical products, Alternate Health (CSE: AHG) announced a deal to acquire the entire company, which generated 2018 revenue of more than USD$14 million with net income of approximately USD$8 million.
Post-acquisition, AHG will have approximately 81 million shares outstanding, for a market cap at $0.63 per share of only CAD$51 million or USD$38 million. This means AHG at $0.63 per share is being valued at an insanely low 2.71X its 2018 Blaine Labs revenue vs. ABCS's market cap of 23.5X revenue!
AHG has already launched its first CBD-infused product the HempNesic Pain-Relieving Gel to compete directly against ABCS's CBD Clinic Revolutionary Pain Relief product!
AHG describes the HempNesic Pain-Relieving Gel as: For temporary relief from minor aches and pains of sore muscles and joints asociated with: arthritis pain, backache, strains, and sprains.
ABCS describes CBD Clinic Revolutionary Pain Relief as: Temporarily relieves minor aches and pain of muscles and joints associated with simple backache, arthritis, strains, bruises and sprains.
AHG and ABCS are the only two companies currently manufacturing topical CBD-infused products that can legally make these claims! Their products contain the same two approved active ingredients Menthol and Camphor - allowing AHG to ABCS to register their products with the FDA!
ABCS got CBD Clinic to the market a year earlier than AHG's HempNesic, but we believe HempNesic is a superior product that will rapidly catch up to CBD Clinic in market share. HempNesic is the only FDA registered topical pain-relieving gel that directly influences the endocannabinoid system with Hemp-derived cannabidiol containing Capsaicin, Menthol, and Camphor.
ABCS's CBD Clinic does NOT contain Capsaicin, an ingredient used in AHG's non-CBD Ortho Nesic Pain Relieving Gel with 76% of its Amazon reviews being 5 stars!
Besides Menthol and Camphor, the only useful ingredient in ABCS's CBD Clinic is "hemp extract". AHG's HempNesic in addition to containing Menthol, Camphor, and Capsaicin the top three FDA-approved OTC ingredients for the treatment of pain - also contains Cannabidiol (CBD), Cannabis Sativa Seed Oil (Hemp Seed Oil), and Arnica Oil (rapidly rising in popularity: contains helenalin a potent anti-inflammatory).
AHG's HempNesic will become the #1 doctor recommended CBD-infused topical pain relieving gel by year-end 2019, in NIA's opinion. Every single day, many new physicians across the U.S. are placing orders for HempNesic to begin offering it to their patients!
Past performance is not an indicator of future returns. NIA is not an investment advisor and does not provide investment advice. Always do your own research and make your own investment decisions. This message is not a solicitation or recommendation to buy, sell, or hold securities. NIA is receiving compensation from AHG of USD$40,000 cash for a one-month marketing contract. Never make investment decisions based on anything NIA says. This message is meant for informational and educational purposes only and does not provide investment advice.